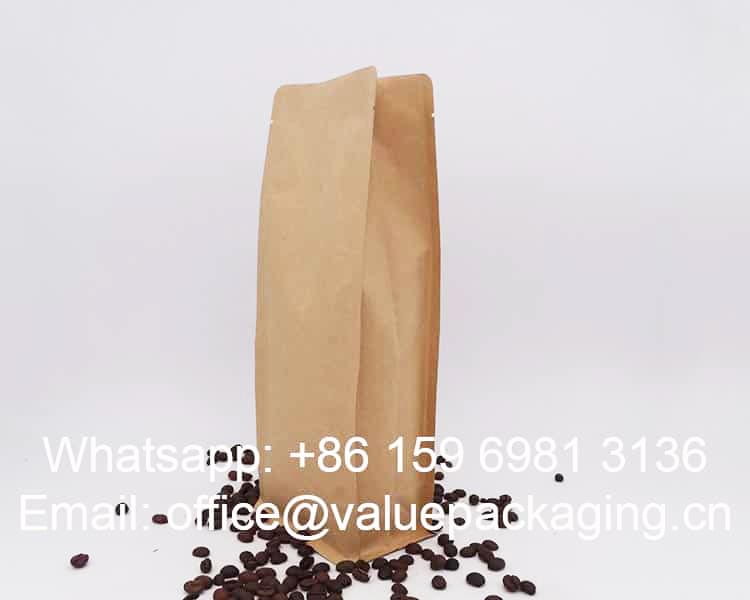 Kraft paper are widely welcome in the packaging for roasted beans as it is light-weight, favorable price, easy to recyclable and sustainable. To achieve the kraft paper into a reliable standing coffee pouch, it will have to be further laminated with high barrier metallized film, and inner sealing film layer.
My company is a reliable manufacturer of kraft paper foil coffee bag for numerous coffee roasters and brands in a continous supply, and in this post, we are going to give a furthe analysis on the foil structure of these kraft paper coffee bags, and hope it helps you to get amazing packages.
Kraft Paper 60gsm/VMPET12/LDPE50 Foil Laminate

This foil structure Kraft paper 60gsm/VMPET12/LDPE50 proves to be the very cost-effective package for roasted beans, and we are mainly producing these lower-price kraft paper foil coffee bags to the distributors, who then re-sell them to the small roasters or coffee shops.
The thickness for this foil is around 150 microns, which is quite acceptable by most customers.
As of the approach to lowest cost, this coffee bag is actually in a certain fragile, in our opinion. Usually the physical property for kraft paper/VMPET12 laminate is not good, as the peel strength between these two layers is very bad, so usually the physical performance for this bag will largely depend on the thickness of inner LDPE film. However, as of price considerations, the thickness of low density polyethylene film is pushed to the minimum at 50 microns, so that cause the mechanical strength for the final bag to be fragile.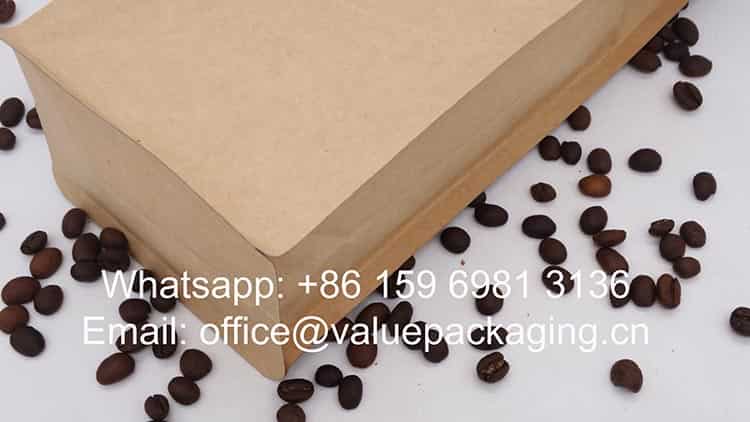 Previously, we performed drop test on this kraft paper 60gsm/VMPET12/LDPE50 coffee bag intended for 1 kilograms of roasted beans, and 2 out of 4 bags broke at the 1st drop. You are advise to read more in below post.
So, generally, when this foil structure is made into final coffee bag, it is not advised to pack roasted beans more than 500 grams, or even less.
Kraft Paper 60gsm/VMPET12/LDPE80

As the physical strength will largely depend on the thickness of inner LDPE film for this triplex kraft paper metallized film bag, so we can increase the thickness of LD-PE film when the customer would like to get an improved bag strength.
However, the thickness for this Kraft paper 60gsm/VMPET12/LDPE80 would reach around 180 microns, which may cause the pouch to be too rigid for filling and sealing operation, and many customers do not like it.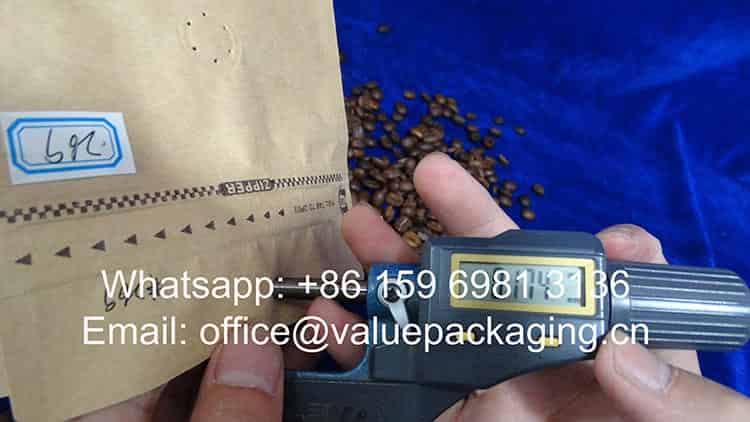 Kraft Paper 45gsm/VMPET12/LDPE80
There is also an alternative soluation to keep an improved physical strength, with an acceptable thickness. We may lower the weight of kraft paper into 45 gsm, which is around 60 microns. With this foil Kraft Paper 45gsm/VMPET12/LDPE80, this thickness for final bag may reach around 155 microns, that is acceptable for most customers.

Kraft Paper 60gsm/VMPET12/PA15/LDPE60

If the customer is still interested to get a stronger coffee bag package based on kraft paper and metallized film, then a reinforced polyamide film layer (short as PA film) with most common thickness 15 microns can be applied into the foil laminate.
The thickness may reach up to 170 microns, as below picture.
Coffee bag achieved with this reinforced foil materials can be well intended for 1 kilograms of roasted beans, without burst or fail in the filling, transportation and distribution process.
You may also have a further understanding on how we test the strength of this 1 kilograms kraft paper foil bag here.
Kraft Paper 60gsm/ALU7/LDPE80
Aluminum foil may be applied in the kraft paper foil, as the barrier performance for aluminum foil is much better than VMPET film. Kraft paper/ALU/LDPE is achieve to meet the requiremetns for roasted beans.
Above graphis shows a common foil structure kraft paper 60gsm/ALU7/LDPE80, which can be further process into kinds of types of coffee pouches.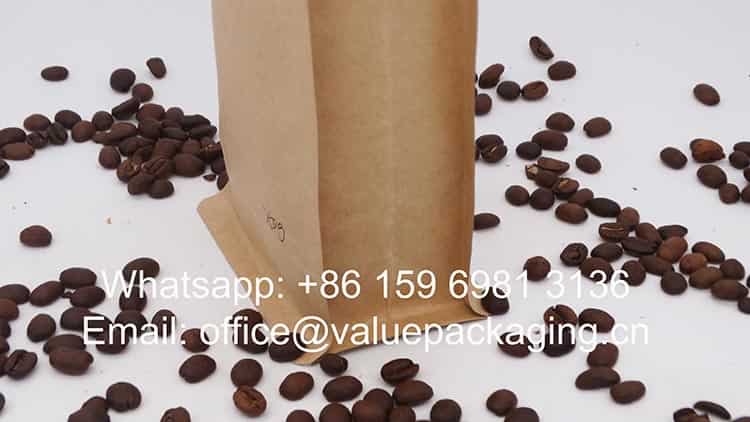 However, there is a tiny problem when this foil is converted into box bottom pouch, as there is not any elongation rate for both kraft paper substrate and aluminum foil material, so when the foil laminate runs through the rollers and converting parts on the bag-marking machine, some damage may be caused on to the final bag, and in some serious cases, the aluminum foil may also beaks, which will be very bad to keep the roasted beans in original flavor in a certain period.
You are advised to watch the video below to understand the damage on paper and aluminum foil when this foil is converted into box bottom pouch.
Kraft Paper 60gsm/ALU7/PET12/LDPE80

So, to avoid the damage above, we may have to develop a reinforced foil laminate with an extra polyester film layer, such as Kraft Paper 60gsm/ALU7/PET12/LDPE80. This would largely reduce the damage and risks of air leak for the final alumimum foil paper bag.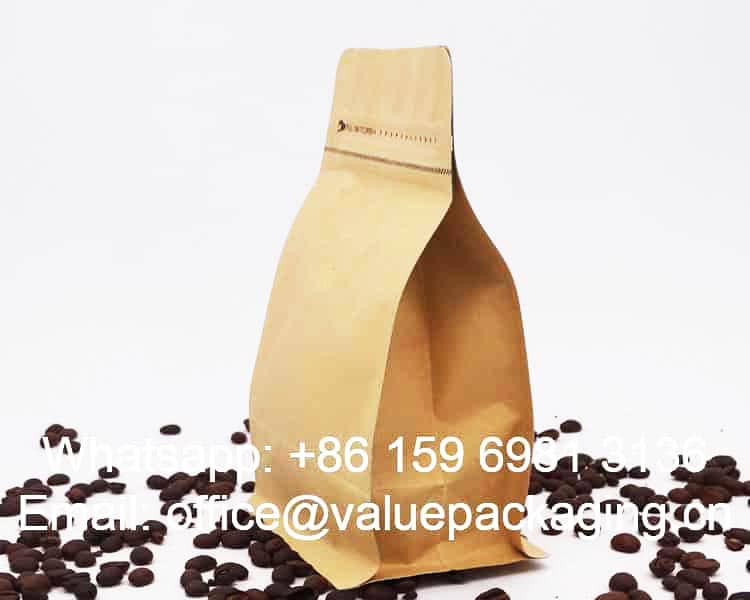 Ok, that's the most common structures for the kraft paper foil coffee bags, and of course, there will be some difference against each materials, and we will share more of our experience in future posts. You are also welcome to reach us whenever you have questions regarding coffee packages.