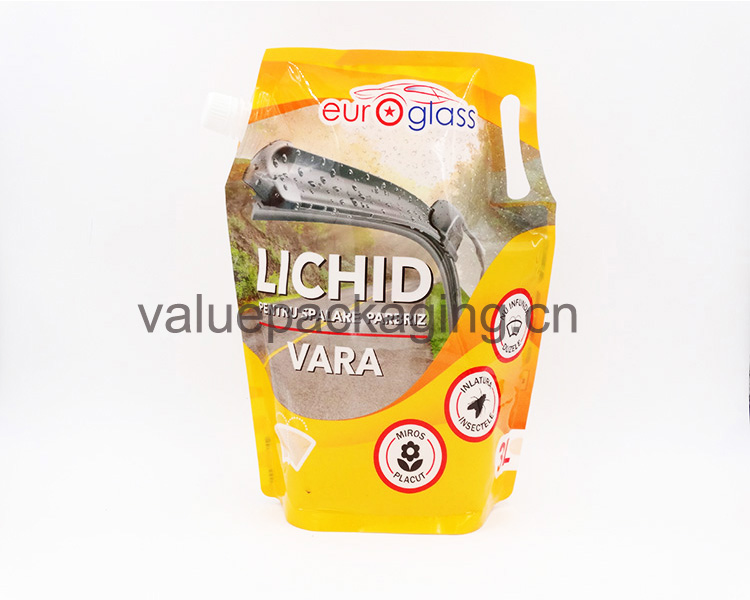 Our factory is producing 3litre screw cap packages for windshield washer fluids, with different materials that are intended to meet the different requiements for the customers. In this post, we are going to give an overall analyze on the packaging materials that are adapted in our factory to realize the 3litre screw cap packages of windscreen cleaning chemicals, for your reference.

This is the most used foil structure for 3litre spout pouch packages, as it is able to realized the expected property for most windscreeen washling liquids products at the lowest cost.
Usually, in our factory, we choose a reinforced bottom with film materials PET12/PA25/LLDPE, so the package is realized with a stronger bottom. When the package drops unexpectedly from the goods shelf, usually the bottom touches the ground at the first moment, a reinfoced bottom is apparently able to prevent the 3litre spout pouch from break.
PET12/PA25/LLDPE

This structure is of higher cost than previous PET12/PA15/LLDPE foil structure, as the front/back and bottom are all realized with structure. PA25, means polymide film (also called nylon film in a more popular name), is thickness than the common NY film 15 microns, is able to provide better strength, so finally, the package realized in PET12/PA25/LLDPE foil structure is going to have much better strength.

This structure is able to realize better strength, however with a little soft effect than PET/PA/LLDPE structure. Watch the video below to understand the burst impact strength on Ny15/Ny15/LLDPE foil laminate.
Ok, these are the three most common materials structures we are using in our produce. If you have any questions, jsut reach us at office@valuepackaging.cn.