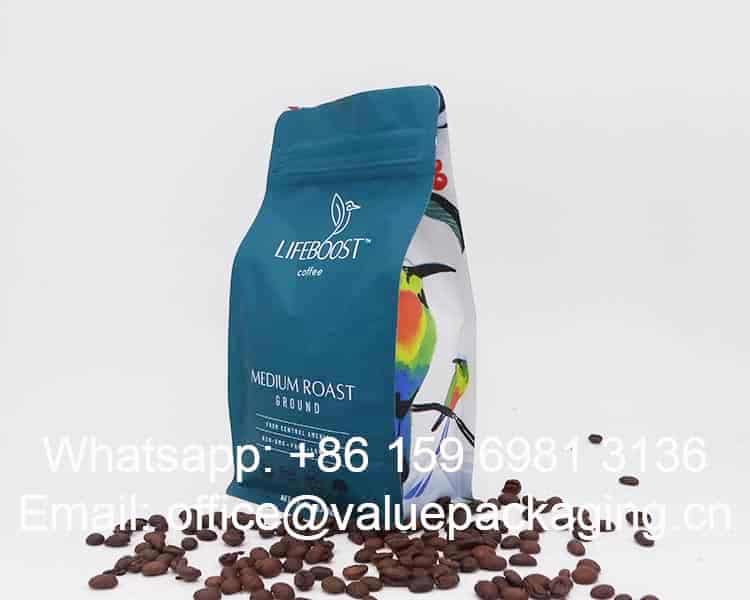 It is always very important to get a perfect package for your roasted bean products, as coffee packaging is actually an effective extension of your coffee shop, so that you can communicate your branding to consumers who do not have the opportunity to visit your cafe.
No doubt, amazing packaging design helps you improve brand awareness and lets your products will be able to stand out from the crowd, which helps bring you in new customers.
Of course, the film materials matters much to decide the final print effect and profile for your package. Take this 12oz block bottom coffee bag from Lifeboost for example, the unusual design is finalized onto the quality film materials, and finally create an fanstatic package branding, which helps catch your customer's eyes and tell a compelling brand story, all while keeping your coffee in original freshness for a longer time.
So in this post, we are going to give a detailed analyis on the packaging film materials of this 12oz Lifeboost block bottom coffee sachet, and see how it performs.
Foil Laminate Structure

PET12, is one of the most common used printing substrates in flexible packaging pouches. With great clarity, stable mechanical strength and excellent printability, it is able to present the customer artwork print in great quality.
Al7, is short for aluminum foil metal sheet with thickness 7 microns, which is the most common used thickness in flexible packaging. It is of the best barrier performance among all the film materials, which can keep the orginal flavor and fragance for a prolonged time.
A further layer of PET film 12 microns is applied as a reinforcement in the foil laminate, which is able to create a more robust package, and better protection for your coffee on its trip from the roasting warehouse to the consumers' hands.
LDPE, means low density polyethylene film, which is the most used inner sealing layer for the coffee bag. It is able to provide enough sealing strength and airtight property for the final packages.
The thickness of LDPE film can be adjusted against the exact requirements for the customer application, and in this case, the thickness is 80 microns. so the foil structure for this 12oz Lifeboost block bottom coffee bag is PET12/AL7/PET12/LDPE80, with total thickness 116 microns, as shown in the below picture.
Let's get into further understanding on the performance of this foil laminate.
Perfect Printing with customer artwork
With high clairty, great wetting tension, and great mechanical stability under kinds of conditions, PET film is a fine print substrate membrane against customer artwork. Matte laqcuer coating can be also applied on the outside of the film, which is able to create a high quality visual effect.
A layer of matte lacquer coating is applied over the outter layer of this aluminum foil laminate in full web, which helps to create a quality visual effect. Further more, the foil laminate is totally sunlight shielding, which makes the artwork printing effect more solid and vivid.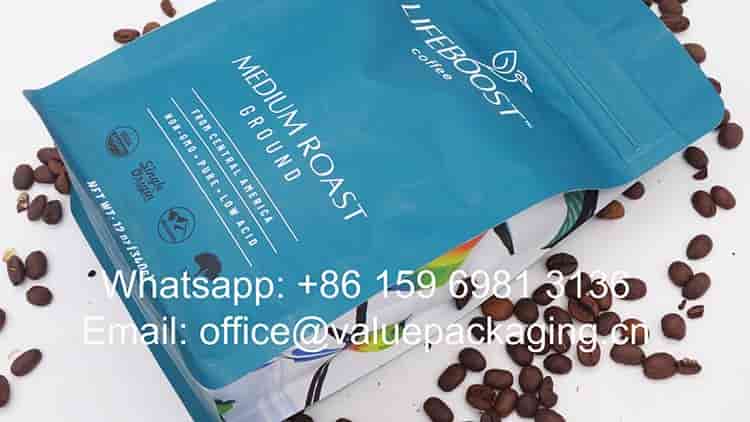 High Barrier Performance
Aluminum foil sheet is considered as of the best barrier property among all the film materials in coffee packaging field.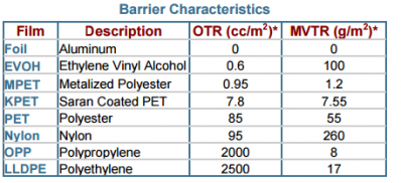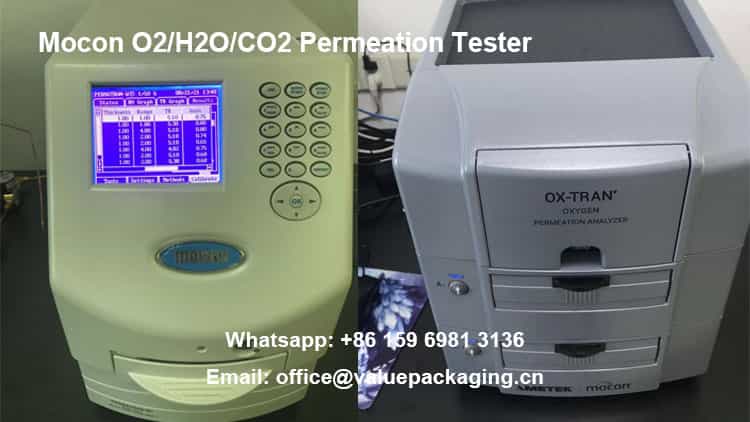 We have this Oxgen and water vapor permeation tester from Mocon to assist the measure and control over the barrier performance in our daily QC work. and for always, both WVTR and OTR for this aluminum foil laminate should be less than 0.01 in actual application.
Anti-pressure Performance
Anti-pressure test is a reliable way to check if the final coffee package is strong enough in reality. Usually we will get the coffee bag flushed with air and well sealed, and then a person is going to stand on that flushed bag for a while, like 10 to 60 seconds.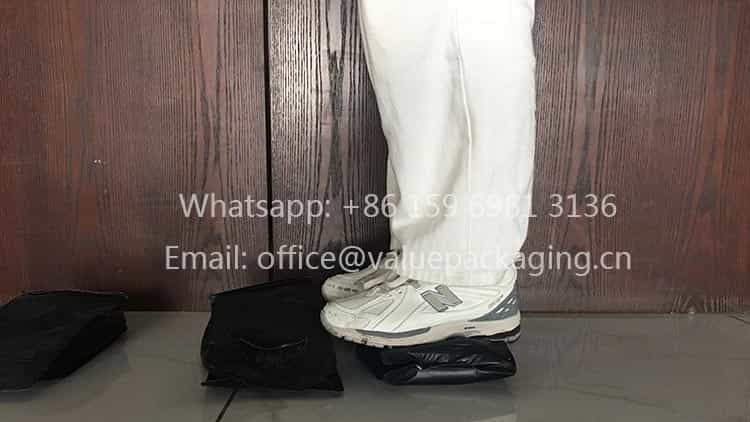 Drop Test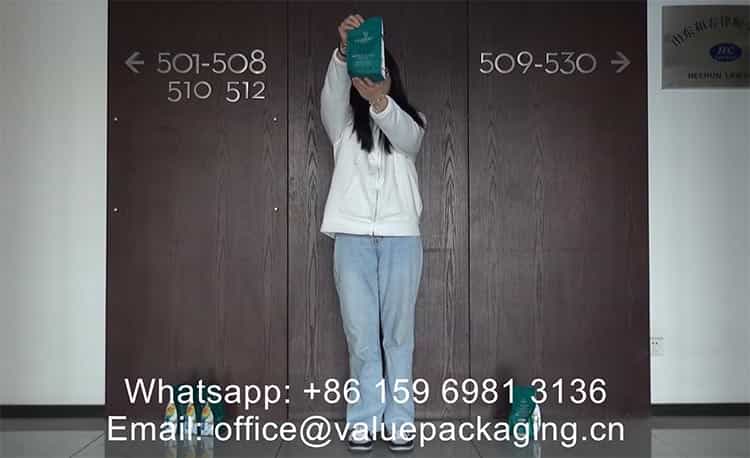 Drop test is also a further reliable method to check if the package is able to withstand sudden outside shock, like the package fall off the goods shelf, or sudden accident in transportation. We would fill 12oz (340grams) of roasted beans into the package and get the top part well sealed, and perform the drop test from 1.6 meters high, for 3 times.
Watch the video for further understanding on the test process.
Burst Impact Strength Test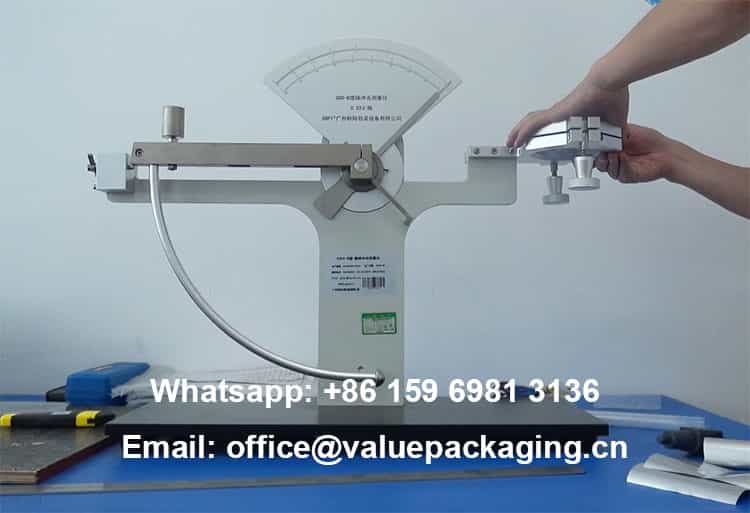 Bust impact strength is usually a very common method to check the strength of a film substrate or multi-layer foil laminate in laboratory conditions. It can be used to monitor the quality of coffee packaging.
Against the foil structure PET12/ALU7/PET12/LDPE80, the data of burst impact strength is listed in below table.
Watch the video for further understanding
Tensile Strength Test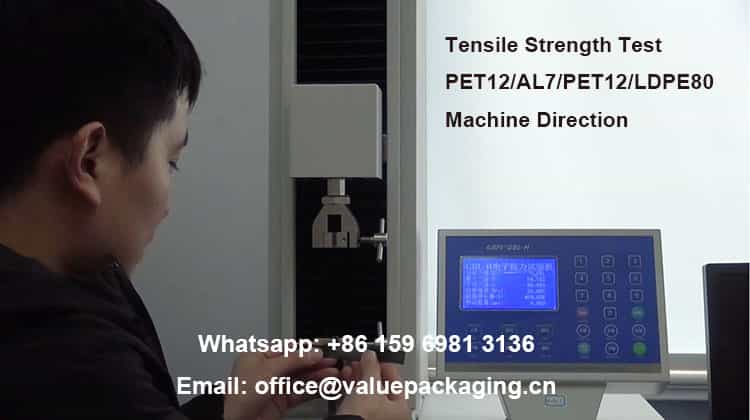 Tensile testing is a destructive test process that presents helpful information about the tensile strength, yield strength, and ductility of the laminate material.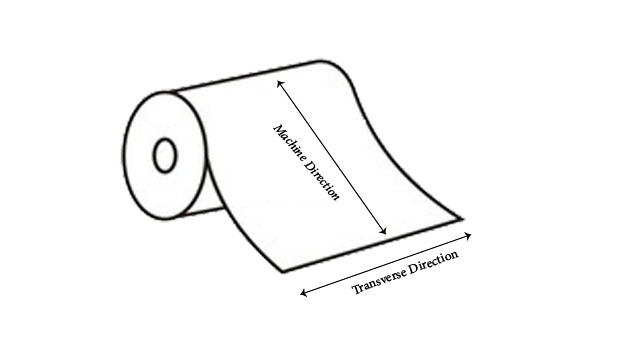 When it comes to a film roll, machine direction and transverse direction are concerned. Machine direction MD is the direction that a material unwinds as it's being fed into a press, and transverse direction or TD is the direction that is 90 degrees to the machine direction. Here in below table, we list the test values of machine directioin and transverse direction of this PET12/ALU7/PET12/LDPE80.
Machine Direction
Number
Maximum Strength
(N)
Tensile Streng
(Mpa)
Elongation Rate
(%)
#1
100
53.3
69.2
#2
110.3
58.8
91.5
#3
106.7
56.9
84.7
#4
109.2
58.2
92.4
Watch the video for test process
Transverse Direction
Number
Maximum Strength
(N)
Tensile Streng
(Mpa)
Elongation Rate
(%)
#1
107.1
57.1
89.2
#2
101.5
54.2
79.0
#3
102.2
54.5
73.4
#4
101.7
54.2
73.1
Watch the video for test process
Anti-Puncture Ability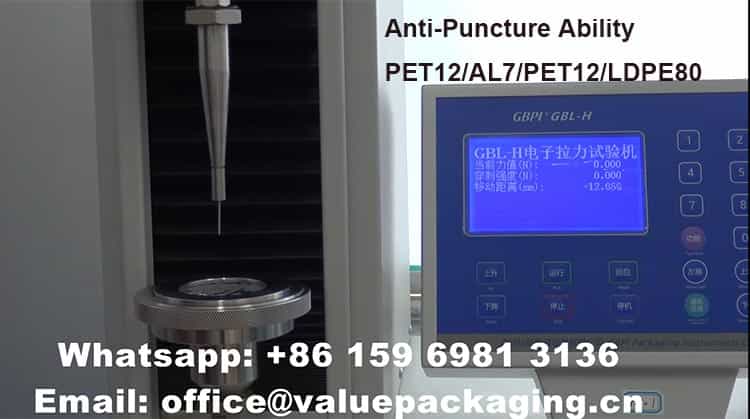 Anti-Puncture ability describes the relative ability of a foil material to prevent the intrusion of a foreign object, that is quie helpful to understand if the coffee package will be easily destroyed by outside objects.
| | |
| --- | --- |
| Number | Anti-Puncture Strength(N) |
| #1 | 16.9 |
| #2 | 16.7 |
| #3 | 15.9 |
| #4 | 15.1 |
Watch the video to understand more on this test process
Sealing Strength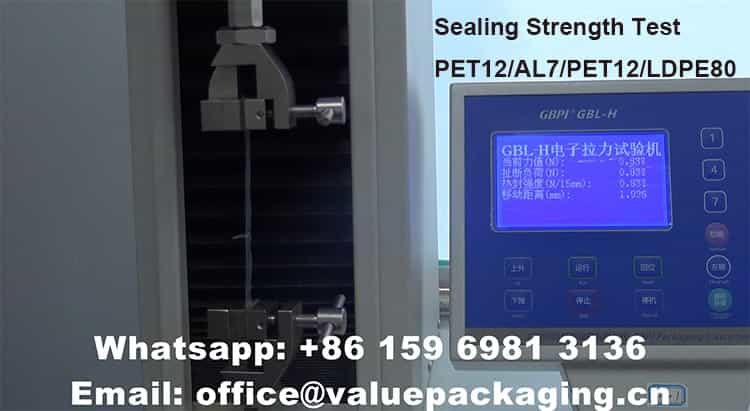 Sealing strength describes the tensile strength of the sealed film at ambient temperature. It is the maximum force required to separate the two layers of a seal under certain conditions.
PET12/ALU7/PET12/LDPE80 foil laminate is a reinforced foil against triplex layer PET12/ALU7/LDPE, and able presents better sealing strength. Below table lists the values in our particular test.
| | |
| --- | --- |
| Number | Sealing Strength(N/15mm) |
| #1 | 70.98 |
| #2 | 68.22 |
| #3 | 66.98 |
| #4 | 74.33 |
Watch the video below to understand more on the actual test process.
Technical Data Sheet of 12oz Lifeboost aluminum foil coffee bag
Here enclosed the specification for this 12oz bag, in case any one is interested to get a better understanding on this fantastic coffee package.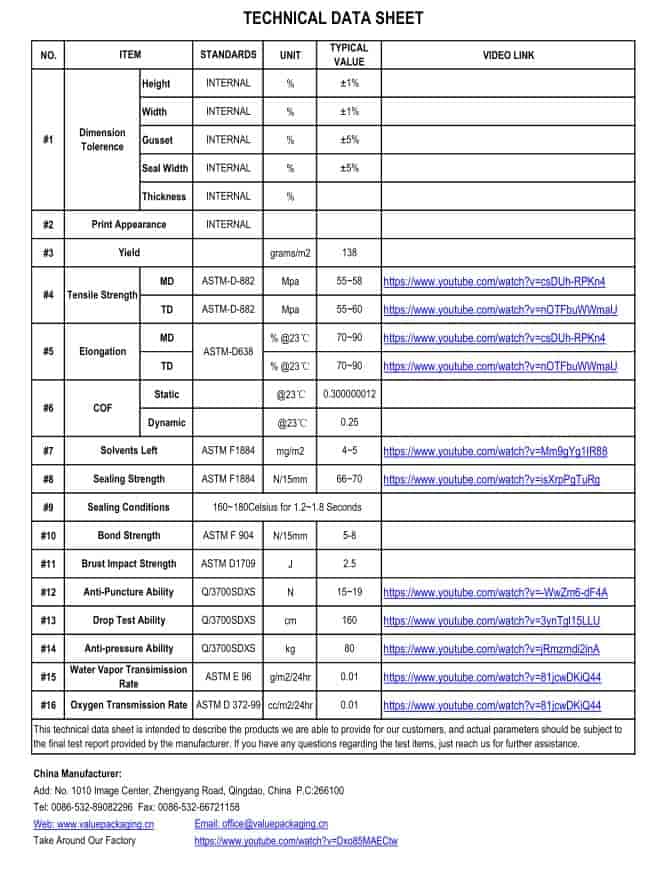 Just download the PDF file for this specification and forward to your customers whenever you need.
In recent years, concerns over the plastic pollution have increased considerabley, which has led to the widespread emergence of sustainable coffee packaging, like compostable coffee pouch and mono materials fully recyclable coffee pouch.