Some tomato ketchup manufacturers may like to launch their products in large volume, like 900 grams or even 1 kilograms, and of course, the first thing is locate the film materials and bag dimension, and in this post ,we are going to talk about this.
Packaging foil materials
It is absoluately necessary to get the tomato ketchup products sufficiently pasteurized if it is packed in large volume. Retort treatment should be the ideal method to achieve this. Tomato ketchup will be sterized in the pasteurization equipment under 121~125 celsius degree for 30~50 minutes, which is able to remove most of the bactirials that might degrade the products.
The foil structure below is Polyester12/Aluminum Foil 7 microns/Polyamide 15 mic/Retort CPP90 film would be ideal for retort treatment. However, due the limitations of the film materials, upon our experience, this foil structure can be intended for package with maximum volume at 1 kg. With larger volume, the film materials may face a higher risk of breakage or leakage in actual service.

Volume Test
As in our hand, there is not enough tomato ketchup for the filling process, so we will have to evaluate the package volume by mili-litre. Usually, the density for tomato ketchup is 1.15 g/ml, that means to hold 900 grams of tomato ketchup, a standup doypack with 782ml net volume will do.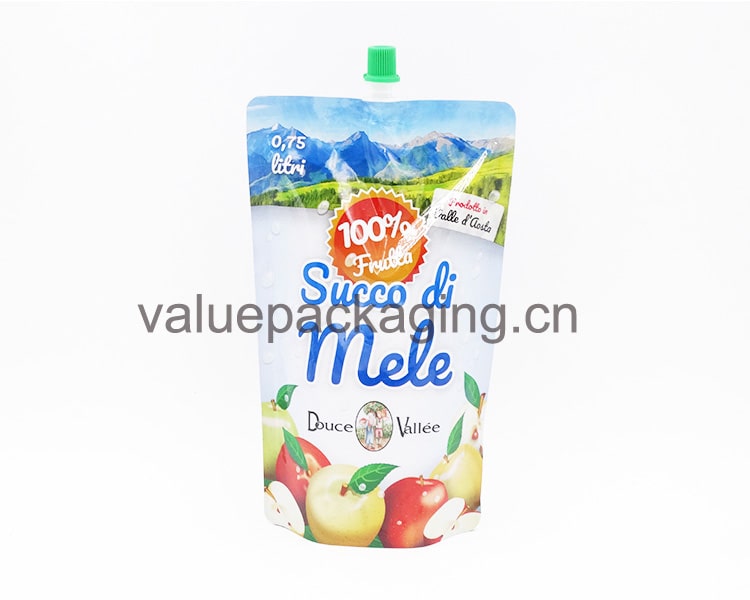 Our company is ever producing a standing spout doypack that can be well intended for 750~800ml apple juice, and we are going to perform the volume test with this spout doypack. and below video shows the test process, for your reference.
Package Dimension
The dimension for this screw cap pouch is W150*H230+BG80, with sealing edge 8mm, and we believe it can be well intended for 900 grams of tomato ketchup.
Design Template
In this design template, the spout is placed in center, of cource, the spout can be placed on the top corner. Anyway, just reach us if you have any other questions.