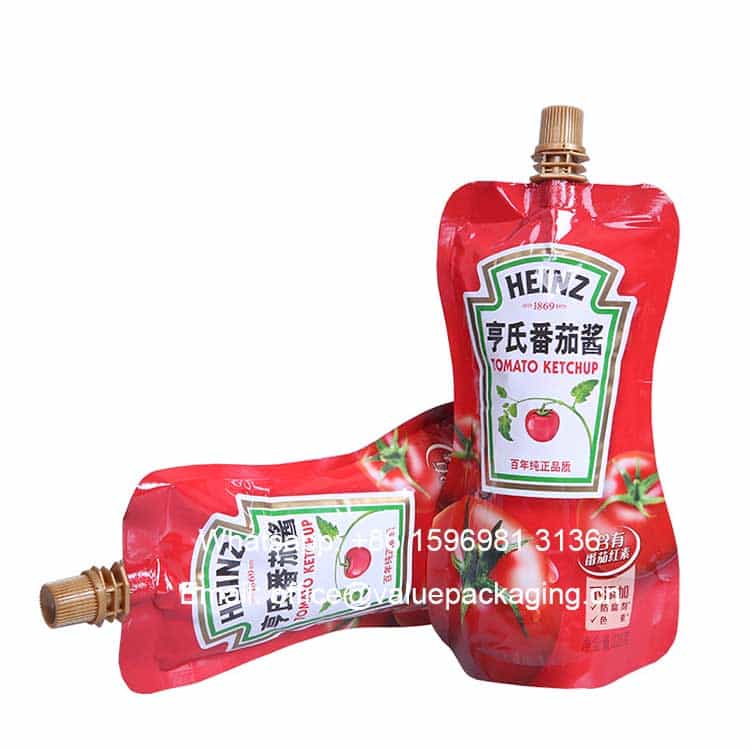 Tomato ketchup is quite popular in spout doypack packages in the market. It does not only make the use of ketchup product much more easily for the consumers, and also help the consumers to avoid waste.
As a reliable manufacturer of spout doypacks for many global manufcturers and brands of tomato ketchup, in this post, we are going to share the most common volume and dimension for tomato ketchup spout bag.
100 grams spout pouch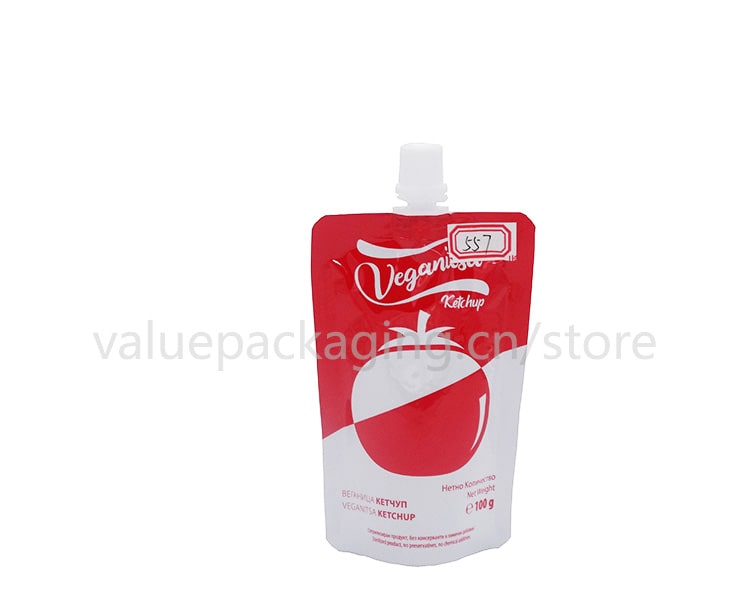 The package dimension for this 100 grams package is W85XH130+BG60mm, which can be well intended for 100 ml products, and normally, this package can be well intended for 100 grams ketchup products. Of course, some customers may like to make it a little smaller, to get a better match, like W85XH120+BG50mm. That is upon the preference for the customer ,and we are glad to provide samples bag for each item, for the customer's test.
150 grams spout doypack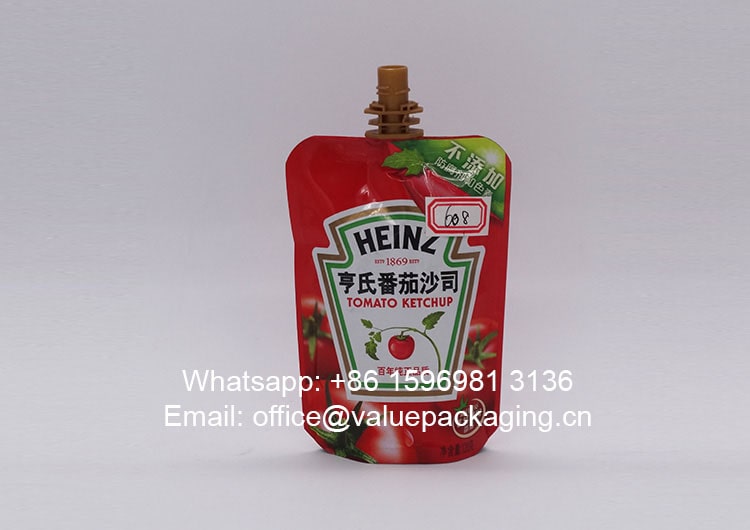 For 150 grams products, the screw cap bag is usually in normal shape.
200 grams spout doypack normal shape
200 grams spout doypack hourglass shape
300 grams spout bag hourglass shape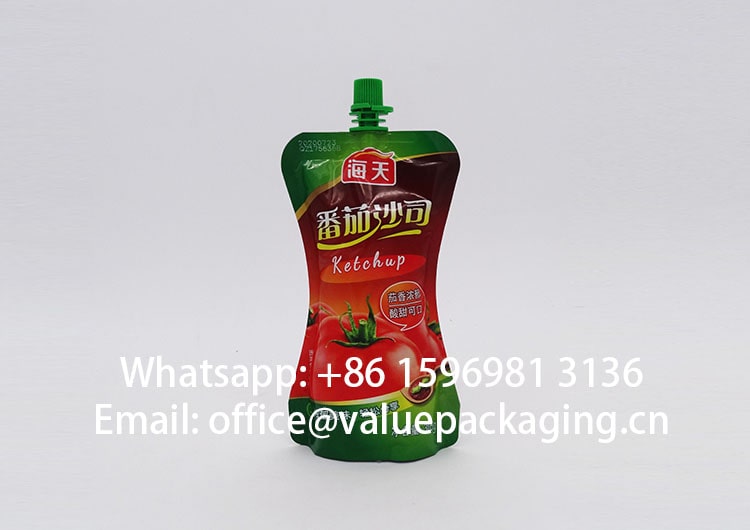 330 grams spout pouch hourglass shape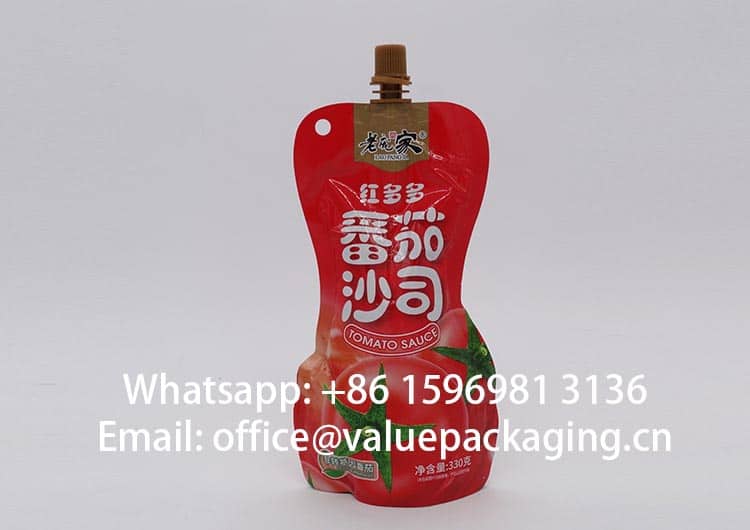 This spout doypack is produced for a chinese manufacturer, with package dimension W120XH200+BG90mm, the filled level is around 60~70% of the total height.
400 grams spout pouch-hourglass shape
500 grams spout pouch
800 grams spout pouch
900 grams spout pouch norma shape
This stand pouch should be able to hold 750ml-800ml juice, and based on the density for tomato ketchup 1.15g/ml, it should be ok for holding 900 grams of tomato ketchup. Package dimension is W150*H230+BG80mm, you may read here for more information. https://www.vp-packaging.com/applications/tomato-ketchup-package/package-dimension-of-900-grams-tomato-ketchup-screw-cap-doypack/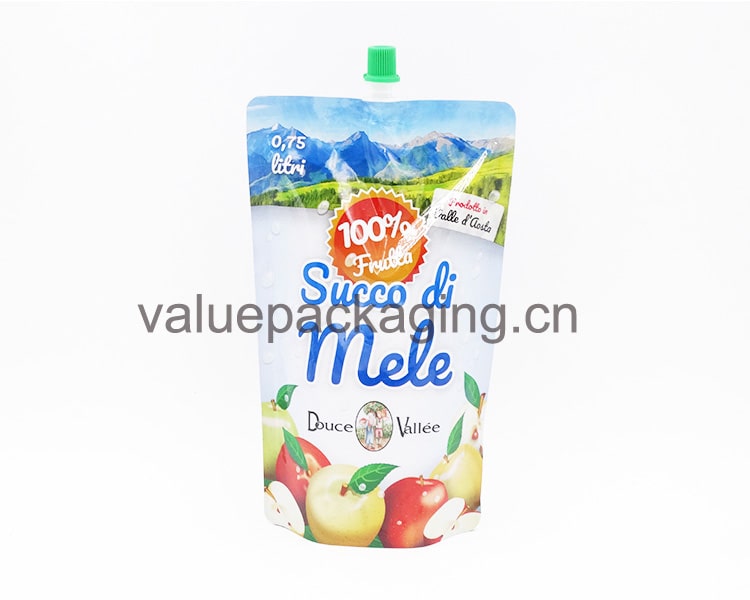 1kg Standing spout pouch
If you are looking for spout pouch with other volume or shape, you may reach us for further assistance.