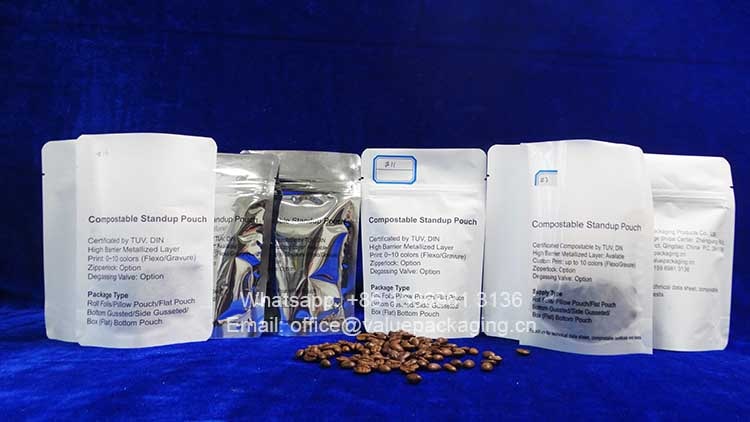 Compostable standing pouch is now becoming a top favorite sustainable package when the customers would like to bring more elements of eco-friendly and sustainability to their packages. Of course, every customer would like to get his own artwork printed on the biodegradable package, for a better branding of their products.
As a reliable flexible converter in Qingdao, China, we have developed a sery of biomaterials compostable bag packages with different foil structures. Upon all these foil structures, the outside print substrates usually comes into two categories.
Paper substrate: Metallized paper, Kraft Paper
Film Substrate: Cellulose Film, BOPLA Film
Printing on paper and film substrates will be a quite different thing, and we will get a close step into the truth.
Printing on Kraft Paper

Usually there are two variants of kraft paper applied in the flexible packaging industry, brown color and white color. Actually, white kraft paper is achieved with bleaching on brown kraft paper, so usually we take the performance for these two variants the same.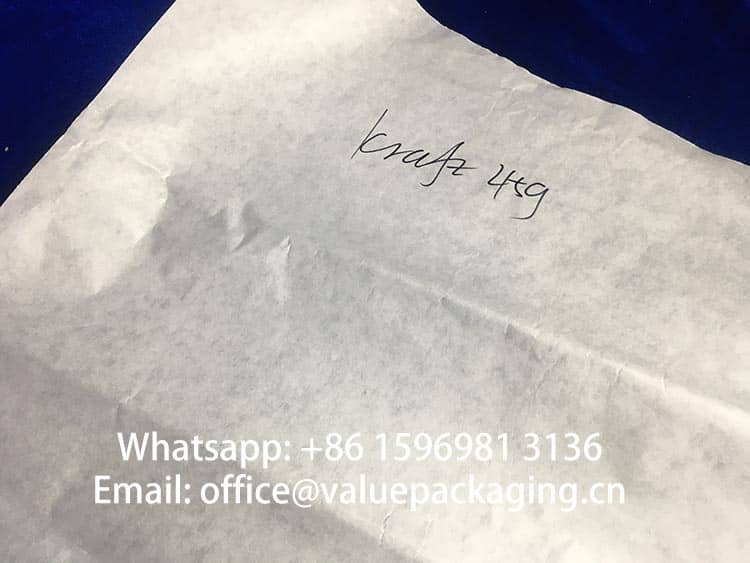 As kraft paper is made of plant fiber, which is of a rough surface with porous tiny holes. So, uring the printing process, some of the inks may be asborbed into into the paper itself, as shown in the below picture.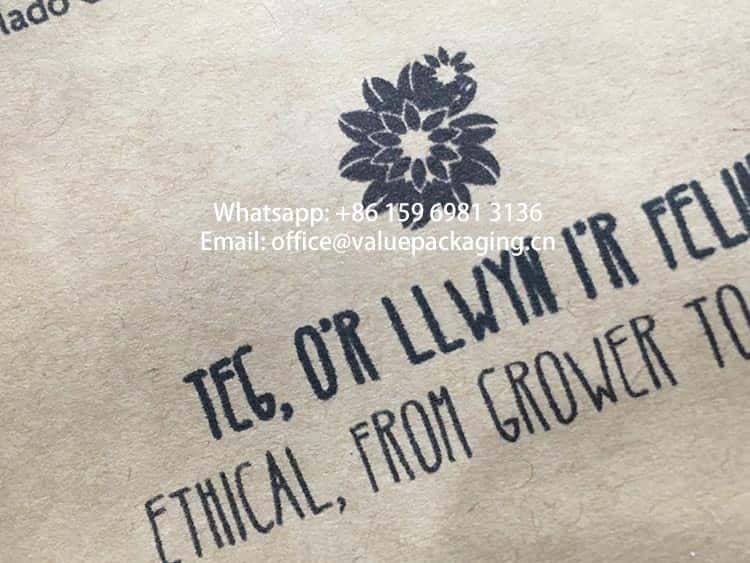 So, when the artwork is directly printed on paper substrate, heavy colors like black will perform much better than some light colors.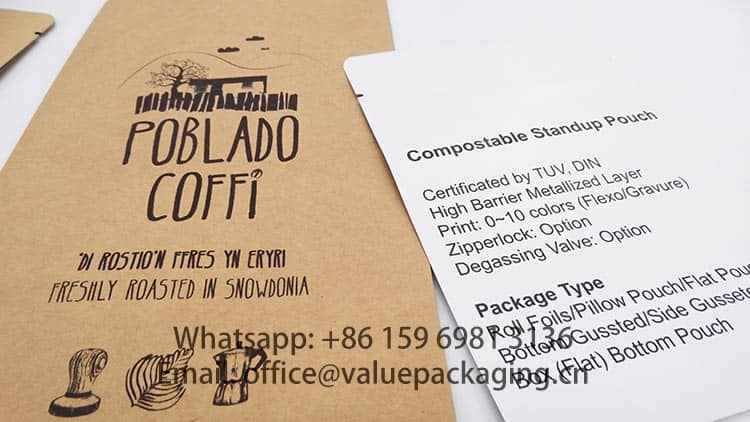 Printing on Metallized Paper
In previous post, we shared about the structure of metallized paper. With a layer of clay coating on the paper surface, it is more smoothe than kraft paper. However, printing inks can still be asborbed into the metallized paper for some extent. You can check the close view of the texts printed on compostable paper pouch with foil structure Metallized Paper69gsm/Cellulose Film30/PLA+PBAT60.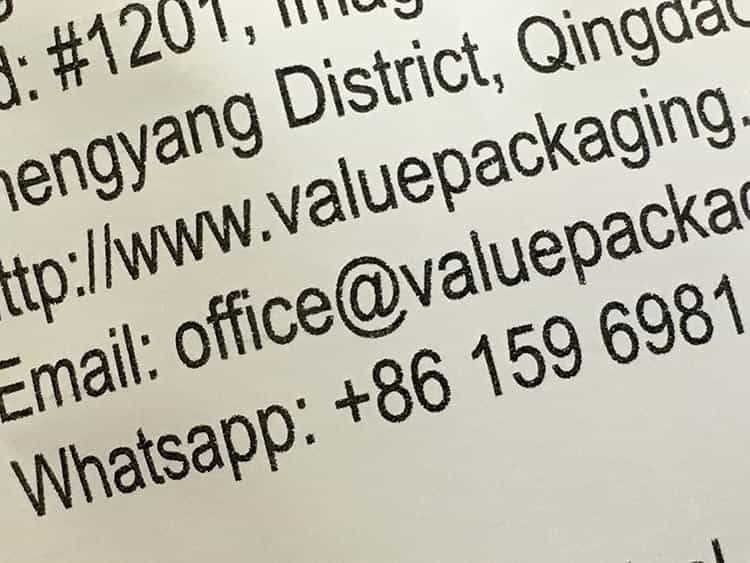 That will make the color overlapping much difficult, and always with bad effect when the artwork is printed directly on the paper substrate. So, we advise to make the artwork simple and clear, with heavy colors, that would be final good effect.
Printing on Cellophane Film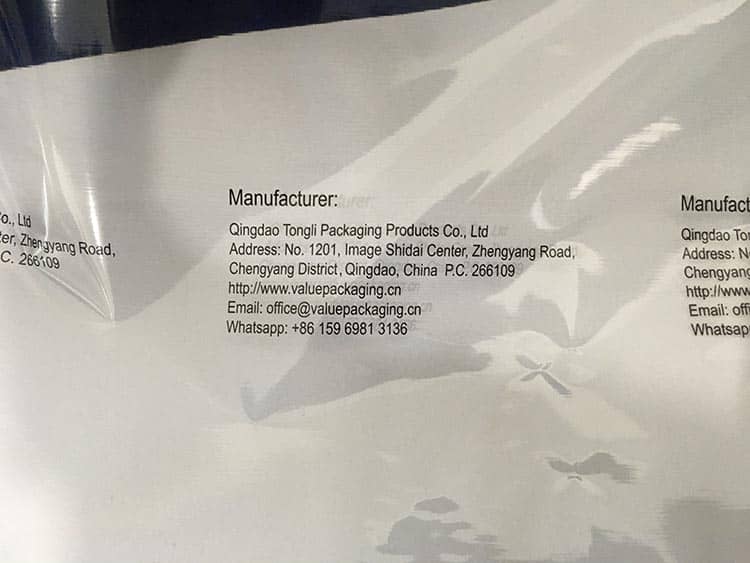 Cellulose film is a clear bio-materials substrate film, similar to PET film. With high clarity and good wetting tension, it can be printed on both sides.
Now, we have performed the trial print of physical prodcut image on the inner side, and matte lacquer coating on the outside on cellulose film 30 microns, with graphic as below.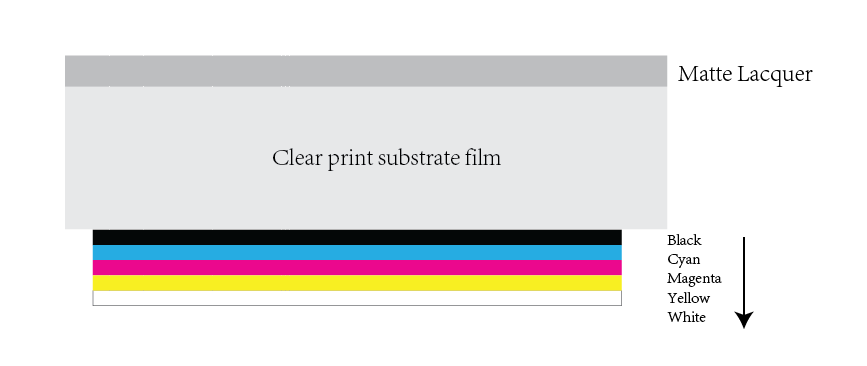 Actually, the final effect is amazing, with precise color overlapping, vivid artwork presentation, and quality matte finish.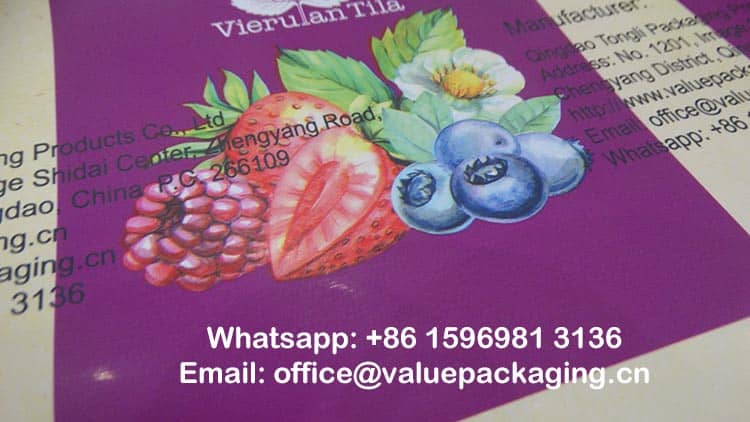 You are advised to watch the video below for a further understanding of the print effect on cellophane film.
Printing on BOPLA Film
When it comes to printing, BOPLA film should be working as great as cellulose film, as it is also with high tensile strength, good wetting tension, high clarity.
The drawback for BOPLA film working on the outside print substrate film is the weakness in high temperature resistance, which will be shared in future posts. However, when it comes the printing, the effect for printing on BOPLA film and Cellulose film should be about the same.
See below picture, can you tell which is printed on cellulose film, and which is printed on BOPLA film?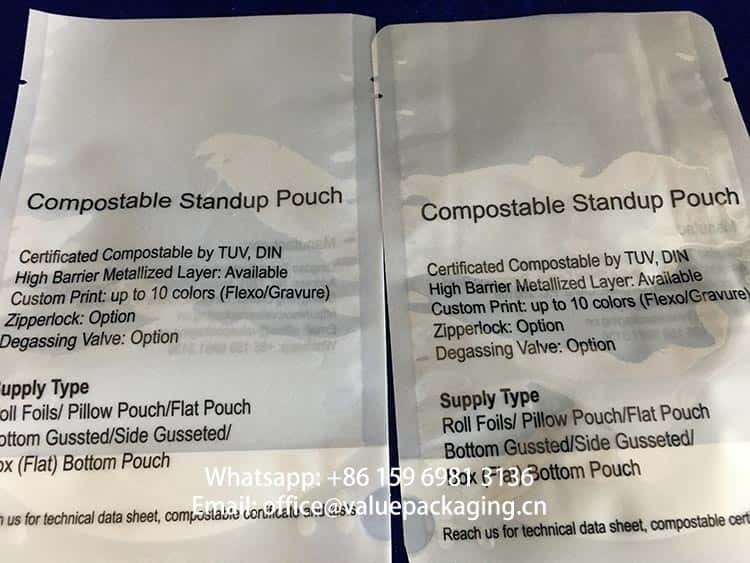 Ok, here we come to the end of this post. and hope what we share about the print effect on our compostable bag packages should be of help for you to understand the services we are able to provide, and just reach us if you have any specific enquiry.