Aluminum foil is thin metal sheet, and it can not be working alone in package areas. It will have to be further coated or laminated with other film material to achieve the sealing property. And 3 Ply Aluminum Laminate is the most commoun used aluminum foil laminate, and some customers may still get confused with this term, and in this post, allow me to give a further explanation.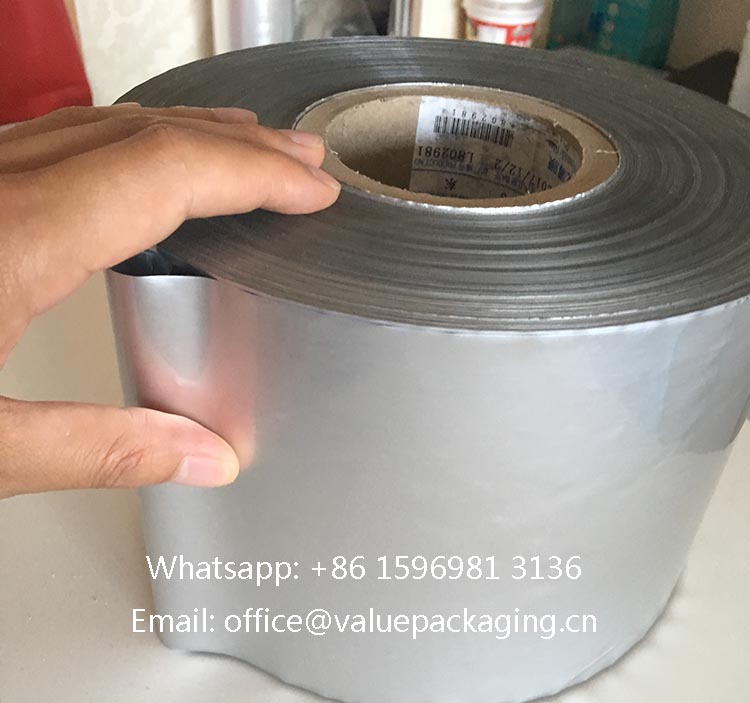 PET12/Al7/LDPE
This foil structure should be the most popular item for 3-ply aluminum laminate, as it is able to achieve the functions at the lowest cost.
PET12, means clear polyester film 12 microns, working as outside print substrate film
AL7, means aluminum foil sheet 7 microns ,working as middle support layer and barrier layer.
LDPE film, short for low density polyethylene film, working as innner sealing layer of this aluminum foil laminate.

With excellent stiffness,mechanical strength, barrier and sealing property, this 3-ply aluminum foil laminate can be well intended for good packages for most products, like
human food
coffee beans
tea
pet foods
juice
ketchup
sauce products
With modification on the film materials, this foil structure can be well linear straight tear
BOPA15/AL7/LDPE Multilayer Foil
With BOPA film 15 microns working in this foil laminate, the mechanical property and anti-puncture performance increases against PET12/Al7/LDPE foil laminate, which can be used for some tough applications
With the development of linear tear type BOPA film, this BOPA15/AL7/LDPE foil laminate can be well able to achieve linear straight line tear for premade pouch.
PET/AL/CPP foil laminate
PET/AL/CPP foil laminate

BOPP/AL/LDPE laminated foil
This foil structure is seldom used, even some customers may like to locate the lowest cost with matte finish effect on the aluminum foil laminate, with grachic as below
Graphic of BOPP/AL/LDPE

Even though matte BOPP film is going to realize fine matte finish effect, however this foil laminate is still not reliable in packaging, with reasons as below.
Tensile and Elongation
Matte BOPP film may be elongated under the tension applied on the film web, however aluminum foil is not able to elongate. When laminated together, the big difference in tensile and elongation may cause the artwork print be distorted when unbalanced elongation happens.
Sealing temperature
Under sealing temperature of 160~180 celsius degree, Matte BOPP film may not be able to perform well, the surface may shrink or be damaged under the heat sealing process. If we like to get a better sealed appearance, it is essential to lower the sealing temperature for the inner LDPE film.
However, this foil laminate is still choosen by some customers, which can only be intended for lower level packages, like light weight packages.
Read here for more understanding on the property of MatteBOPP/AL/LDPE foil laminate.
Ok, we come to the end of this post, and you are welcome to reach us if you have any other questions.