2-ply laminated material is realized by combining two different film materials into an integration film (which is usually called foil), with finial superios properties against one single layer film. Usually, a commerical product package would need the logo and information of the manufacturer to be printed, and one single layer film is hardly possible to meet all the various requirements.
When 2-ply laminated material is choosen for the package, usually the two separate layers works as below.
Outside layer: working as print substrate, support layer, mechanical layer.
Inner film: working as inner sealing layer

Common Outside Layer
Most of the substrate film in flexible packaging can work as outside layer,with list as below
PET film
BOPA film
BOPLA film
KPET film
KPA film
Kraft Paper
Metallized Paper
Common 2 layer foil structure
PET/LDPE Foil Materials
PET/LDPE foil shoudl be considered as one of the most common used 2-ply foil materials,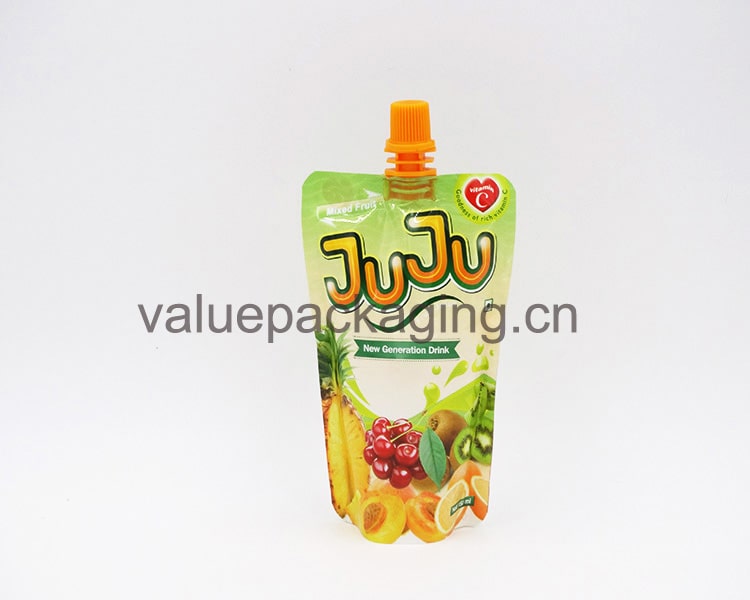 PET/CPP
PET/CPP foil laminate is of good clarity and stiffness, so it can be well converted into standup pouch packages, below picture shows a spout doypack which enable the consumers to have a clear view of the inside products.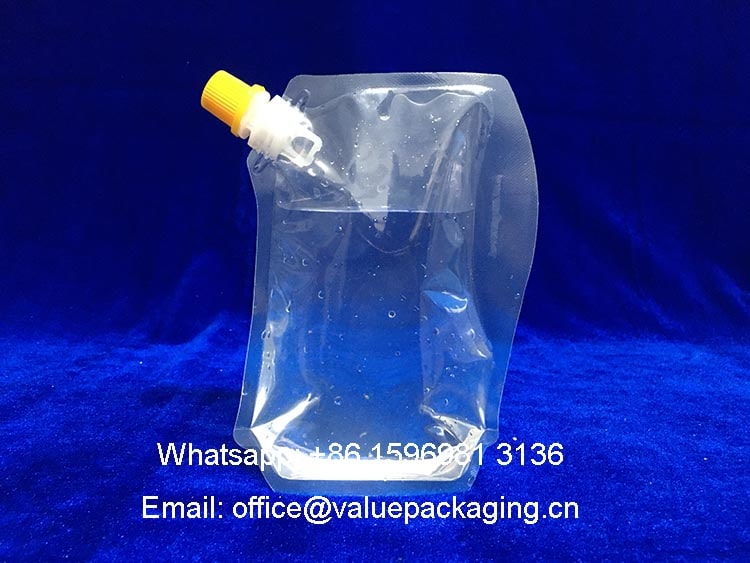 BOPP/VMCPP
BOPP/VMCPP foil should be considered as the lowest cost foil laminate that include aluminum metallized barrier layer, which is more often used as roll foil, and formed into packages on FFS machine. As this foil is of bad stiffness, so usually it is not intended for standup pouch packages.
PET/VMCPP
With PET film working as outside print substrate, this foil laminate is able to provide better stiffness than BOPP/VMCPP, and also better mechanical strength.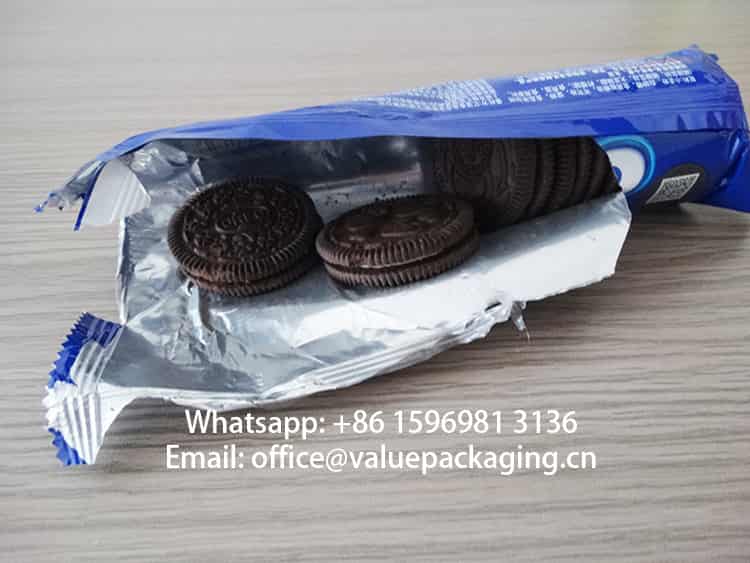 BOPA15/LDPE Foil Laminate
BOPA15/LDPE foil laminate is able to provide much better mechanical strength for the final package, and below picture shows the standing spout doypack for 1.5kg sauce.
Here you are able to watch the video of drop test of this PA/LDPE spout pouch, to understand its mechanical property. https://www.vp-packaging.com/test/drop-test/drop-test-to-check-the-bag-strength-for-sauce-spout-pouch-package/
BOPA15/RCPP Foil Laminate
This BOPA15/RCPP foil laminate can be intended for retort retreatment at 121~121 Celsius degree for 30~45 minutes. Below pictures shows the salted chicken packed in this foil, and sterization when the package is well vacuum packed.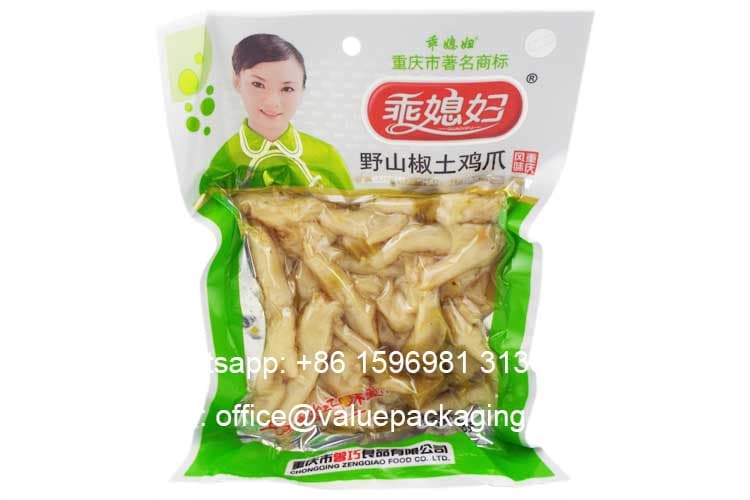 Kraft Paper/LDPE Laminated Foil
Kraft paper is widely welcomed in the packaging areas as of eco-friendly and economical effect for many products, like food, snacks, etc. When laminated with another inner LDPE film, it can be able to be intended as package for more products, like 1 kilograms.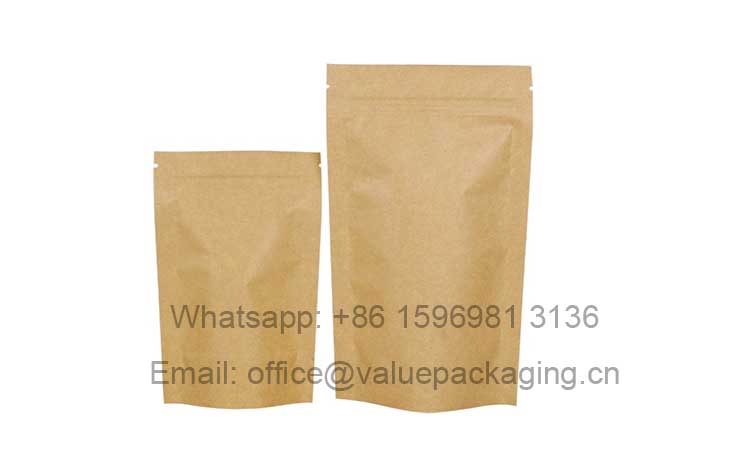 Kraft Paper/CPP
Kraft Paper/CPP foil lamiante is intended for a better standing effect than Kraft Paper/LDPE laminate. However, it is not often used, as kraft paper is able to provide very good toughness for most packages.
KPET14/LDPE foil structure
KPET14/LDPE foil lamiante is intended to provide better barrier property than PET/LDPE film material, as KPET is achieved with PVDC coating, which may set the water vapor transmission rate and
KPET/CPP
When intended for standup pouch packages, KPET/CPP foil laminate is able to provide better standing effect and clarity than KPET/LDPE foil laminate.
Metallized Paper/LDPE
Metallized Paper/PLA
Metallized Paper/PLA laminate can be intended for compostable film materials, as both of these two substrate are certificated compostable in nature conditions. And this foil can be futher processed into kinds of pouch packages and lidding foils.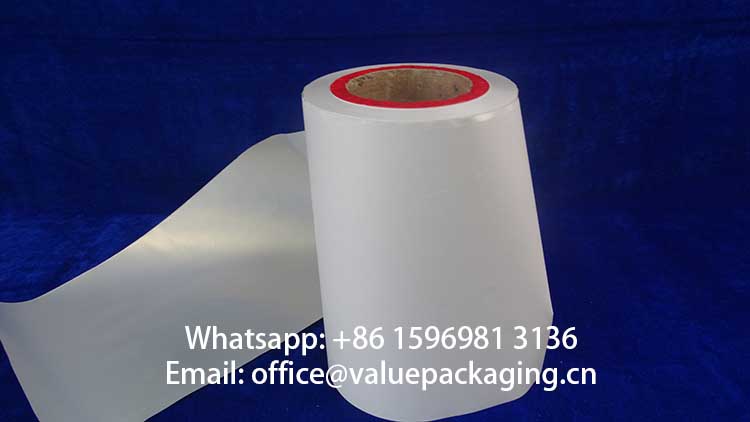 Metallized Paper/BOPLA
Metallized Paper/BOPLA film is able to provide better toughness and stiffness than Metallized Paper/PLA film.