It is best to just use one single film layer to finalize the final package, as it is easy to recycle and most importantly, at the lowest cost. However, sometimes, one single film layer is not able to meet the multi-functions requried by the specific applications, that's why lamiante foils are developed. And 3-ply laminate foil plays a very important role for multi-functions package, and in this post, we are going to get deeper into this foil.
Functions
Outside layer, mainly as print substrate, such as PET film, BOPP film, BOPA film, BOPLA film, KPET film
Middle layer, bone suport layer or barrier layer, such as VMPET film, Aluminum foil, KPET film, PA film, kraft paper, or metallized paper
Inner layer, sealing purose, usually LDPE film and CPP film (including VMCPP film)
Common 3-ply Foil Structures
Upon different requirements from the specific application, many variants of 3-ply laminate foils are developed ,with list and applications as below
BOPP18/VMPET12/LDPE 3-ply materials
This foil structure is widely applied for foods, biscuist, dry nuts, snacks, confectionary products that need a higher barrier package, and also the VMPET metallic film will work as a solid background for the artwork in a vivid way.
Matte BOPP18/VMPET12/LDPE foil 3 layer foil
This foil laminate is able to realize full web matte finish with with the effect of matte bopp film, and of course, matte window can be realized based on certain craftsmanship.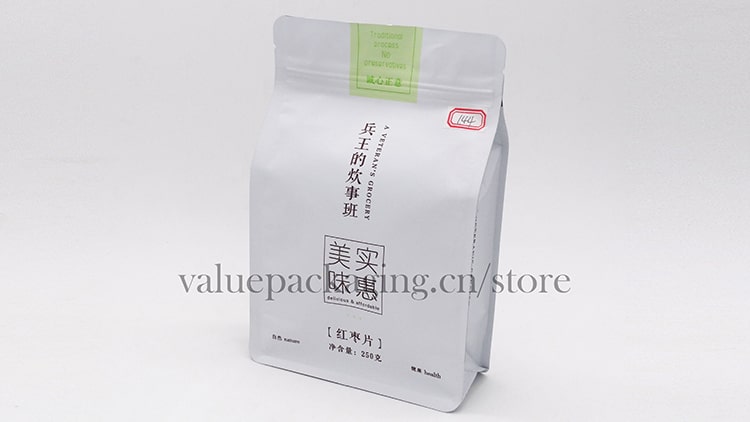 This foil laminate is with better tough, rigid and mechanical strength than BOPP/VMPET/LDPE foil, that is able to create better standing effect for final package, and able to hold more volumes of products, like 5kg pet foods. Upon our experience, this foil laminate is the most used in 3 layer structures when the customer is looking for high barrier package for his products.
PET12/PET12/LDPE triplex foil laminate
This structure is essentia when the customer would prefer a good standing effect for final package, and when the pouch needs diecut, this 3-ply laminate should be a better catch than 2-ply laminate. Below graphic shows the 200ml standing spout doypack intended for juice purpose, with the hourglass shape diecut, this foil is set in PET12/PET12/LDPE80 foil structure.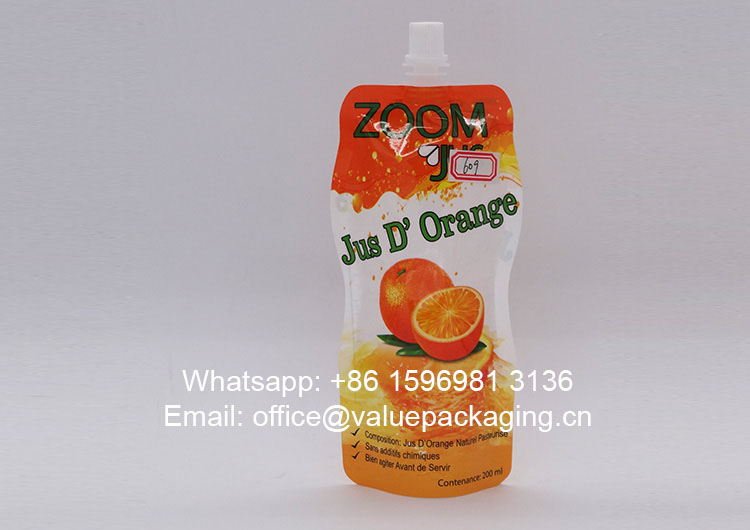 PET12/PA15/LDPE 3-ply materials
this foils is of much better mechancial strength with BOPA film trapped inside, and usually itnended for heavy packaging or liquid products packages, such as liquid household cleaning chemcials from 500ml to 5Litre.Below is the standing spout doypack we are producing for windshield washer fluids pouch pack 2 litres, with foil structure PET12/BOPA15/LDPE160.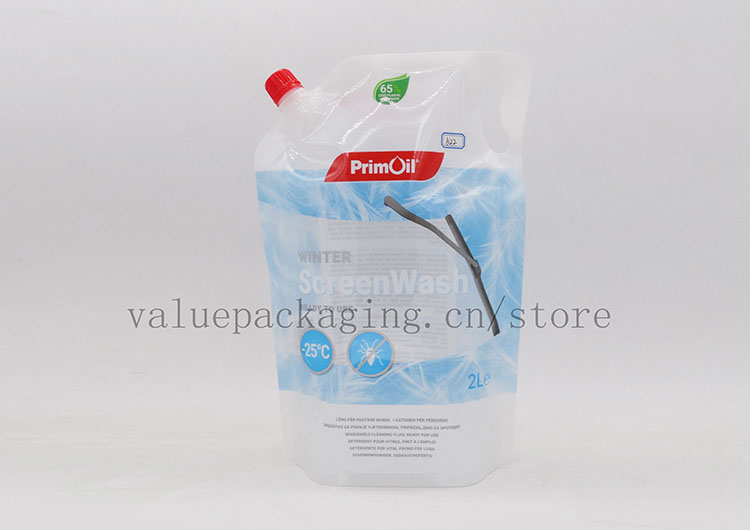 PA15/PA15/LDPE 3-layer laminate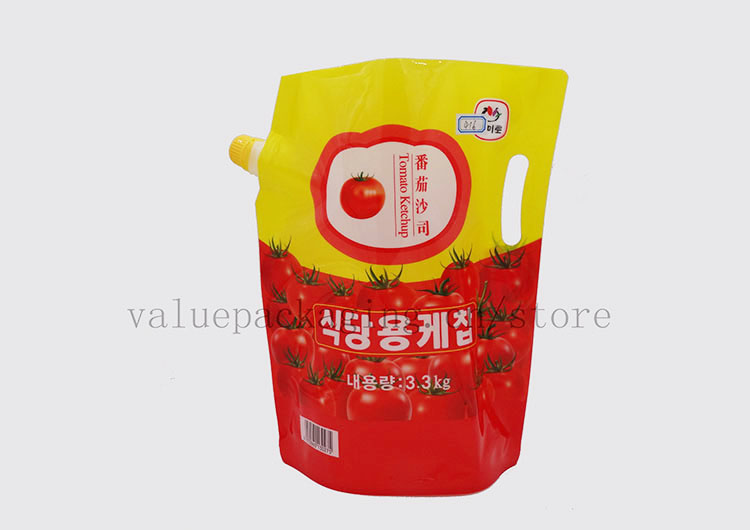 PET12/SiOx-PET12/LDPE triplex lamination
Compared with PET12/VMPET12/LDPE foil laminate, this PET12/SiOx-PET12/LDPE triplex lamination is able to achieve high barrier package in a clear form. As you can check the below standing zipper pouch we are producing for our malaysia customer, the front clear window is realized on this clear package.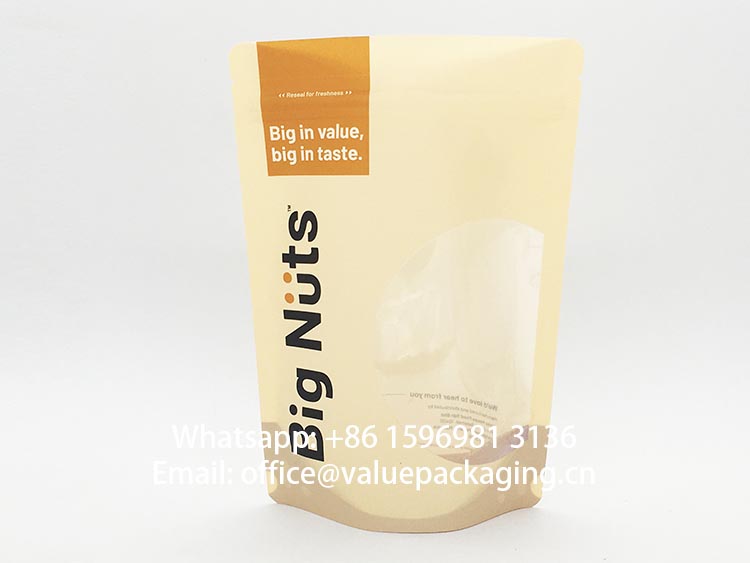 PET12/KPET12/LDPE foil structure
This foil strucre is used when a customer is looking for a normal barrier package for his products at relative lower cost than PET12/SiOx-PET12/LDPE foil. As the main barrier difference for these foil structures is based on the middle barrier film.
BOPA15/VMPET12/LDPE
This foil structure is intended to achieve better mechanical strength and anti-puncture resistance for the final package, as BOPA15 film is much better performance in tensille strength and anti-puncture than PET 12 microns film.
PET12/AL7/LDPE
This foil structure is considered as the most common used aluminum foil laminate at the lowest cost, and widely used for kinds of standup pouches and roll foils for the products that may need high barrier package, like juice, coffee beans, sauce, ketchup, conditments, tea, etc.
NY15/AL7/LDPE Laminated foil
NY15/AL7/LDPE Laminated foil is able to achieve better mechanical strength than PET12/AL7/LDPE foil. With the delveopment for linear-tear nylon film, this foil laminate can enable the linear tear for the final pouch in a perfect way.
PET12/PA15/RCPP
This PET12/PA15/RCPP foil laminate is usually intended for retort packages for products like soybean milk, vegetable mix, sauce , etc. Below spout doypack is what we are producing for a chinese manufacturer of soybean milk, and this 258ml pack is quite welcome in china market.
PET12/AL7/CPP laminated foil material
This PET12/AL7/CPP can be converted into pouches with better toughness, as for inner film layer, CPP film is of better toughness than LDPE film.
BOPP18/Kraft Paper/LDPE
With print or not, this BOPP18/Kraft Paper/LDPE foil structure is able to create standing pouch packages for many products, like snacks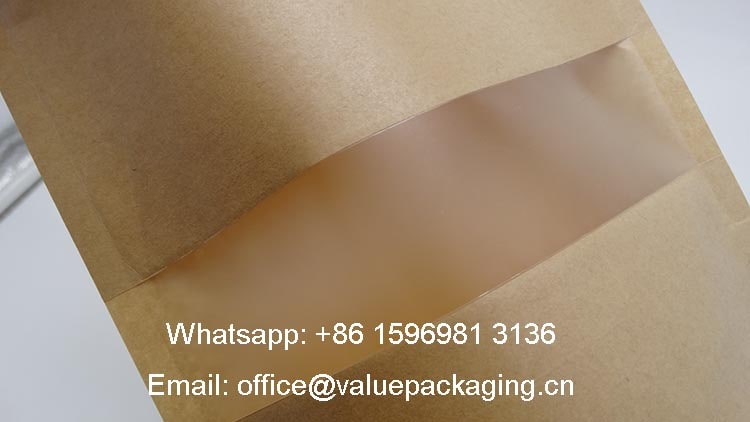 BOPP18/Metallized Paper/LDPE
If the customer would prefer to get a high barrier metallized layer into the paper package, the lowest cost is to choose this BOPP18/Metallized Paper/LDPE foil structure, as it saves VMPET film layer and combine the aluminum metallized layer on paper substrate.
PET12/Kraft Paper/LDPE
This PET12/Kraft Paper/LDPE foil structure is applied when the customer would like to realize a clear window on the kraft paper pouch
Kraft Paper/VMPET/LDPE
With kraft paper on the most outside, this foil structure will create
Kraft Paper/PET/CPP
Cellulose/Kraft Paper/PLA
This foil structure Cellulose/Kraft Paper/PLA is going to realize fully compostable foil laminate in a realiable way. All of these 3 materials are certificated compostable, and Celluose film can work as a good print substrate film, with PLA film works as inner sealing layer.