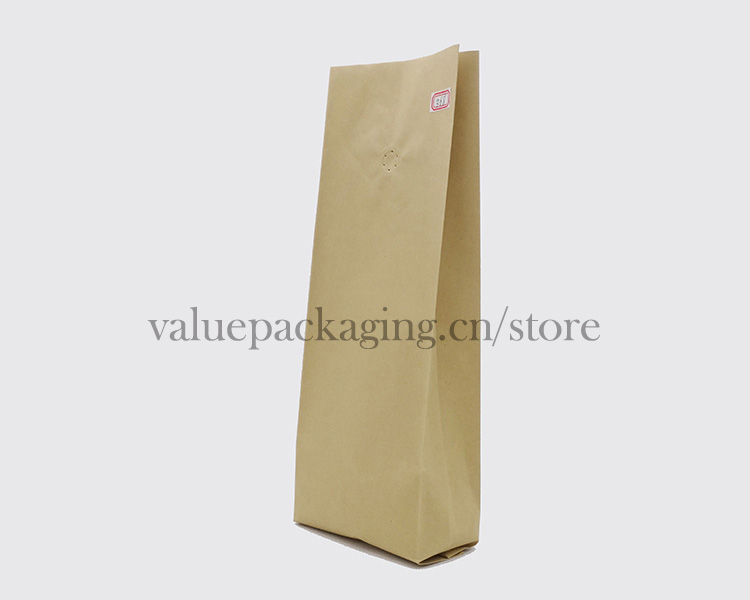 When it comes to kraft paper bag, usually there will be a metal or metallized layer, which is intended to provide a high barrier performance for the package, so the products can be kept in freshness as long as possible, such as coffee, snacks, dry nuts, pet treats, dog food etc. As to the metal or metallized layer film, the aluminum foil and VMPET film are the mostly common used items as they are able to realize the enough property at the cost-effective solutions. You can view the picture below with a metallized PET film inside the package.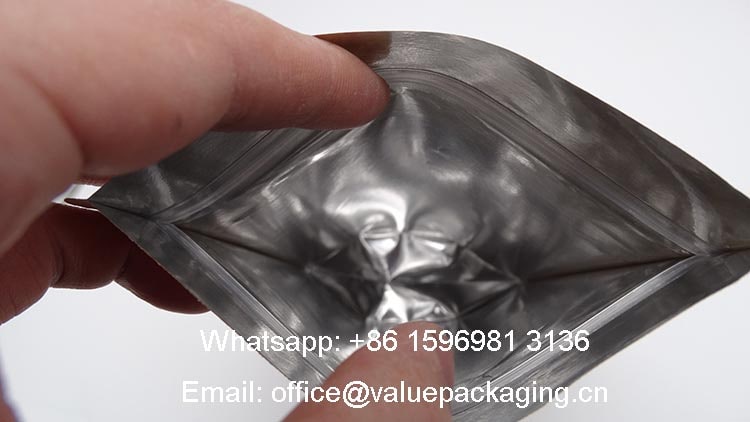 However, for some products packages, some customers may prefer to choose a kraft paper bag without any metal, as you can see the picture below. The foil structure materials for this kraft paper bag is MatteBOPP/Kraft Paper/LDPE liner. This concerns is usually out of below factors
Products do not need barrier property
Package needs to pass metal detector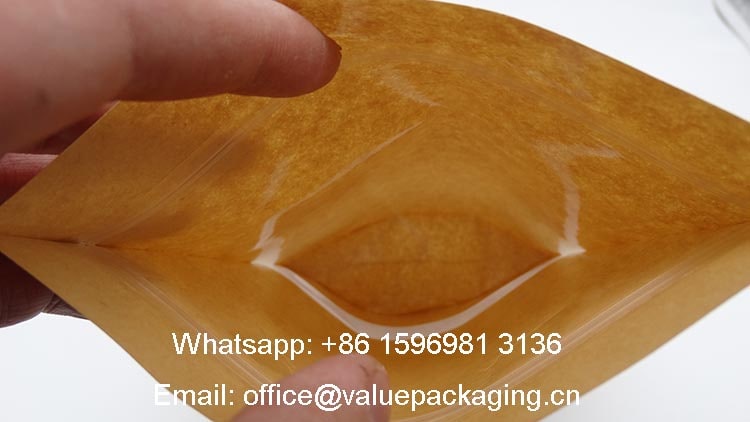 Barrier Property
As to the normal kraft paper package with metal layer inside package, when the metal layer is removed, the barrier performance for the package will drop dramatically, that it will never be intended for barrier packages. So, if the customer believe his products do not need any barrier, or he does not plan for a long shelf life, then this kraft paper bag without metal is more cost-effective.
However, some customers still need high barrier performane for the package, and at the same time, no metal should be contained in the package, as the products package should pass through metal detector.
In this case, SiOx Coated PET film is usually adated, as it achieves execellent barrier property against moisture and oxygen only inferior to aluminum foil, as you can observe in below graphic.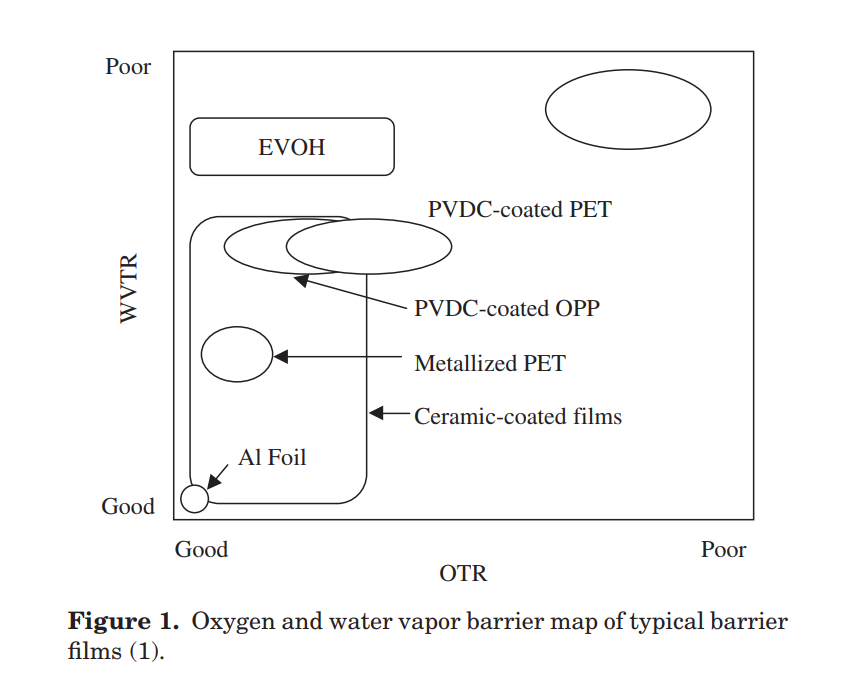 In the past, the produce of SiOx Coated PET film is manipulated by several Japan coporations, which is presenting extremely high price. However, with the quick development of the film materials in china mainland, this SiOx Coated PET film are being massly produced by china manufacturers, which largely reduce the price. Our company is adapting this SiOx Coated PET film manufacturered by a Guangzhou supplier, which is able to present premium qualities.
Outer film protection
For kraft paper bag, an outer film protection is at customer's choice, as you can figure out, the left reflective item is with an outer film protection compared with the dark item on the right.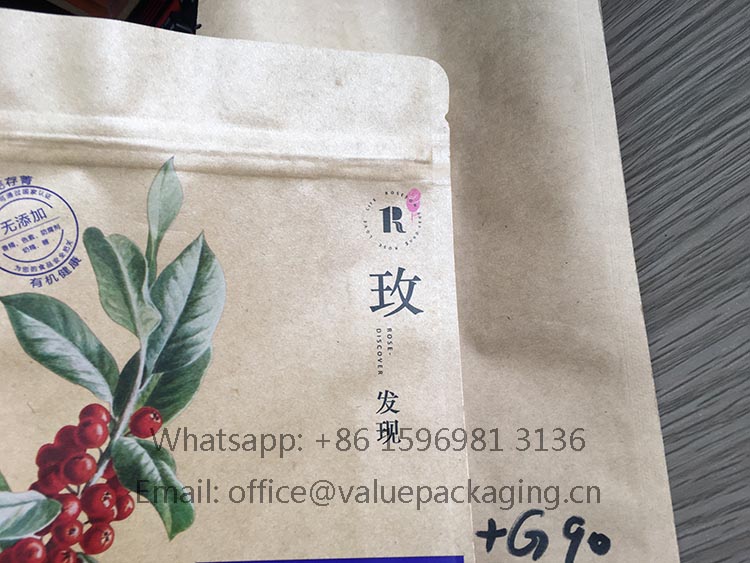 Why this outer film protection is needed?
Kraft paper is made from plant fiber, tough and rigid. When it is folded, there may subtle cracks on the surface, and that may be considered as sub-standard for some premium quality packages. With an outer film protection, this crack problem would be mostly avoided.
Especially it comes to kraft paper bag in box bottom type, the kraft paper foil will be folded repeatedly for several time for the gusseted place on the bag-making line, and an outer film will largely protect the kraft paper from cracks.
You may read more here. WHY THERE IS AN OUTER PLASTIC FILM FOR BOX BOTTOM KRAFT PAPER POUCH
Window
Without any metal inside the package, it becomes much easier to realize a window on the kraft paper bag, with hazy window and high transparent window at customer's choice.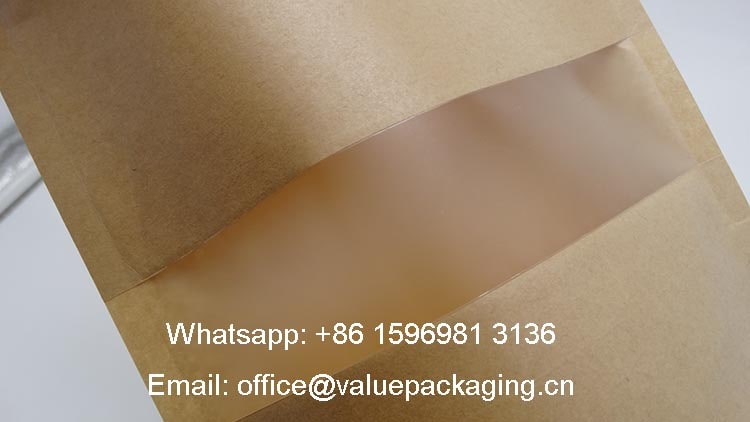 Usually, this hazy window is realized by the matte BOPP film which works as the outer film protection.Read more here.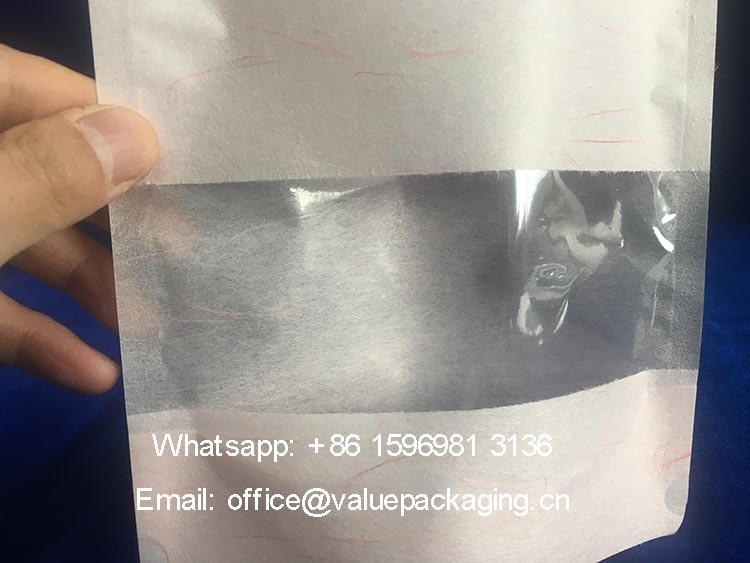 and for this high transparent window, there should not be Matte BOPP film on the outside. The kraft paper will need to laminate with transparent LDPE film or CPP film to realize the window. Read more here.
Foil Structures
Below list is the most common used foil structures for the kraft paper bag packages without any metal.
Kraft/LDPE
Kraft/PET/LDPE
MatteBOPP/Kraft/PET/LDPE
MatteBOPP/Kraft/LDPE
An outside Matte BOPP film is intended to provide a outer film protection, and the PET film inside the foil is intended to improve the bag strength or standing effect for the final packages.
Options
Zipper, spout, tear notch, euro hole, degassing valve are all available for the improved performance for the kraft paper packages, and we will introduce on the application on each item later.
Ok, here are the basic knowledges on the kraft paper bags without any metal, and we will introduce more on each item and detail in the future posts. If you have any questions, just reach us at office@valuepackaging.cn for support.