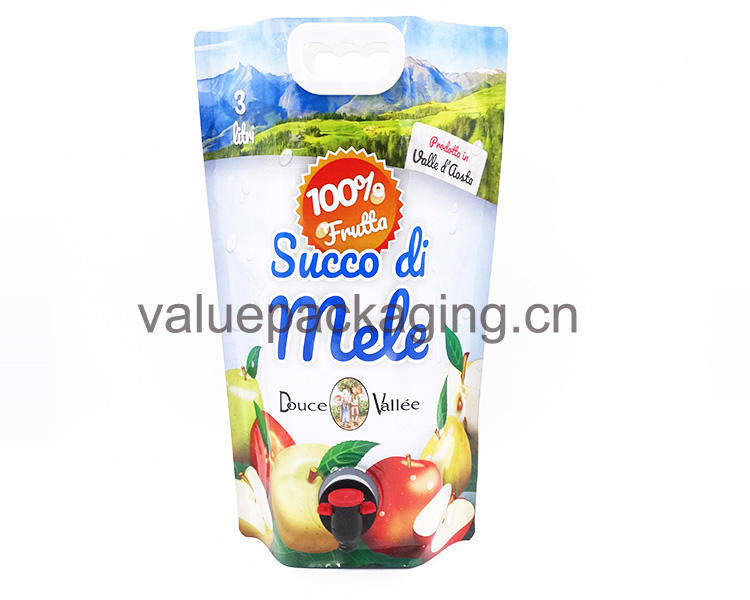 Juice is rarely packed in this large volume like 3litres for the consumers market, it is too large for the consumers to use. However, 3litre package are sometimes welcome for the consuming places like restaurants, and our company is producing this 3litre standup pouch package for our Italy juice customer, and let's get further into this pouch.
Bag-in-box Pouch
This standup pouch should be classified in bag-in-box pouch, however it can be used along with the box, as of the rigid aluminum foil laminate, PET12/AL7/PA15/LDPE210, with each layer as below.
PET film 12 microns, works as outside print substrate layer.
Aluminum foil 7 microns, works as barrier layer.
PA film 15 microns, works as reinforced layer and anti-puncture purpose.
LDPE film 200 microns, works as inner sealing layer.
With total thickness 250 microns, this 3litre standup pouch is rigid and stiff, that is able to standup straight on the shelf.
Bottom and Top Gusseted
With the bottom and top gusseted, this 3litre juice standup pouch package is able to hold more volume at the same physical dimension. Furthre more, with the top gusset, this package is able to present better standing effect.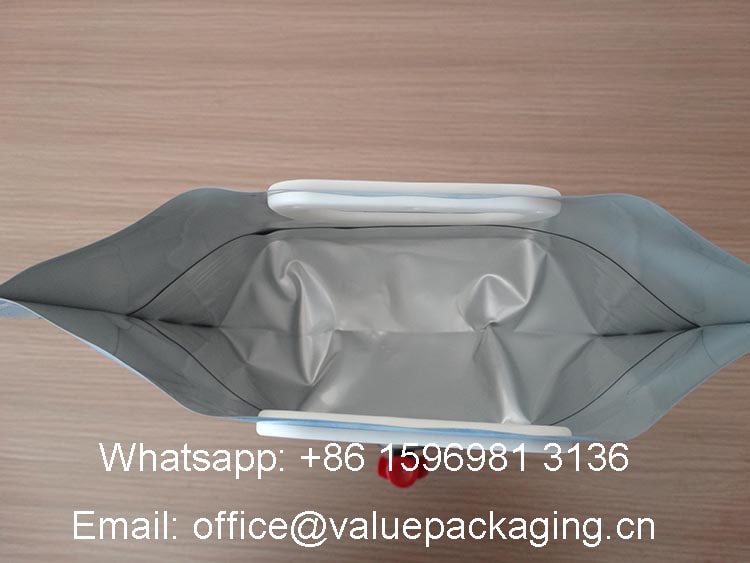 Plastic Handle on top
The plastic handle is intended to provide better use experience when the consumers take the products away, and for this 3litre standing bag, during our produce, we apply a plastic hanlde on each layer of the aluminum foil laminate, so totally 2 plastic handles are placed on the pouch, for the best user experience.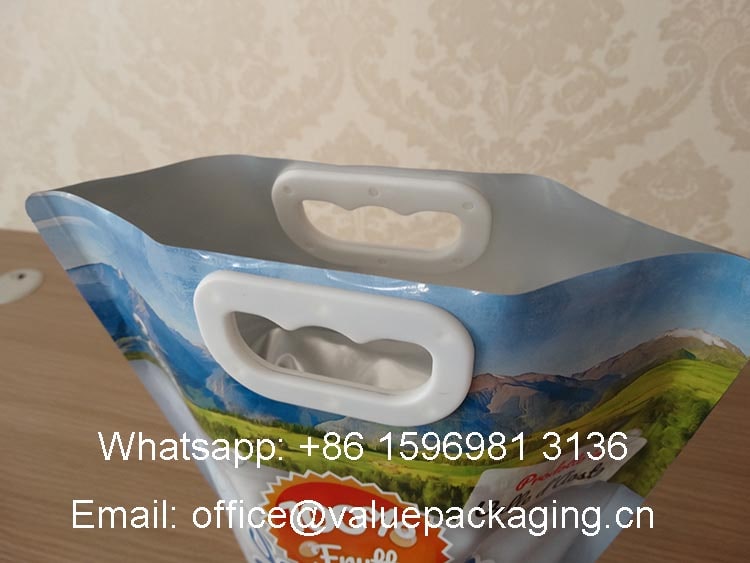 Butterfly Valve
This butterfly valve allow the juice to flow out when we press the plug on the top of the valve, and it will form a vacuum package when we stop pressing the plug, that will prevent the juice from the outside containmination. You may understand the working theory for this valve by below video.
Drop test
This 3Litres Juice standup pouch should be robust and strong enough to protect the product from being damaged or contaiminated, especially in transport process and distribution. When the 3Litres Juice standup pouch drops unexpectedly from the goods shelf, it should never be allowed to leak or break, otherwise that will surely be an disaster for product sale.
So, in our daily QC work, we perform kinds of test to ensure each order is produced under strict requirements, and the mostly adapted method for the bag strength test is to drop the filled package from a certain height. So we are going to get the package filled with 3litre water, and fill from 1.6meter high, for 3 times, and check if it breaks.Watch the video below.