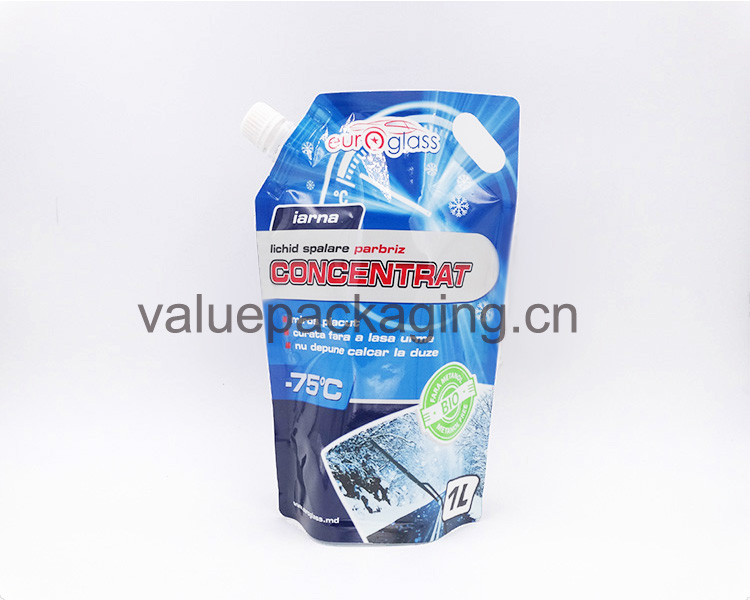 The package thickness should be seriously evaluated as it closely concerns with the final property for the windscreen washing fluids spout package, and also more importantly, the cost. When the customers decide to launch their products in 1litre spout package, it is necessay to bring down the price as low as possible, to average the cost per litre.
In this post, we are going to share our experience on the thickness of 1litre windscreen washing fluids spout package, and hope we can realize the expected package at the lowest cost.
1litre Euroglass spout package
The foil structure for this 1litre Euroglass spout package is PET12/NY15/LDPE120, with total thickness 150 microns, graphic as below.

This structure is considered as the reliable and cost-effective materials for liquid products, with each layer working as below.
PET12, means clear polyester film 12 microns, works as the outside print substrate
PA15, means biaxially orientated polyamide film 15 microns, works as the middle support layer.
LDPE film, which should be modified against the inside products, works as the inner sealing layer.
Below picture shows the thickness for the two layers of the pouch is 0.298mm, that means the thickness for one layer is 0.149, that equals to 149 microns.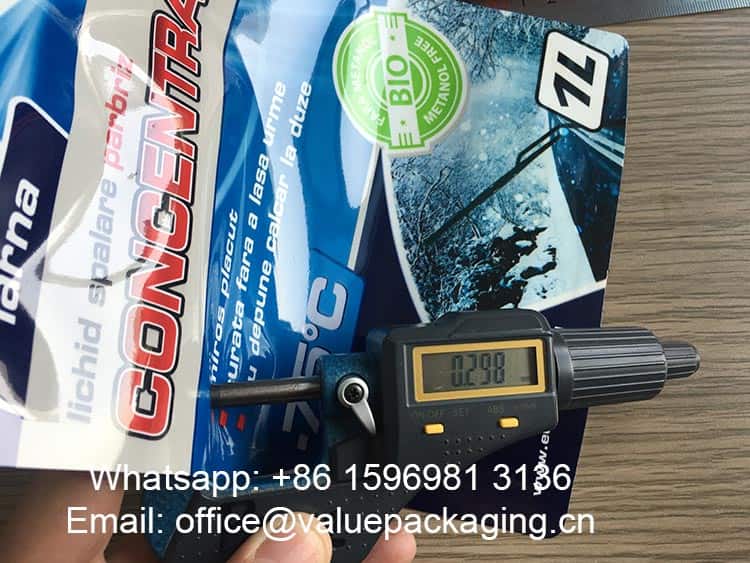 When 1litre windscreen washing fluids is filled into the package, finally, this 150 microns spout pouch is able to keep a good upstraight standing effect, with out any bending in the pouch.
Further more, this foil laminate with 150 microns thickness is able to provide enough strength for the 1litre package for windshield washer fluids products.
Drop test
PET12/NY15/LDPE130 foil structure is strong enough for the 1litre windscreen cleaning chemicals, and we are going to perform drop test from 2meter high, and the spout doypack package will not break after 3 drops. Watch the video for actual understanding.
Lower thickness
Surely, the thickness can be lowered, with price lower accordingly. Based on our experience, the thickness can be lowered to 120~130 microns if you believe the price for 150 microns spout doypack is of higher cost than your epect. However, the standing effect and bag strength will be deterioated on the other hand.
You may reach us for exact test if you seek this solution. Goo luck.