When we talk about the barrier property for the film layer materials, usually we mainly focus on the barrier performance of moisture and oxygen, as these are the most common factors to cause the food products to deteriorate.
The barrier performance of moisture is evaluated by WVTR (short as Water Vapor Transmission Rate), and the barrier against oxygen is evaluated by OTR (short as Oxygen Transmission Rate), with simple graphic below showing the performance of the most common barrier films.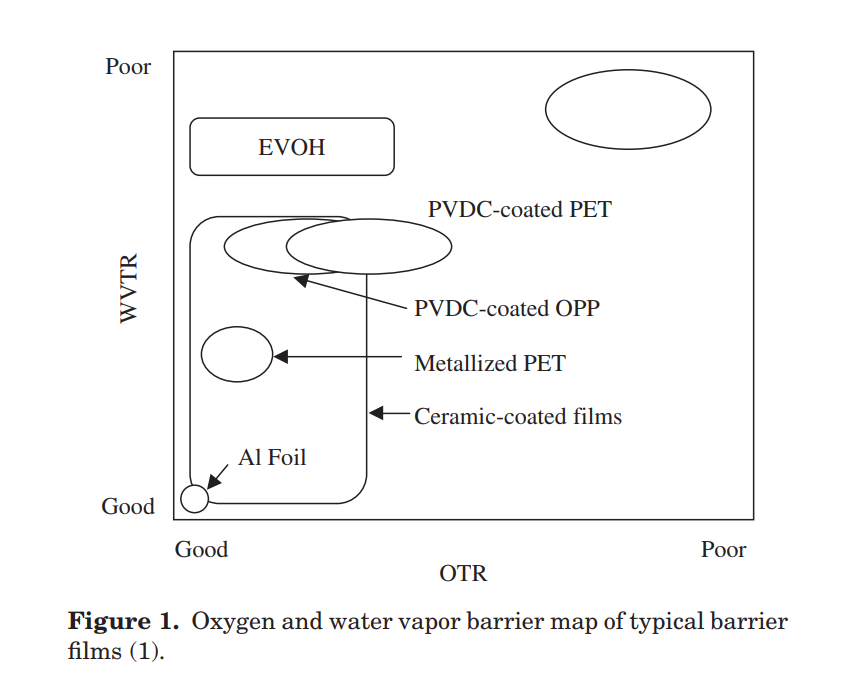 Metallized Film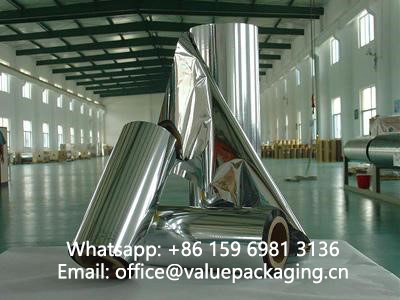 Metallized film is the most used barrier film in standup pouch packages with enough barrier property for most proudcts, and most importantly, at the lowest costs. There are some branches for metallized film, as below.
VMPET Film, the most used for standup pouch package
VMCPP Film, usually working as inner seal layer for roll foils
VMBOPP Film, intended for food, snacks, chocolate etc.
VMPA Film, initended for ballons, that need to be excellent in gas barrier.
VMPE Film, can only be intended for some light products packaging
Aluminum Foil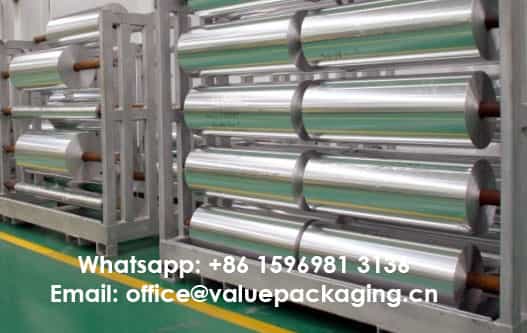 Aluminum foil is considered as the best barrier film layer against moisture and oxygen of all the substrate materials in flexible packagings, with thereotically both 0 valuve for OTR and WVTR as below table.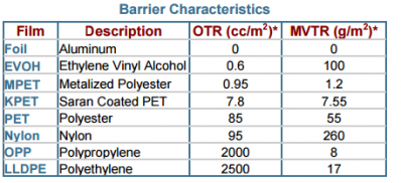 However, this is not really the case, as there will be unevitably some tiny pinholes on the aluminum foil, that will not be going to realize the WVTR and OTR into 0.
KPET Film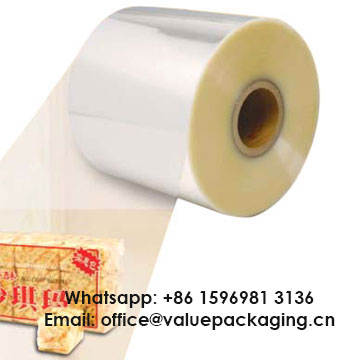 KPET film is realized by coating a layer of PVDC on the surface of clear PET film, which is able to obtain a better barrier property at high transparency. That is different from the metallization craftsmanship, which achieves great barrier performance, however finally causes the metallized film opaque( However not full opaque, you may read here.)
As shown in the above, The barrier property for KPET film is worse than VMPET film, however its clarity extends its applications to the packages of products that may do not need so great barrier property as the metallized film, such as cakes, bread, foods products, etc.
Ceramic Coated PET film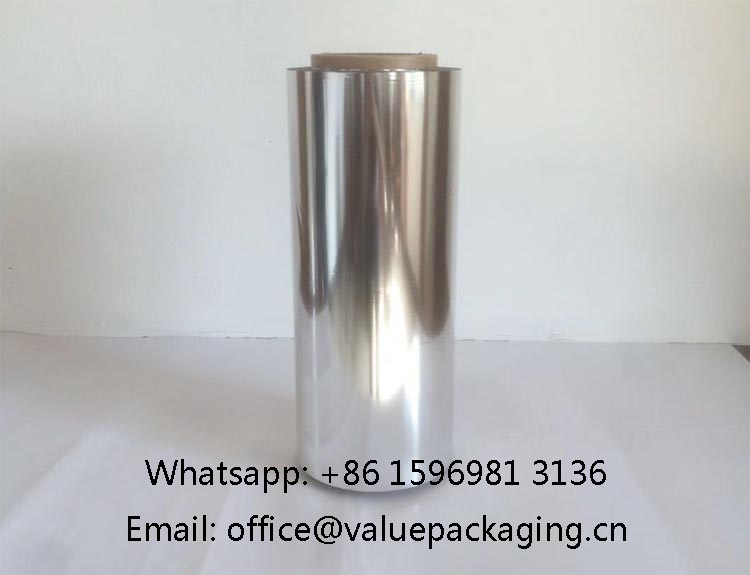 Ceramic coated PET film is realized by depositing a thin layer of SiOx or mixtures of SiOx and AlOx onto the surface of clear PET film, and then finally achieve a clear film with its property ranging between metallized film and aluminum foil. So, that is highly appreciated, a clear high barrier film is so desirable in flexible packaging materials
EVOH coextrusion film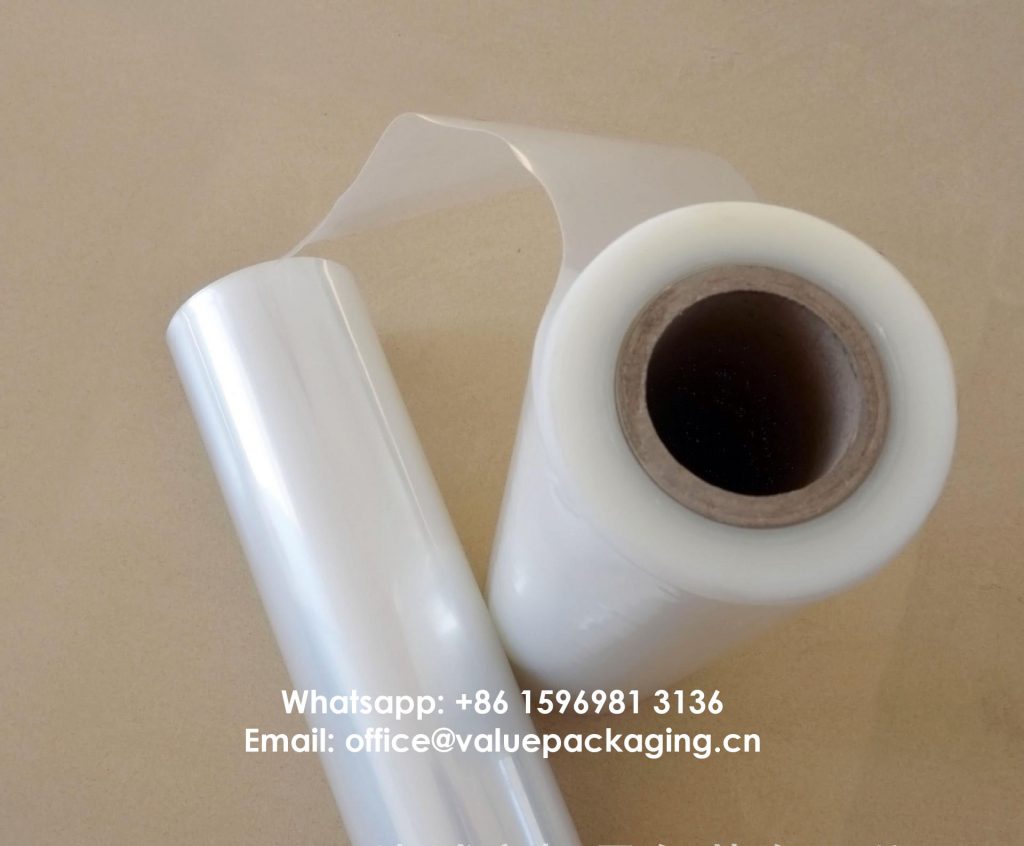 EVOH is short for Ethylene-vinyl alcohol Copolymer that is not able to perform a single integrated film layer itself. It can only be coextruded into a finalized film with other poly resins, like LDPE, LLDPE, m-LDPE, and kinds of PA brands, with most common film structures as below.
EVOH coextrusion film is excellent in oxygen barrier, however not so execellent in moisture barrier, which will have to be balanced by other polymer in the coextrusion process, so the final barrier property of the finished coextrusion film is depending on the formulation of the different polymers.
EVOH coextrusion film can be used alone in flexible packaging without printing, or working as inner sealing layer for the multilayer flexible packaging, which will be explained in future posts.