Kraft paper foil pouches are widely used for roasted coffee beans, as it is more eco-friendly and sustainable, and even compostable kraft paper coffee bags are developed to meet the increasing reqruirements from our customer on the environmental protection and renewable packaging.
In the consumer market, 1 kilograms pack should be the maximum volume for roasted beans. It is important to get a premium quality bag for your coffee beans, and the first fundamental thing to evaluate a coffee bag is the physical strength. The package should never be allowed to break or burst during the filling, transportation and distribution process.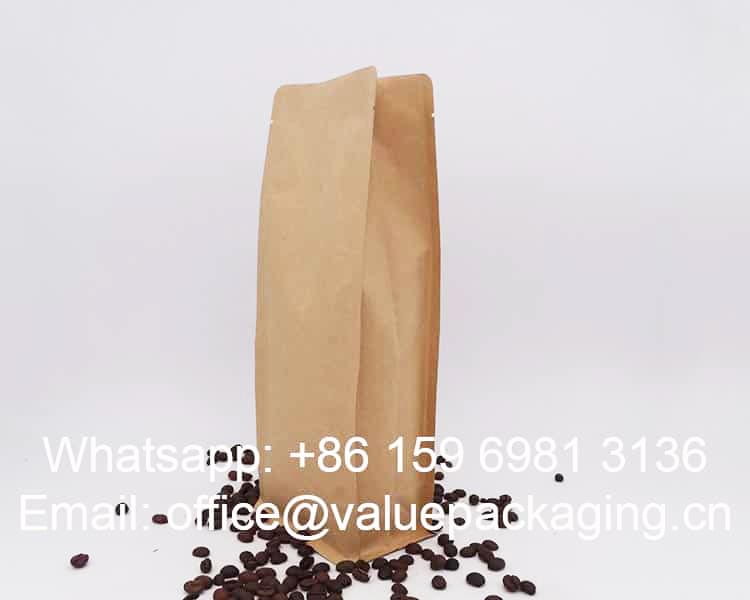 On the internest, it is very easy for the customers to get plenty of suppliers with amazing pictures as above, however, it is not the real case that each of the kraft paper coffee is premium quality and trust-worthy.
Here, we are getting into deep understanding on the strength of this 1000 grams flat bottom kraft paper coffee bag.
Kraft Paper Foil Laminate Materials

The above graphic shows the most common structure for kraft paper foil which is intended for roasted coffee beans in the market, of course, with some variants from different manufacturers.
Kraft paper 60gsm, works as the outside layer, as print substrate and supportive layer.
VMPET12, which is short for vacuum metallized polyester film 12 microns, which equals to 48 gauge, works as the middle barrier film layer, that protects the roasted beans in original flavor as long as possible.
LDPE film, which is short for low density polyethylene film, which works as the inner sealing layer. Sometimes, there is LLDPE film used, which is a variant of LDPE film, with full name linear low density polyethylene film.
With these triplex layers combined together, the final thickness for this foil reaches around 0.15mm (equals to 150 microns), that is a most common thickness of kraft paper foil coffee bags in the market.
This foil structure proves to be the lowest cost package for kraft paper foil coffee bag, as the thickness of inner sealing LDPE film is only 50 microns, which may not function as a robust package.
Based on our experience, this paper foil laminate will never be as strong as the aluminum foil laminate, as the bond strength between kraft paper and VMPET film is very low, which can not work as a robust foil laminate for 1 kilograms coffee bag.
Anyway, let's perform drop test to check if this package works great as protection when the products falls off the goods shelf.
Drop Test to check if the kraft coffee bag burst
We picked 4 pcs of this 1000 grams flat bottom coffee pouches randomly from our order, which is produced for the retail market. In this test, we are going to drop the filled 1000 grams box bottom coffee pouch from 1.4 meter high, for 1 or 2 times
2 out of 4 bags fails
Unfortunately, 2 out of 4 bags burst in this drop test, that is very bad if the customer want a robust and trust-worthy bag for the filling, loading and unloading, transport and distribution process.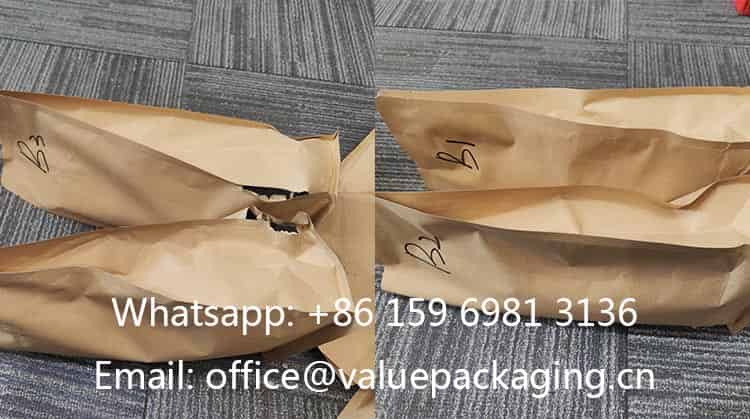 As explained previously, this foil structure of kraft paper 60gsm/VMPET12/LDPE50 microns, is the lowest cost of our present kraft paper bags, and usually the price is pushed to the bottom line as most of our customers buy this bag intended for retail market. Most of the users may fill the coffee bean manually, which do not need the bag to be so strong as that products filled on the vertical filling machine.
So when the customer intend to use this 1000 grams square bottom coffee bag on the filling machinery, it is necessary to get the improved foil materials, such as Kraft paper 60gsm/VMPET12/LDPE80 or Kraft paper 45gsm/VMPET12/LDPE100, or even Kraft paper 45gsm/VMPET12/PA15/LDPE80 foil. You may read here for more understanding.
Just reach us if you have any questions regarding coffee packages.