Some customers may like to present their roasted beans products in small packs like 100grams, equaling to 3.5ounce, that may meet the consumer needs when they are not a heavy coffee lover. The standing coffee bag is a cheap item our company is producing for the lower level market, such as Vietnam, Phillipines and African market, of course, with a relative lower cost.
However, this coffee bag is quite a good pack for 100grams coffee beans, and in this post,we are going to share the sizes for this coffee bag, and show you by video, for your exact study.
Foil Structure
The film materials for this coffee pouch is Matte BOPP18/VMPET12/LDPE110, with total thickness 130 microns. with structure graphic as below.
Matte BOPP film 18 microns, which is the most common used film in flexible packaging applications, is intended to realize the matte finish effect for the final package, and of course, at the same time, it also works as the outside print substrate film.
VMPET film, 12 microns, even with worse barrier performance than aluminum foil, is working as barrier film layer in this package, with quite lower cost than aluminum foil pouch.
LDPE film, can be blown into film from different brands. Of course, if the customer is going to prefer lower price as possible, there will be surely ways to get lower cost on LDPE film.
Actually, if the customer just want to get lower price, the thickness for the LDPE film can be lowered to 70 microns, which will be able to realize the final package in 100 microns, that can also be a package for 150grams coffee beans. However, some customer may believe it too thin. You may reach us for further ideas if you would like to get lower price.
Layout of 100grams bottom gusseted coffee bag
Below graphic shows the layout for this 100grams coffee bag with tab zipper applied in the package, and the dimension is Width128*Height210+Bottom Gusset80mm, with edge seal 7mm.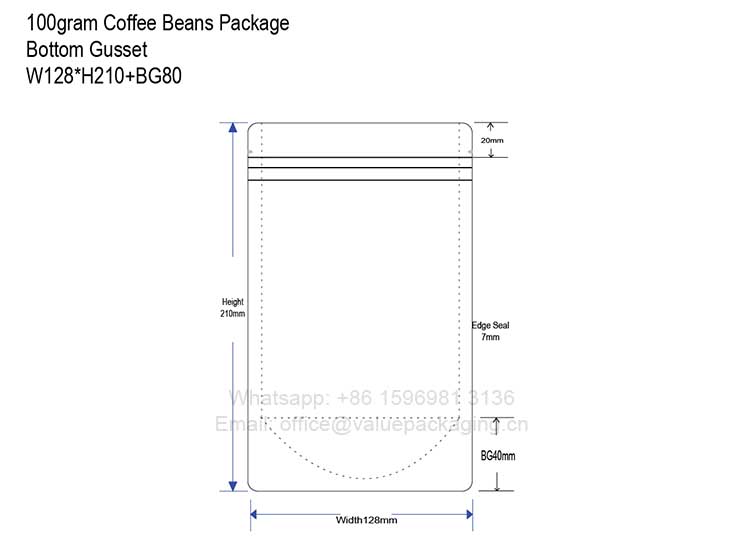 The position of the degassing valve can be adjusted against the customer requirements, that will not impact the package dimension.
Video Test
We are going to fill 100grams of roasted beans into this package ,and you will figure out the final filled effect for this package by below video.
Ok, we come to an end of this post, and if you have any other questions regarding this 100grams coffee bag, you may reach us for further assistance.