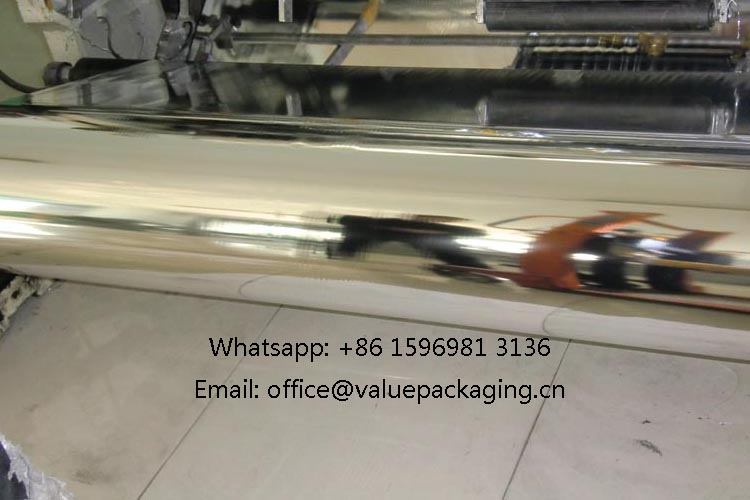 VMPET film is intended to realize high barrier property against moisture and oxygen at a much lower cost than the price of aluminum foil. The barrier perfomance of foil laminates that are achieved with VMPET film are enough for many daily products, including food, snack, cookies, coffee and tea. In order to get the best of VMPET film, we will need to have an more accurate understanding on the barrier property for VMPET film.
In this post, we are going to get deeper into the most common used VMPET film in flexible packaging ,with 48 gauge, that equals to 12 microns.
Structure of VMPET film 48 gauge
1 gauge = 0.001 mil, so 48 gauge equals to 12 microns, so when people talk about VMPET 48gauge, it usually refers to VMET film 12 microns, with structure as below.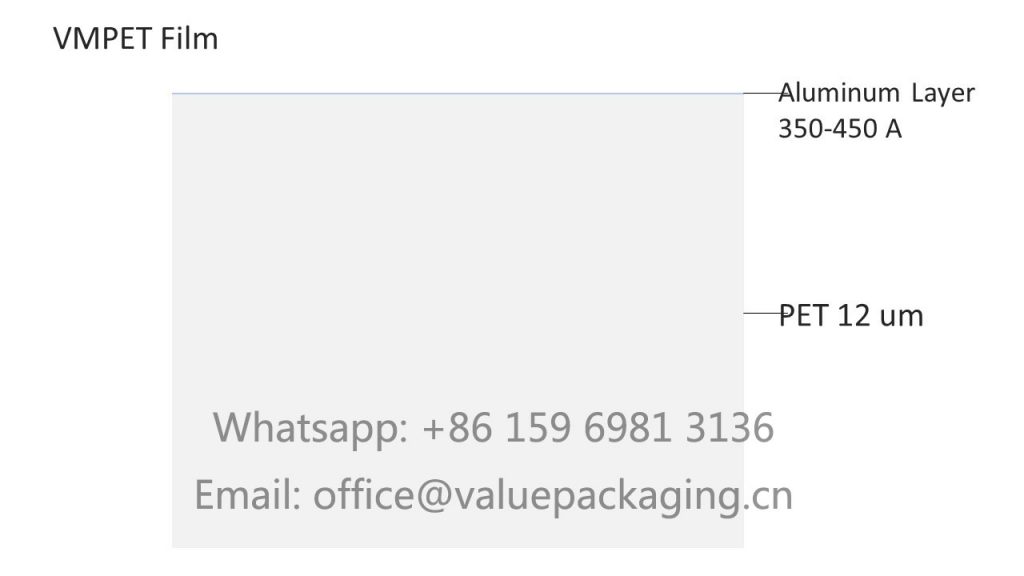 You may easily figure out the sharp comparison of the thickness of PET 12 microns film and the thickness of aluminum layer on top.
Thickness of aluminum layer
The thickness of the aluminum layer on the VMPET film 12 microns ranges from 300~600 Ångstrom. In theory, the thicker for the aluminum layer, the better for the VMPET film. However, this is not the reality. When the thickness of aluminum layer reaches to 500~600 Ångstrom, the rigid aluminum layer will be very easy to crack in industrial processing, that would deteriorate the barrier property on the other hand.
Pinholes on VMPET Film
Due to the metallization craftsmanship, there will be uneviably some pinhole on the aluminum layer on the VMPET film. In theory, the more for the pinholes, the worse for the barrier property, in reality, the pinholes on the metallized film should be strictly controlled, so you may neglect the effect on the barrier performance for the pinholes.
Adhesion of aluminum layer
People think up some other method to improve the adhesion of aluminum layer to the PET substrate film for better barrier performance, like anchor coating. The corona treated side of the clear PET film 12 microns will be coated with a layer of specific chemical coating layer before metallization, and the coating layer will work as buffer layer and bonding layer for aluminum and polyester film. So the final performance of the VMPET film is improved, so people may call it reinforced VMPET film, with Dupont 121 film the mostly popular used.
WVTR and OTR Value
Here we list the WVTR (short for water vapor transmission rate) and OTR (short for oxygen transmission rate) value for your further understanding, Generally, VMPET 12 μm is able to provide enough barrier property needed for most food products.

Barrier against other agents
When the VMPET film 12 microns is entrapped inside the foil laminate, maybe, it still needs to fight against the transmission of other agent, such as alcohol, acid, or oil. Usually, VMPET film is not considered as good barrier for these agents. We will share more of these cases in the future posts.