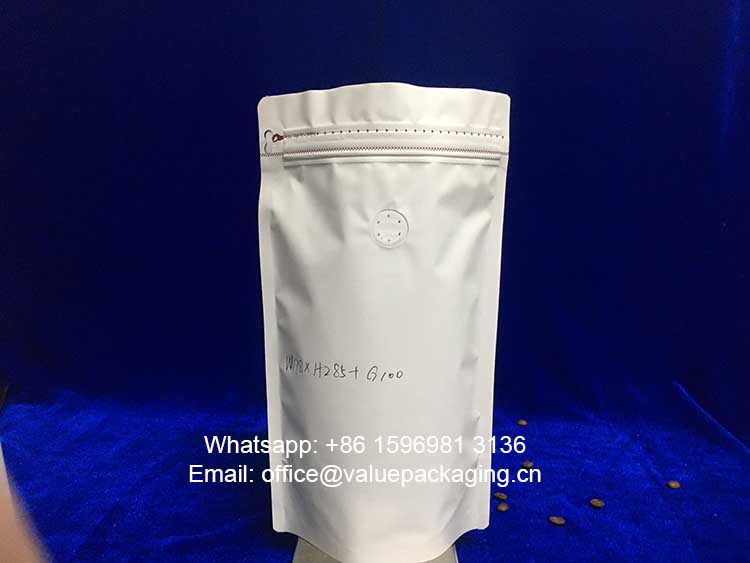 This matte white coffee bag is well intended for holding 16 oz (equals to 454 grams) coffee beans with good standing effect. The white surface is realized with very few small hidden lines on top, perfect appearance. However, the performance for this coffee bag is stil limited to the packaging film materials applied.
Packaging film materials
The film structure for this 16 oz coffee bag is Matte BOPP 18/VMPET12/LLDPE120, with total thickness 150 microns.

With Matte BOPP film on the outside, this coffee package is able to create good hand feeling effect when the consumers get the first touch on this package. However, matte bopp film is not able to withstand high temperatre as PET film. So there may be some defects occured in the produce process. You can read more here for further understanding.
Dieline for 16 oz bottom gusseted coffee bag
The package dimension for this 16 oz bottom gusseted coffee bag is Width 178 * Height 285 + Bottom gusset 100mm.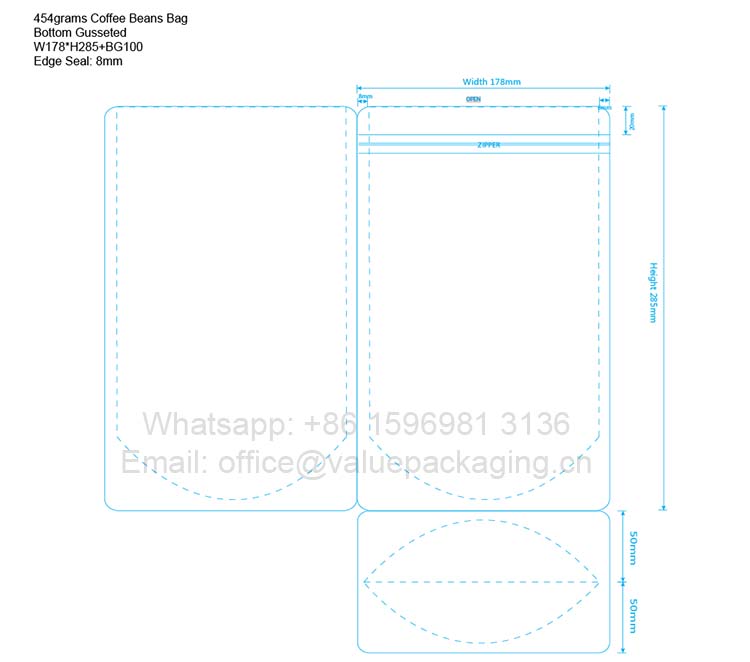 Inner zipper is applied in the package, with 20 mm distance from the opening edge. And the position of degassing valve can be customized against the customer requirements.
Video test process
16 oz coffee beans is going to be filled into the package, and check the final filled effect. You may watch the video below for further understanding.
Ok, we come to the end of this post, and hope this post is of help for you to decide the sizes for your ideal 16 oz coffee bag. Any questions, just reach us at office@valuepackaging.cn for further assistance.