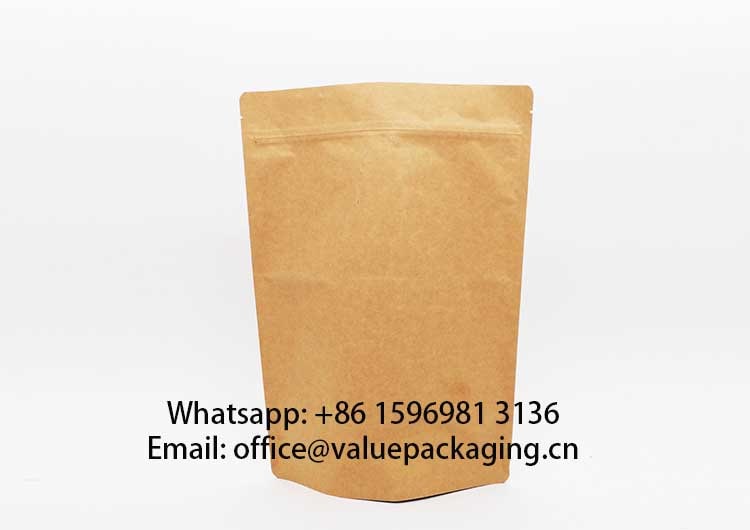 Some coffee roasters may like to present their coffee beans products in 1 kilograms standing packages, and kraft paper comes to a superior option, as it helps to achieve eco-friendly packaging for their own products. At the same time, the paper package will have to be robust enough to meet the filling operation of 1 kg roasted beans, and the unexpected shock in the transportation and distribution process.
Of course, the materials and thickness matters, and in this post, we are going to have a further analysis on the thickness of 1 kilograms coffee beans kraft paper doypack, and hope it be of help for these customers who want to finalize best packages for their own beans products, at a better cost.
Packaging Film Materials
There are several combinations of foil materials to achieve this 1 kilogram coffee kraft paper doypack in a great way.
Kraft Paper/VMPET/LDPE
Matte BOPP/Kraft Paper/VMPET/LDPE
Kraft Paper/PLA Fully Compostable Coffee Bag
Thickness
Usually, the thickness of kraft paper foil ranges from 120 microns to 200 microns, with most common used thickness 150 microns, and you can check below picture, this is the thickness measured for our 1 kilogram coffee paper foil bag, which is 0.156mm for single side, that equals to 156 microns.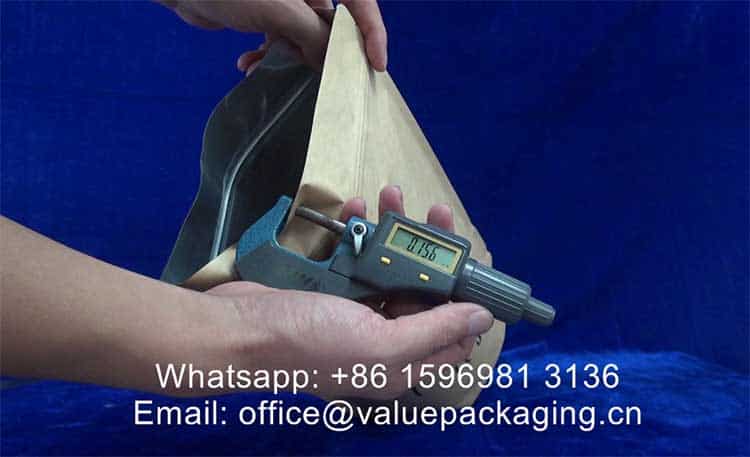 Standing Effect After Being Filled
Anyway, a good standing effect should be achieved after the coffee beans are filled into this 1000 grams coffee paper foil package. Of course, this is not only depending on the thickness of the kraft paper pouch, but also the setting of Width/Height+Bottom Gusset for this pouch.
By below video, you can check the standing effect of our 1 kilogram coffee paper foil pouch.
Increase Thickness
Inevitably, the cost will be higher when the thickness increases, and in actual application, we usually advise to set thickness at 160~170 microns for a better standing effect and more robust package.
Of course, some customers may even choose to set thickness at 200 microns or even more, which is not advised, as that would cause the kraft paper foil to be very tough and rigid, that may affect the packaging in another way. You may have a further understanding by below video.
OK, any questions regarding kraft paper foil coffee bags, you may reach us for further assistance.