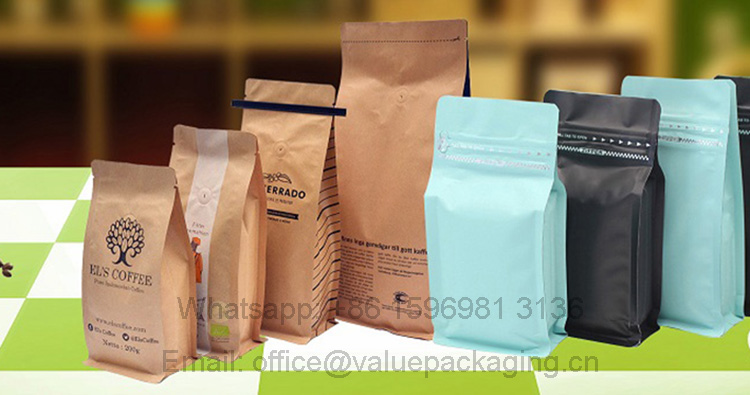 Kraft paper bag packages are quite popular in coffee beans market, and some roasters may even launch their products in 1 kilograms packages. As a reliable manufacturer of coffee bags for many years in Qingdao city, in this post, we are going to share our experience and knowledge on the packaging film materials for 1000 grams coffee paper bags.
Kraft Paper/VMPET/LDPE Foil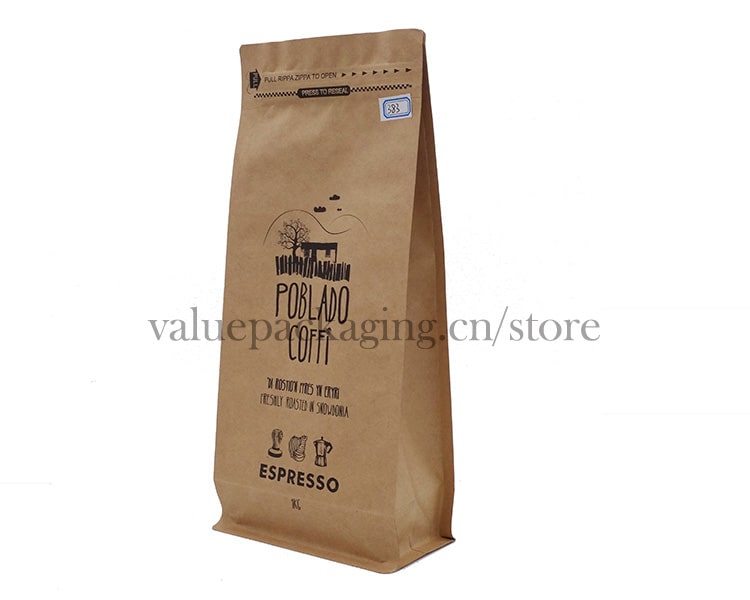 This foil should be taken as the most used packaging film materials for kraft paper coffee pouches,
Matte BOPP/Kraft Paper/VMPET/LDPE Film Material
When the customer would like to achieve fantastic print effect for this artwork design, it is a bad idea to print directly on kraft paper. So, thisMatte BOPP/Kraft Paper/VMPET/LDPE Film Material is developed, to allow the converter to print customer artwork reversely on the inner side of Matte BOPP film. Further more, this outside Matte BOPP film can work as an outer film protection for the paper bag.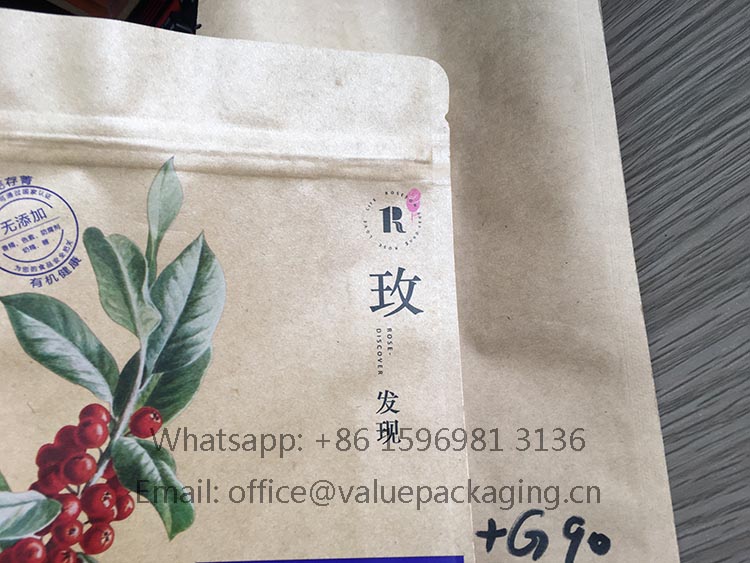 PET/Kraft Paper/VMPET/LDPE Structure
This foil structure is developed to achieve a better appearance in bag-making process, as when Matte BOPP film is working on the outside, high temperature and certain pressure will be applied on its surface, and it may cause wrinkles or damage on the surface as Matte BOPP film is not able to withstand high temperature as PET film does.
Usually, there would be a further top matte varnish layer applied on top of PET film, to make it less reflective. By below picture, you may check the glossy surface on paper pouch without matte lacquer coating.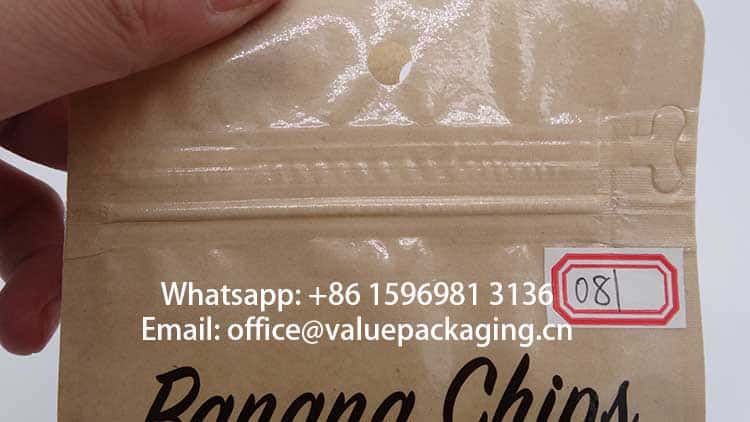 Kraft Paper/AlU/LLDPE Foil Structure
This foil material is launched as some customers would like to achieve the top best barrier performance for the kraft paper foil bag. Aluminum foil is processed into thin sheet, with extremely high barrier properties against water vapor and oxygen.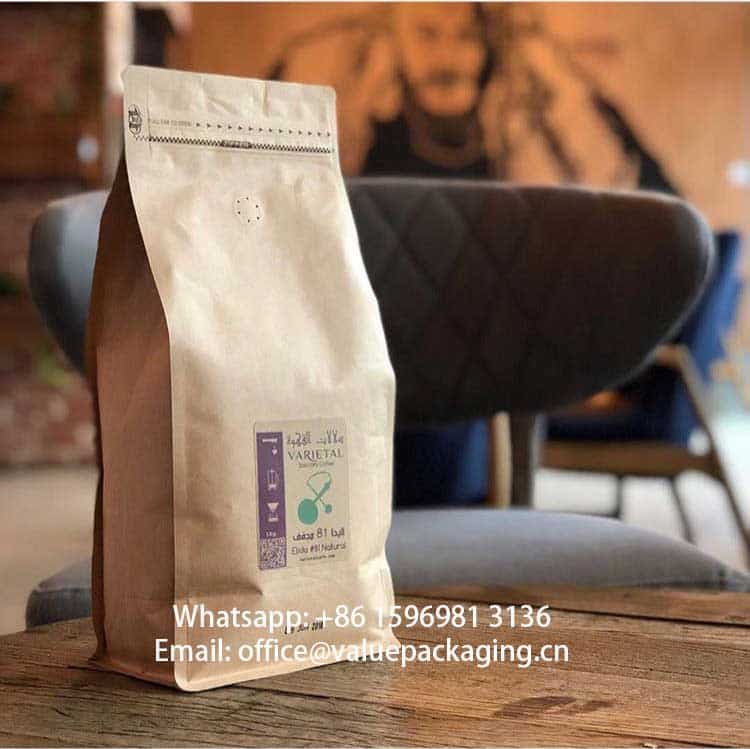 Kraft Paper/PET/ALU/LLDPE Laminated Material
This foil structure is developed due to the repeated folds of paper foil in the bag-making process, especially when the kraft paper foil is converted into box bottom pouch, the place where the squad joins may crack on Kraft Paper/Alu/LLDPE Foil Structure, as Kraft paper and aluminum foil are both tough materials without elongation. So, a middle layer of PET film is trapped between them, to achieve a more robust property during the repeated folds.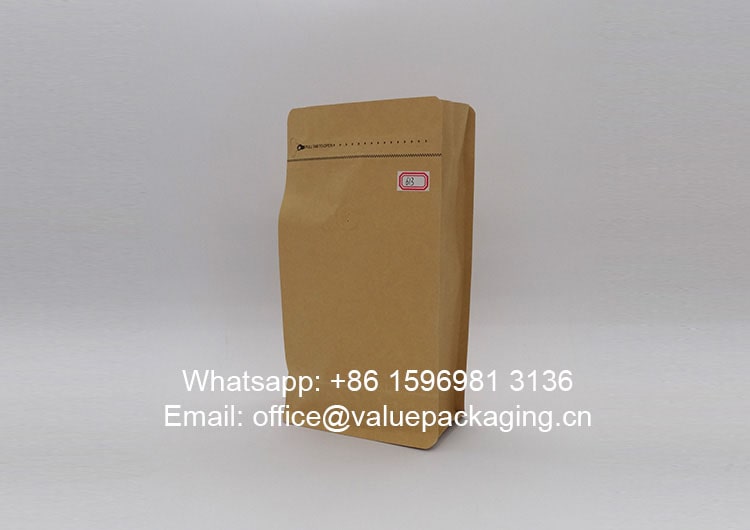 Matte BOPP/Kraft Paper/ALU/LLDPE Foil Laminate
Usually, there would need a further outer film layer on top of kraft paper if the customer would like to get his artwork printed in an amazing effect, and you can check below coffee bag.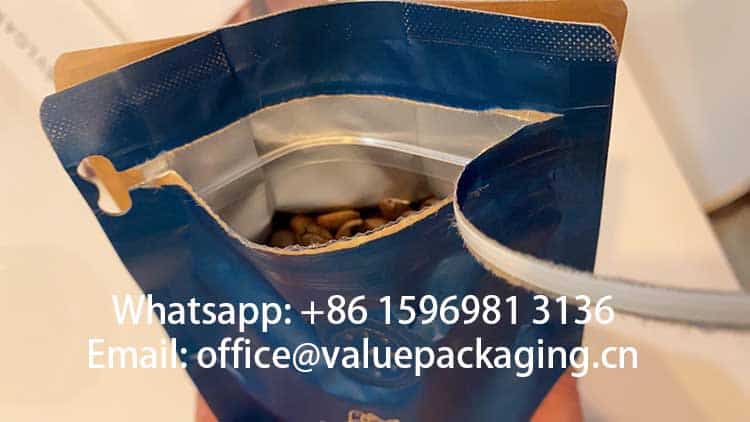 PET/Kraft Paper/ALU/LLDPE Foil Laminate
Of course, a layer of PET film can be placed on the outside to achieve the robust property, with foil structure PET/Kraft Paper/ALU/LLDPE, and this foil structure is even preferred when the customer would like to get his artwork presented in a vivid way.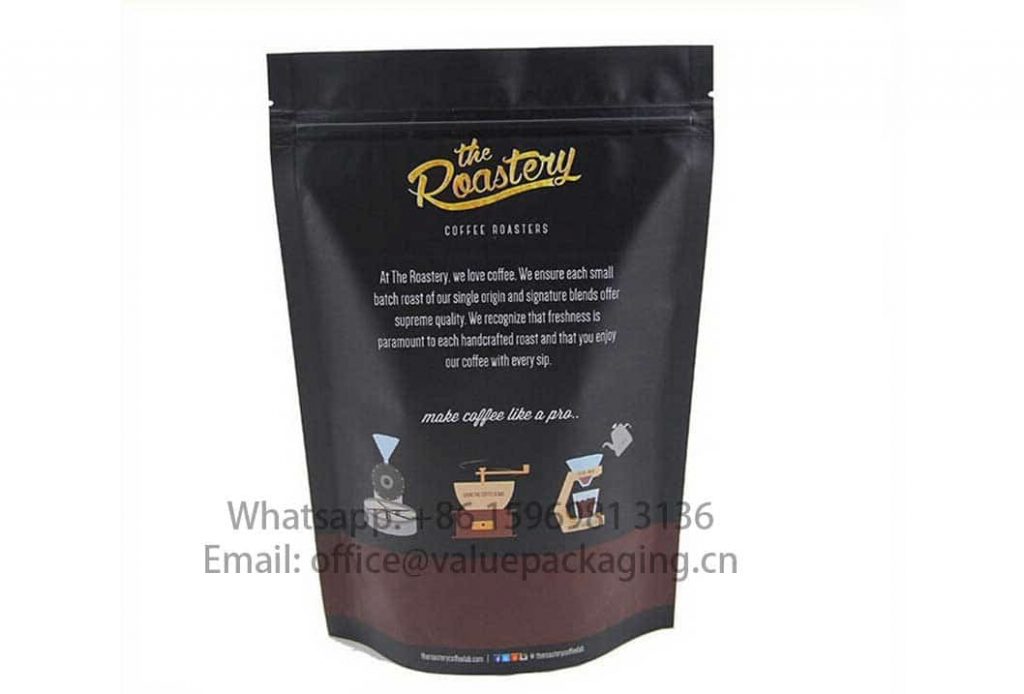 Kraft Paper/PLA Compostable Materials
Kraft Paper/PLA foil laminate is intended to achieve fully compostable materials in a eco-friendly way. PLA film, is working as sealing layer on the inner side. However, as kraft paper and PLA film are both not barrier film, so the final foil laminate can not be intended for barrier package, that means, when the coffee beans is packed in this compostable bag, the fragrance and quality can not be guaranteed.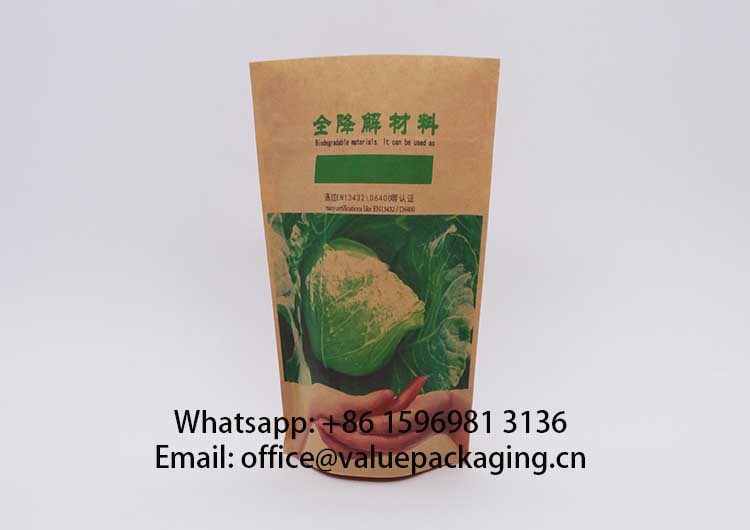 Metallized Paper/PLA Compostable Materials
Metallized Paper/PLA laminated foil is going to get a metallized layer into the foil laminate which is highly appreciated in coffee beans packages. Below table shows the WVTR (water vapor transmission rate) and OTR (Oxygen Transmission Rate) for Kraft Paper/PLA foil and Metallized Paper/PLA Foil.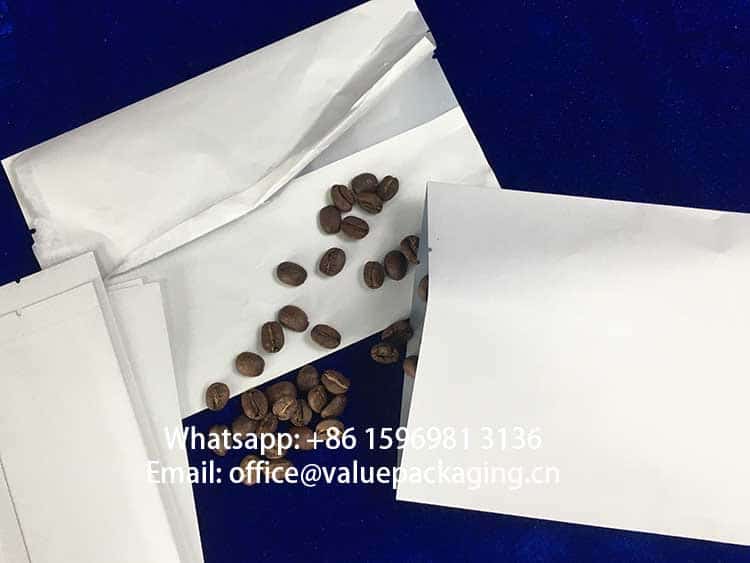 Cellulose Film/Kraft Paper/PLA
When the customer would like to get his artwork design well printed on the coffee bag, Cellulose film should be the ideal print substrate, as it is good clarity and good tensile strength for the print process.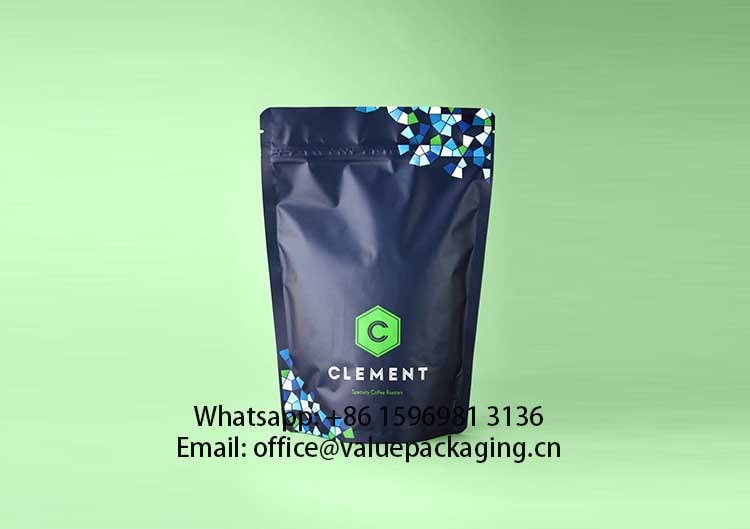 Ok, here I have listed the main materials for kraft paper based coffee bag, and of course, we will give further analysis on each of these bags, for the customers' reference.