Cellulose is a substance located inside the cell walls of plants. When several cellulose chains of hydrogen bond together, they form into something called microfibrils, which are incredibly inflexible and tough. The rigidity of these microfibrils makes cellulose an excellent molecule to use in bioplastic production.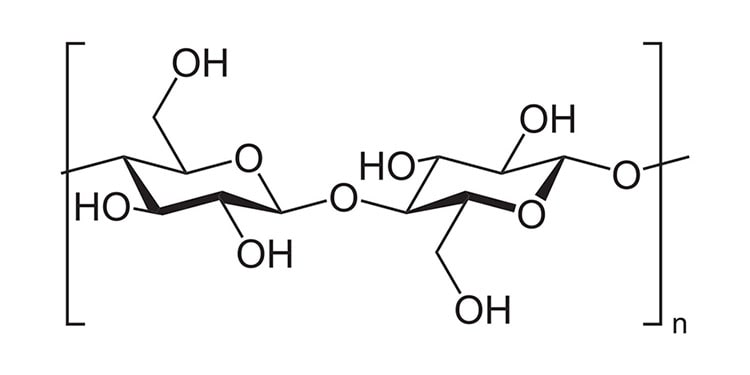 Moreover, cellulose is the most plentiful biopolymer in the entire world, and cellulose paper film is usually cellophane, a clear, thin, biodegradable plastic-like material.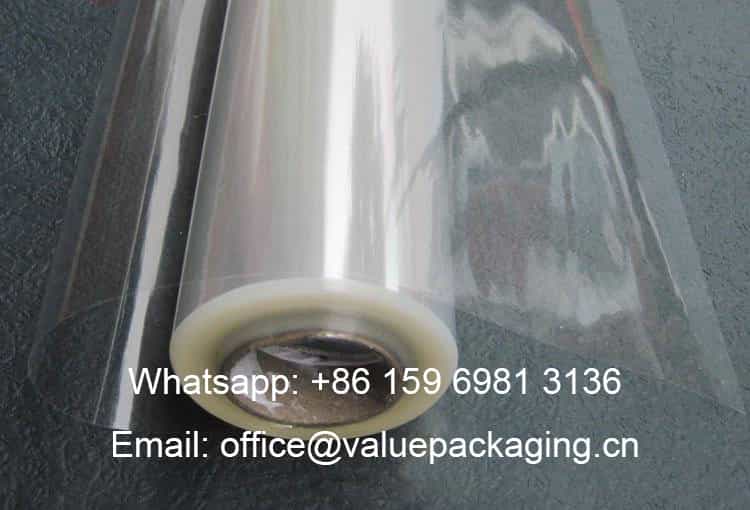 This cellulose paper film is certificated home compostable ,and it will degrade into various inorganic elements in nature conditions in 30~90 days, checking the composting process of our cellulose film in nature conditions.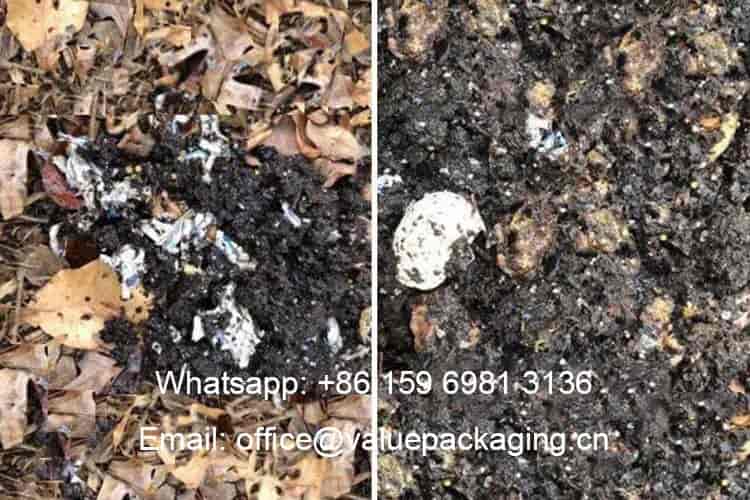 You will find all the certificates regarding the supply of our cellulose film paper in the appendix of this post.
Based on good clarity, great printability, excellent mechanical property and processing stability, cellulose paper film can be processed in either way as below list.
Printing (rotogravure, flexo and offset)
Coating
Vacuum Metallization
Lamination
Further more, various composite foil laminates can be acheived with excellent multi-functions that can be converted into kinds of amazing sustainable coffee pouches and sachets, which of couse will reduce the produce of traditional fossil plastics and gives a much less burden to the environment. Compostable-certified coffee packages will communicate implicitly to your customers that your business prioritises environmental concerns.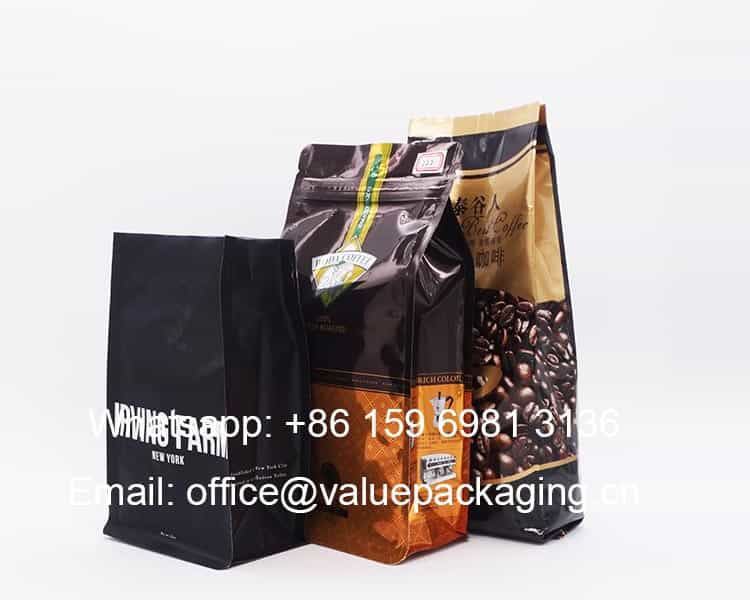 In this post, we are going to give a further analysis on the coffee packages achieved with cellulose-based foil materials. Basically, to get a fine understanding on the film materials and final package profile will surely be helpful when your designer utilise his talent and try to achieve an amazing artwork that presents your coffee products in an attractive way.

When kraft paper works on the outside layer of the coffee package, it will inevitably bring the consumers a natural sustainable impression of the products. Coffee doypacks will tell a part of the branding story in their ow subtle however effective way.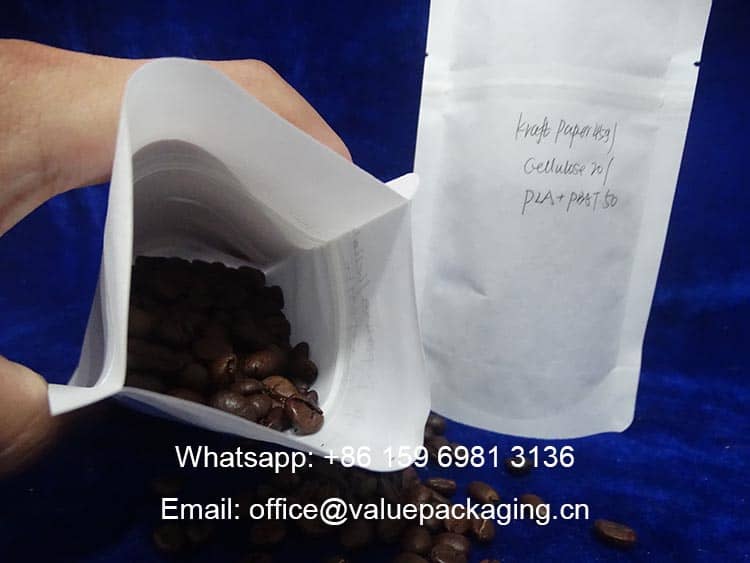 Cellulose film works as middle supportive layer and barrier layer in this foil structure. With this reinforced layer, this package can be well intended for coffee beans up to 1000 grams, and works as a good protection for the coffee in transporation and distribution procedure.
Here is the video showing a person weighs 70kgs standing on the air-flushed compostable Kraft Paper/Cellulose/PLA+PBAT coffee bag for a certain time, without any burst failure.
Cellulose/Kraft Paper/PLA+PBAT Foil Material

When the roaster get a colorful artwork to print on their coffee packages, it is better to print on the cellulose film rather than print on kraft paper. The coarse fiber plant will inevitably absorb some of the inks, and will not able to present the colorful artwork in vivid effect.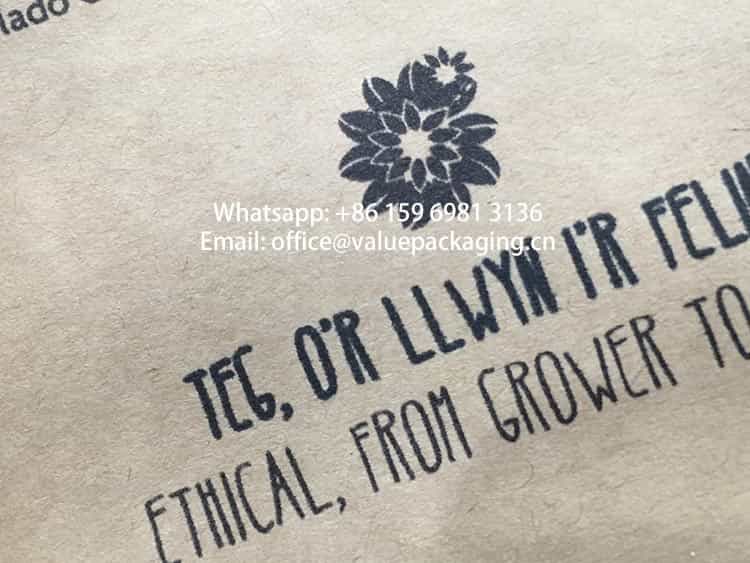 However, both these two foils are without metallized barrier layer, which are not ok for keeping the roasted beans in original freshness for a prolonged time.
Metallized Paper/Cellulose/PLA+PBAT Foil Laminate

Metallized paper is to achieve a thin aluminum layer on the top surface of kraft paper, with a glossy metallic appearance and highly improved barrier performance against oyxgen and water vapor. Customer artwork can be printed on the surce of metallized paper.
Cellulose paper film is working as middle suportive and reinforced layer in this foil structure, similar to Kraft paper/Cellulose/PLA+PBAT foil structure, however with an improved barrier performance for final coffee doypacks.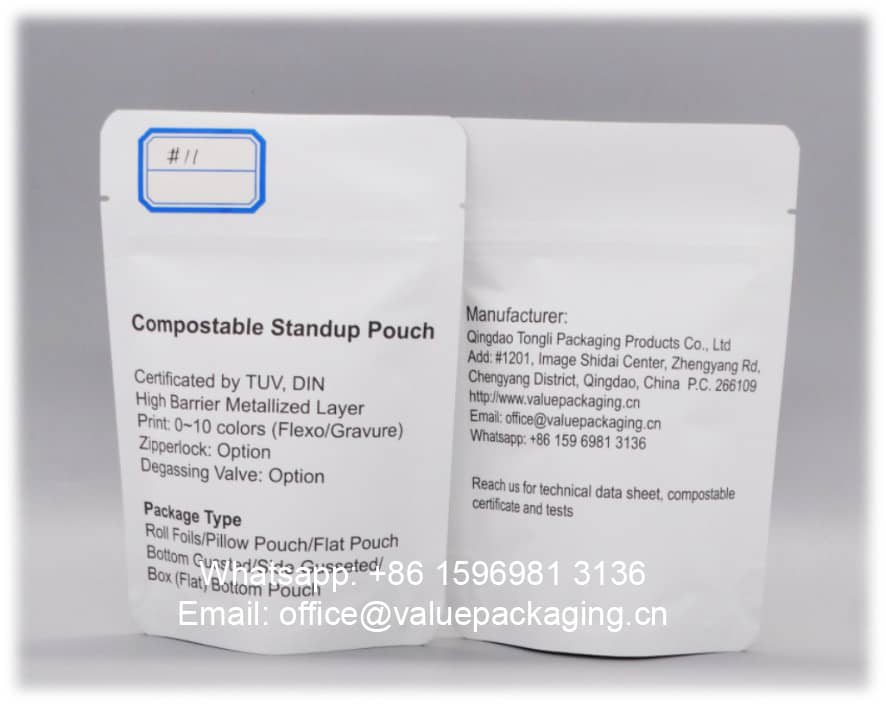 This foil structure is of great mechanical strength, which can be well intended for the compostable coffee bag up to 1000 grams, and here we made a pillow pouch sachet out this foil laminate and get 1000 grams of roasted beans filled into the package. We are going to perfrom the drop test of this filled bag from 1.6 meters high for several time, and see how it works.
You are advised to watch the video below to have a futher understanding on the test process.
Below picture shows the fine and good package after so many times of drops.
Cellulose/Metallized Cellulose/PLA+PBAT Foil Structure

With aluminum metallized layer applied over the surface of cellulose film, glossy reflective metallic effect is achieved, as you can see the standing doypack made of Cellulose20/Metallized Cellulose20/PLA+PBAT50, with total thickness around 95 microns.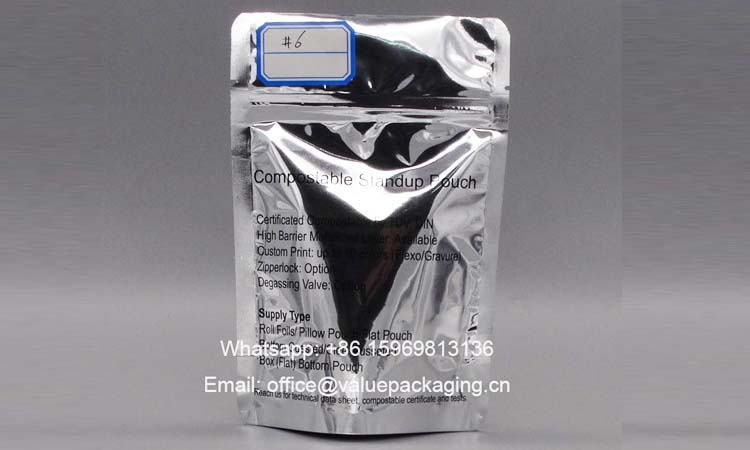 Colorful and delicate artwork can be printed in amazingly vivid effect on this foil, and the reflective metallized cellulose layer will make the print effect more solid and attactive. So this foil will fully make the best of the designer's talent to achieve great packaging design, which helps you raise brand awareness and lets you stand out from the crowd. so better design and less carbon footprint can be achieved at the same time on this home compostable metallized package.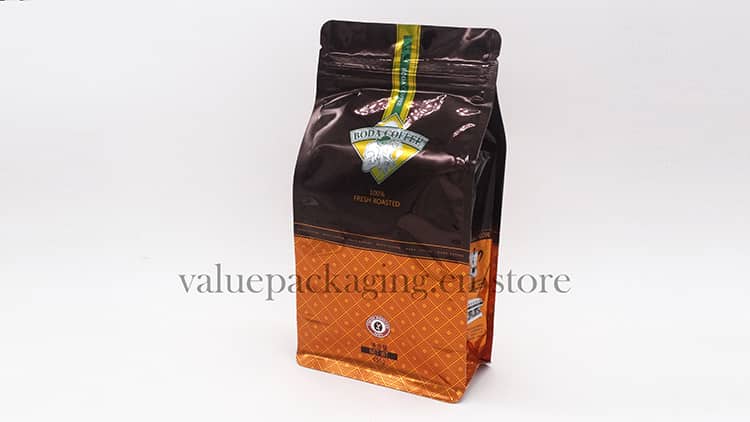 Cellulose/Metallized Paper/PLA+PBAT Composite Materials

In this foil structure, cellulose paper film works on the outside film as printing substrate. Colorful artwork with spot colors are going to be printed reversely on the inner side of the film, and on the other side, there will be a further matte lacquer coating to achieve better quality visual effect for the consumers.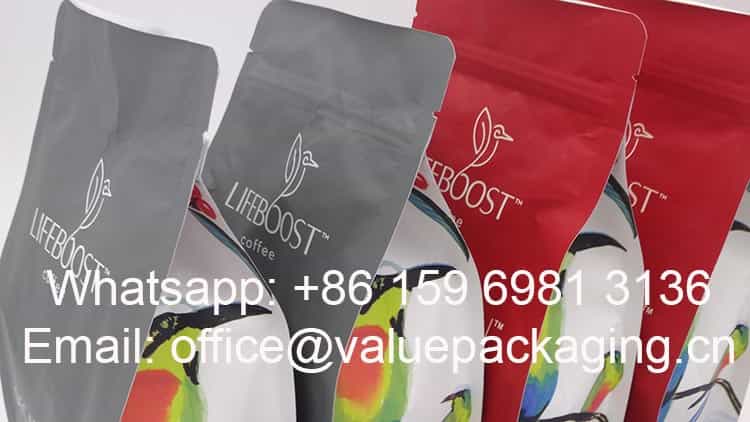 You are advised to have a further understanding on our 340grams home compstable coffee bag intended for lifeboost roaster.
Kraft Paper/Metallized Cellulose/PLA+PBAT Laminated Material

Brown kraft paper is a biodegradable, and compostable material used to package roasted coffee beans. It is working on the outside layer, which brings nature flavors to the consumers in an effective way. Particular expert designer is able to compose the elements in a fine way, to make it stand out well against the natural texture of kraft paper coffee packaging.
The metallized cellulose film works in the middle, as high barrier film, support layer and reinforced layer, which proves to be able to provide enough protection for the roasted coffee up to 1kg volume.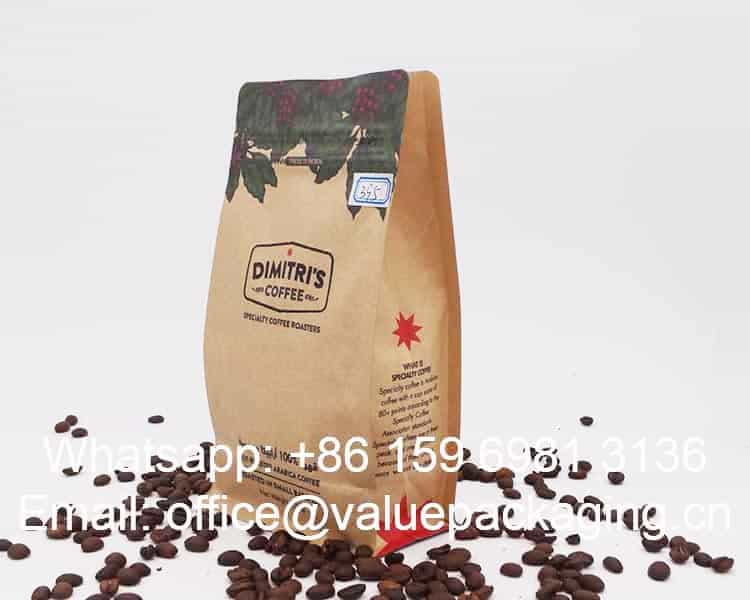 Metallized Paper/Metallized Cellulose/PLA+PBAT Foil Material

This Metallized Paper/Metallized Cellulose/PLA+PBAT Foil Material is intended to achieve a premium barrier performance against oxygen and moisture, which harms the shelf life and fragrance of roasted beans in a bad way. This foil is expected to achieve the expected WVTR and OTR in below table, which should be quite great for protecting the products in an well-extended shelf life.
| | | |
| --- | --- | --- |
| Barrier | WVTR | OTR |
| Metallized Paper69g/Metallized Cellulose20/PLA+PBAT50 | 0.8 | 0.2 |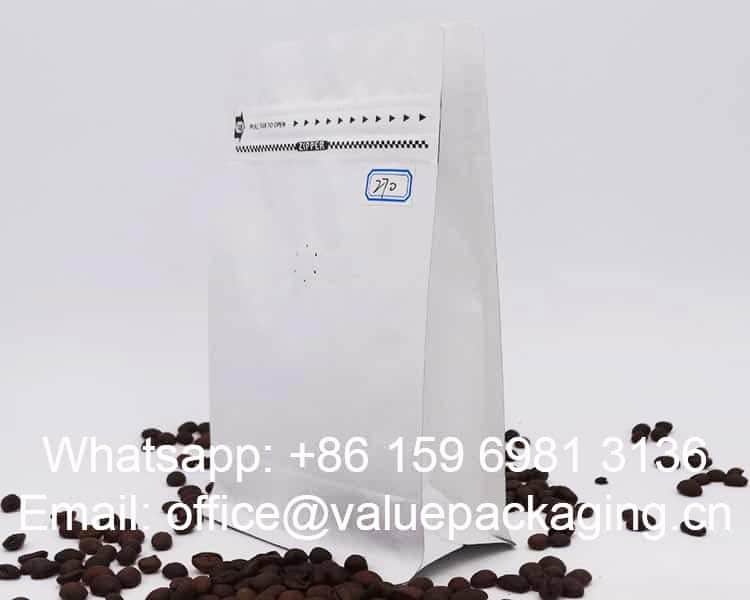 Ok, here is the cellulose-based foil laminates which can be well intended for coffee packaging and you may choose against your requirements. In this post, we analyze the cellulose film coffee bag based on cellulose and metallized cellulose. Actually, there is AlOx coated cellulose well developed, which improves the barrier performance on a clear film basis, and we will give further analysis on its application in coffee packaging field in future posts. Just reach us if you have any questions.
Read more about Cellulose Film here, and check the relative certificates regarding the supply of our cellulose paper film.
Appendix-Certificates of Cellulose Film