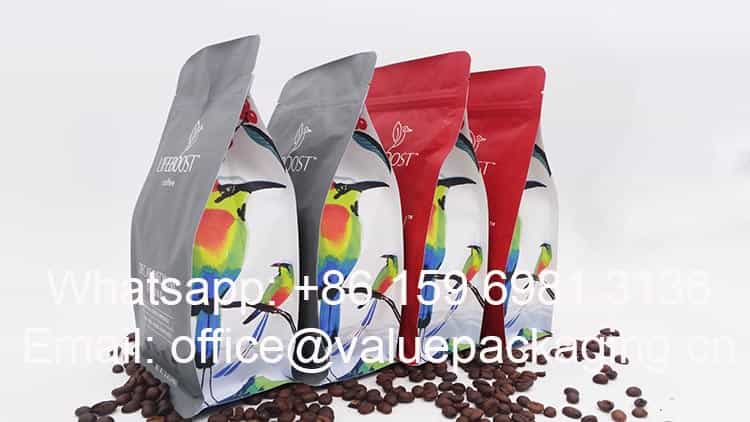 With the increasing burden of traditional plastic packages on the invironment impact, consequently, more and more coffee roasters are seeking to reduce their carbon footprint by shifting to sustainable coffee packages and making a steady move towards zero-emission coffee roasting.
Many flexible converters are now offering eco-friendly materials in options like recycled plastic and compostable packages for the coffee market. Compostable packages are divided into home compostable and industrial compostable based on the different requirements of composting conditions. Home compostable is intended to describe the coffee packages made of materials that fully decompose through biological processes under the conditions you can easily get at home. Another fundamental aspect of the home compostable packages is that their components will not do harm to the earth and soil since they're released into the environment.
So, home compostable coffee bag are more preferred as it makes easier for the consumers to compost their throw-away packages around their house in home and garden conditions.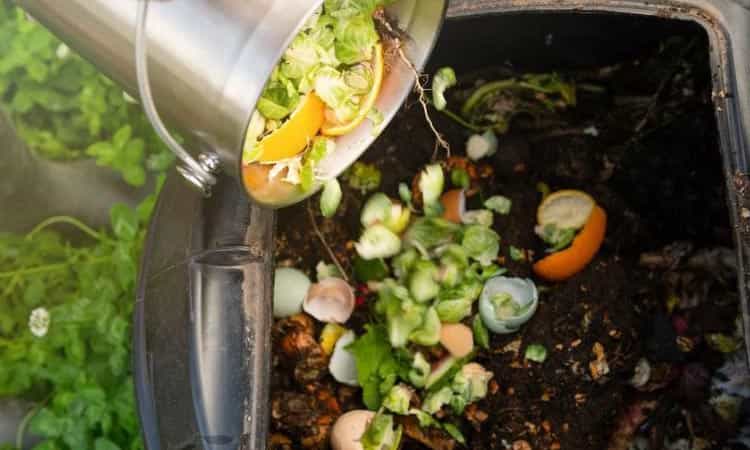 So, from the beginning, we have to work on the basis of home compostable materials, including substrate paper films and relative accessories. Here, we are going to introduce the main items available in the commercial market one by one.
Home compostable Materials
Kraft paper is a natural, biodegradable, and compostable paper material widely applied in the flexible packaging industry, which can be further processed in kinds of craftsmanship, like printing, metallization, coating and lamination with other film materials, and then converted into various standup pouches and sachets.
Made from wood pulp, kraft paper will eb able to naturally degrade into inorganic elments in soil conditions like any of the plant, like leaves, tree branches and wood powders.
Kraft paper can be working on the outside and middle layer in the composite foil structures.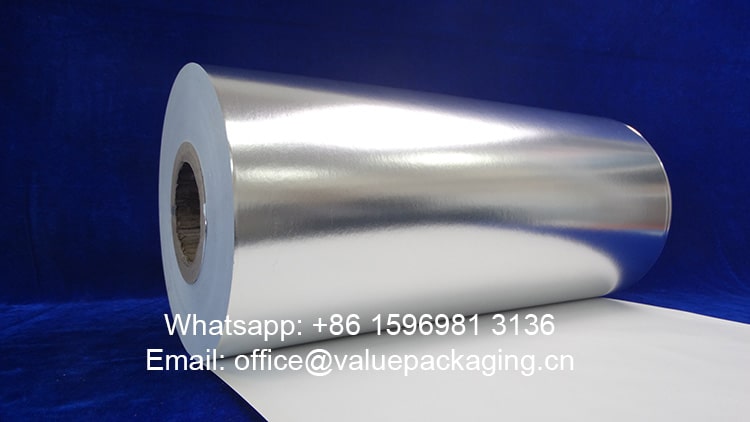 Metallized paper is to deposit a thin layer of aluminum atoms on the clayed surface of kraft paper substrate. In nature conditions. The aluminum layer will react with water moisture and oxygen into inorganic materials like Al2O3, which is not harmful to the environment. So metallized paper should be taken as home compostable paper material.
Metallized paper can be working as outside and middle layer in the coffee bag packages, with distinguished upstraight standing effect for final coffee bags.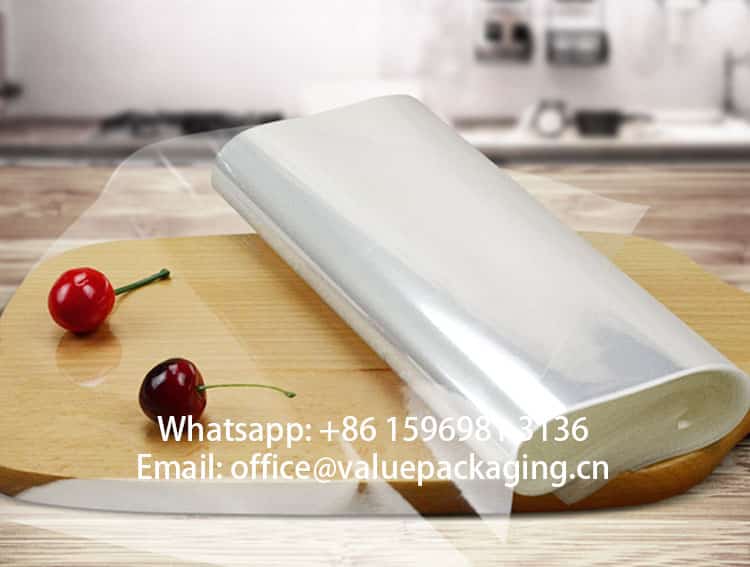 Cellophane film, also called cellulose film, is a polymeric cellulose film made from the cellulose out of wood, cotton, hemp, or other sources, which can degrade into carbon dioxide and water in nature conditions in 30~90 days. You may find the
Cellulose film can be working as outside layer for printing substrate, and middle layer as supportive and reinforced film for standup coffee packages.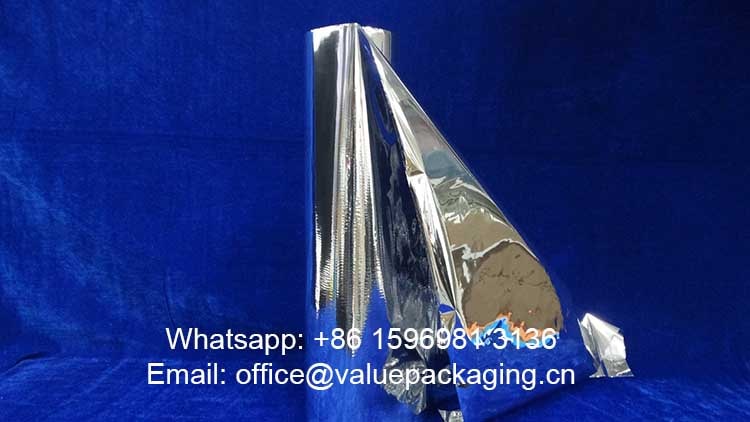 Metallized cellophane film, gets its name after metallization coating of aluminum vapor in vacuum conditions, and finishes with much better barrier performance against moisture and oxygen. It is now considered as one of the best high barrier home compostable film material for coffee bags.
Of course, the gloss metallic appearance makes the artwork printing more vivid and solid, which makes it usually the middle layer in the foil laminates.
PLA+PBAT Film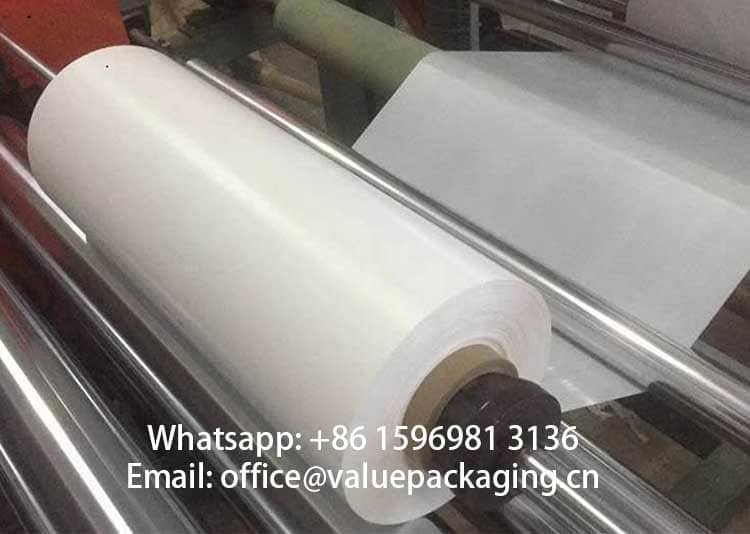 PLA, short for Polylactic acid, is a thermoplastic monomer derived from renewable, organic sources such as corn starch, cassava starch or sugar cane.
PBAT, short for polybutylene adipate terephthalate, is a fully biodegradable polymer derived from fossil fuel. This just means that when it's buried in soil, it breaks down completely and leaves no toxic residues behind.
PLA+PBAT film is a blown film produced from blends of PLA resin and PBAT resin, which balance the multiple properties for the final film, and enable it to be ok for commercial use.
Frankly, PLA+PBAT film is not the ideal home compostable film we found in current market, it takes a much longer time for PLA+PBAT film to degrade than kraft paper and cellulose film. However, we are actually moving forward to a better home compostable coffee package step by step.
PLA+PBAT is ususally working as the inner sealing layer, with exceptional heat sealing strength almost as good as traditional low density polyethylene film.
Here, you may find the Ok home compostable certificate from our supply chain.
Bio-PBS Film
PBS resin, short for Polybutylene succinate, is a biodegradable plastic that can decompose into H2O and CO2 under the microorganism activities in soil conditions. It is derived from natural resources, such as sugarcane cassava and corn starch. Products made from Bio-PBS can be disposed of along with organic waste, which is easy to be found around house activities. Bio-PBS will not do damage effect on the environment and is naturally compostable, without a specialized composting facility.
Actually in home composting progress, PBS film is presenting better compostable performance than PLA+PBAT film, which is the cheapest compostable film in current market.
PLA Zipperlock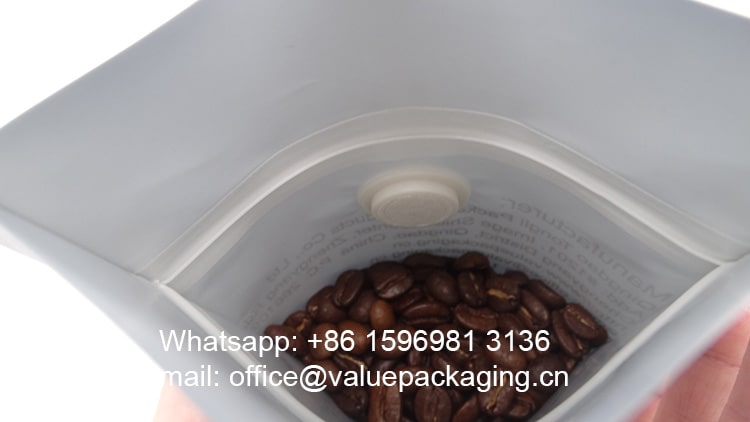 Made from PLA resin, the zipperlock is able to achieve good performance on the re-sealable coffee bag with enough melting strength to the inner sealing liner.
Compostable PLA Air-release Valve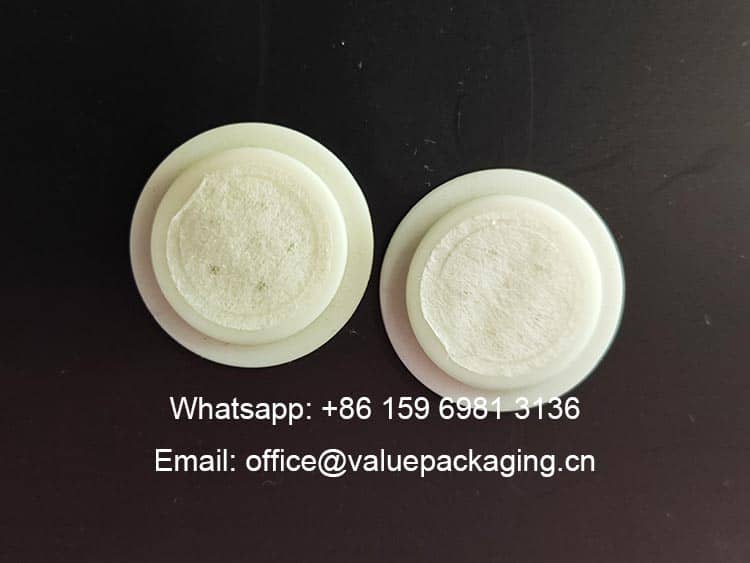 Degassing valve made of PLA resin comes into actual application in coffee packaging area with excellent air-control ability. Below graphic shows the specification for our current compostable degassing valve.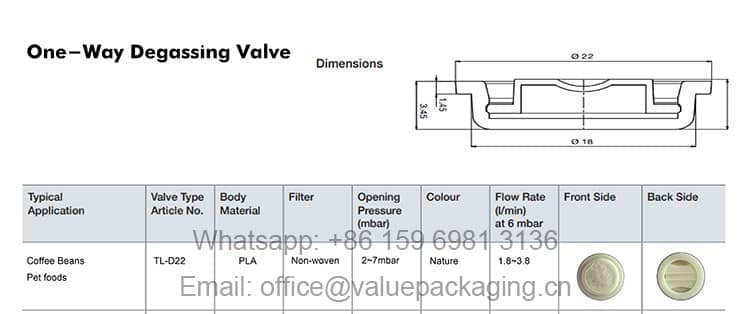 Home Compostable Foil Laminate
Based on the above home compostable paper film materials, we are able to achieve various foil laminates that can be well intended for coffee bags and sachets.
Kraft Paper/Cellulose Film/PLA+PBAT
Kraft Paper/Metallized Cellulose Film/PLA+PBAT
Cellulose Film/Kraft Paper/PLA+PBAT
Cellulose Film/Metallized Paper/PLA+PBAT
Cellulose Film/Metallized Cellulose/PLA+PBAT
Metallized Paper/Metallized Cellulose Film//PLA+PBAT
You may read here more to understand on the basic knowledge regarding each laminate in this post.
Is coffee bag 100% home compostable?
Based on the above film materials and accessory, should the finished coffee bag be considered as 100% home compostable? This is always a confusing question, as people may hold different standards to evaluate if a coffee bag is really 100% home compostable.
Some people may just rely on film materials and accessory, and believe if they are all home compostable, and of course the finished coffee bag should be considered 100% home compostable.
However, when we look closer into the formulation of the whole package, printing inks and adhesive will unevitably be an undividable part of the bag, even though they are just a very small part of the finished bag. Even nowadays, home compostable printing inks and adhesives that can be well applied in flexible packaging industry are still far far away from the commercial appliation, so please allow us to explain more on the current inks and adhesive available in the market.
Printing Inks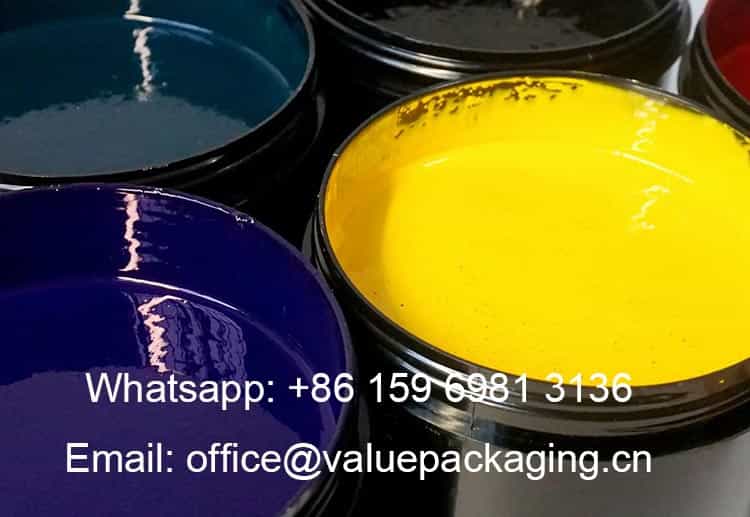 For most of the artwork designs on the coffee bag package, they are mostly printed in gravure printing or flexo printing .
For the inks applied in gravure printing, most of them are still based on Polyurethane system, working with solvent in actual printing process. That means, it can not compost as the other plant-based film materials either in industrial composting facility or even home and garden conditions.
Water-based inks may be applied in flexo printing, which is more eco-friendly than gravure printing inks, however most of them are still not compostable.
Adhesives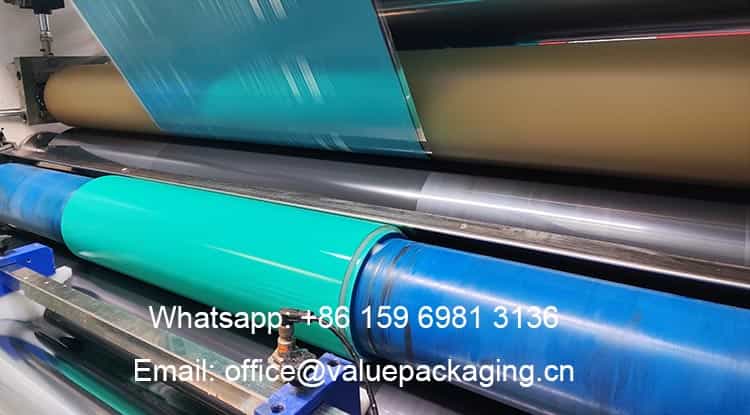 Most of the adhesives applied in flexible packaging areas are based on bi-component polyurethane, regardless solvent type or solvent-less type. Even there is some compostable acrylic adhesive developed for labels in current market, however, the mainstream in flexible packaging still remains on polyurethane, and compostable adhesive is really moving very slow, and there is not any mature compostable adhesive applied in multilayer flexible packaging.
So, viewing from this point, how can the coffee bag be 100% home compostable?
Let's do a calculation based on the actual compostable foil structure intended for our current coffee bag, like Kraft paper45g/Metallized Cellulose20/PLA+PBAT60 for example, and check the weight of compostable component in the whole package.

Let's evaluate the weight of foil lamiante by square meter.
Kraft Paper: 45g/m2
Metallized Cellulose 20um: 30g/m2
PLA+PBAT: 75.6g/m2
Inks: 2g/m2
Adhesive (2 layers): 4g/m2
So, the weight of this laminated foil is 156.6g/m2, with home compostable film materials 150.6g/m2
Judging from weight, inks and adhesive may take up to around 3.8%, which is actually not able to compost in home and garden conditions.
Composting Test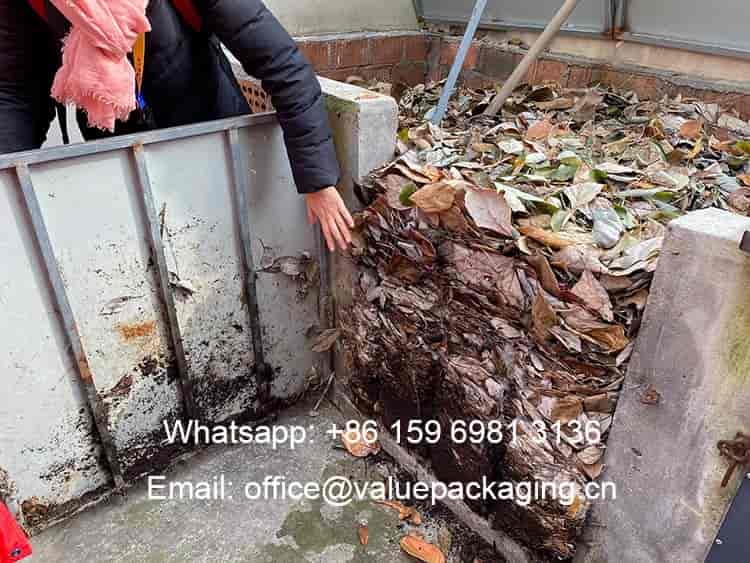 Since the release of EN 13432, there has been great progress of the compostable film materials in many fields, and based on actual needs, we perform composting test against our current coffee bag, and try to revert trustworthy information to our customers.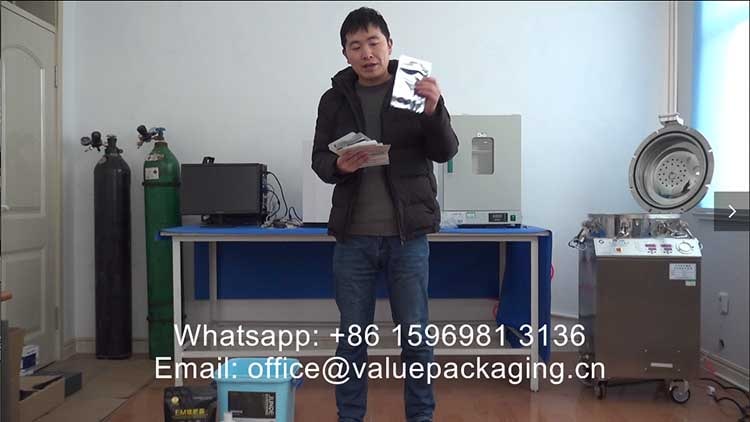 Surely, we will keep our customers posted with the composting test progress, and any questions regarding home compostable coffee bag, you may just reach us for further assistance.