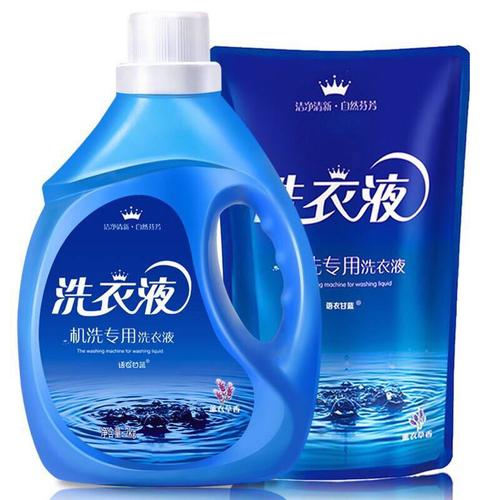 Nowadays, More and more household liquid detergents are packed in standup doypack packages as it is able to deliver the products in lower cost to families. Either the standup doypack package is enabled with a spout/closure system or not, it is indeed much lower cost than the bottles.
Our company is outputing standing doypacks for detergent liquids for years, and in this post, we are going to introduce the reliable package we are producing from 500ml to 3litre screw cap spout bags, intended for liquid laundry detergent.
500ml spout package for household cleaning liquids
500ml spout package should be taken as the starting volume for household cleaning liquids products, as nearly most of the household products will tend to be delivered to consumer family at the lowest cost, so usually the more volume for a package, the lower price averaged by weight.
This 500ml spout package is just the kit we are prodoucing for the cleaning chemicals market, and it can well hold 500ml liquids, and finally present good standing and branding effect.
1litre standing spout pouch
1litre standing spout pouch is mostly used for liquid detergent, and from this volume on, we will need to care more about the bag strength, as when the package drops unexpectedly from the goods shelf, the product weight itself may cause the package to crack or break. Of course, there are many causes why the detergent doypack cracks, however, we would not let you to take the risks, so we are delivering qualified doypacks to our customers. Below vidoe you can check the drop test we perform to check if this 1litre standing spout pouch is strong enough.
2kg screw cap doypack
2kg screw cap doypack is the most used volume for the liquid cleaning chemicals. As smaller packages may cause higher averaged price, and too large volumes may cause the product too heavy for the consumers to carry. We have experience regarding this. Once upon a time, A moldova customer is ever producing 1litre and 1 gallon spout pouches for his products, and after some time, he calls the produce of 1 gallon spout pouch into cease, as many consumers complain to them about the heavy package. so you are also advised to have a littile think when choosing the volume.
3litre screw cap standing pouch
3litre screw cap standing pouch is the maximum volume we are producing for our customers for a sustainable business. If you plan to choose this volume, we are the right producer for you. Check the below video to understand how strong our 3litre screw cap standing pouch.
Factory tour
You can take a tour around our factory on how the spout doypacks are produced. The equipments below enables us to output nearly 500~600K doypacks per day.
Print press: 3 lines
Laminate line: 4
Bag making line: 50 sets
Spout welding devices: 120 sets
Ok, you are welcome to reach us for further assistance wheneven you have any requiremnts.
Manufacturer: Qingdao Tongli Packaging Products Co., Ltd
Website: www.valuepackaging.cn
Email: office@valuepackaging.cn