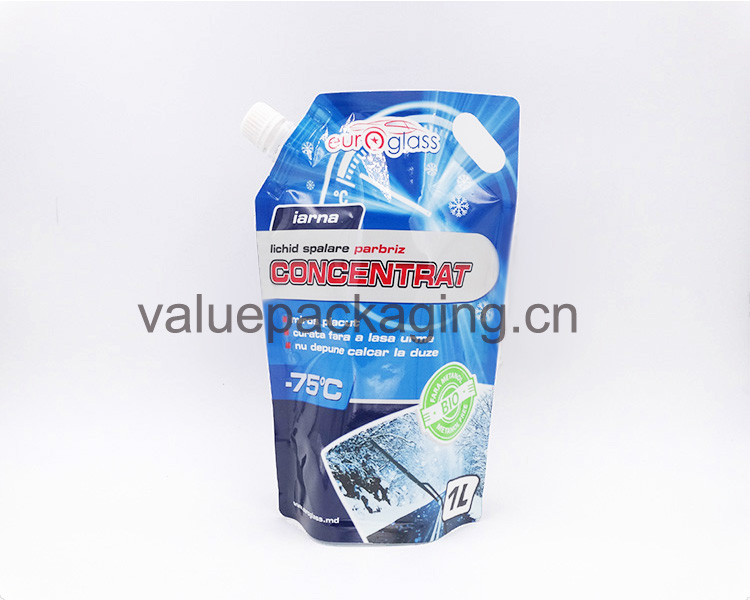 When the volume for spout doypack comes to 1 liter, it comes to a very important point to evaluate the ability of a spout pouch producer.
As based my knowledge of many flexible converters in china, most of them are able to produce spout doypackes less than 500ml, as for these volumes, the holding weight is not heavy, and most producers can ensure the quality of the spout pouch. However, for 1liter spout doypack, some manufacturers will not be able to present good quality products, even though they are using the same materials.
So, I am here to list the materials used for 1 liter spout pouch, and hope it will be helpful for you to decide the best packages.
PET/PA/PE-Good quality
This three layer structure is the most used by china manufacturers, that can achieve great bag strength, and good standing effect.
For bag strength, usually we perform drop tests to check the quality, and now we are going to fill the pouch with 1 liter water, and fall down from 2 m high, for 3 times, and see how it performs
For standup effect, you may watch the video below
PA/PE- soft
Some customers may want to lower cost than the 3 layer structure, and would like to choose PA/PE two layer structure, however based on our experience, PA/PE structure pouch is much more soft than PET/PA/PE pouch, and may not be able to stand up on the goods shelf. You may watch the video of PA/LDPE spout doypack for 1.5kg sauce products.
PET/PE- not ok
In previous article for the materials for 500ml spout pouch, PET/PE can be well intended for 500ml pouch, even though not so strong, however, PET/PE can never be intended for 1 liter liquid packaging, as it will not be able to hold the weight, it is quite easy to break. Please do not trust the supplier if they present you a PET/PE pouch for 1 liter liquid in China.
Below is the drop test for 500ml spout pouch with PET/LDPE foil structure, and when I performed the drop test, it just broke on first drop. So, do not choose PET/LDPE foil structur for 1litre liquid package, it is not reliable.
OK, we come to the end of this post, if you have any questions, just reach us at office@valuepackaging.cn for further assistance. thanks