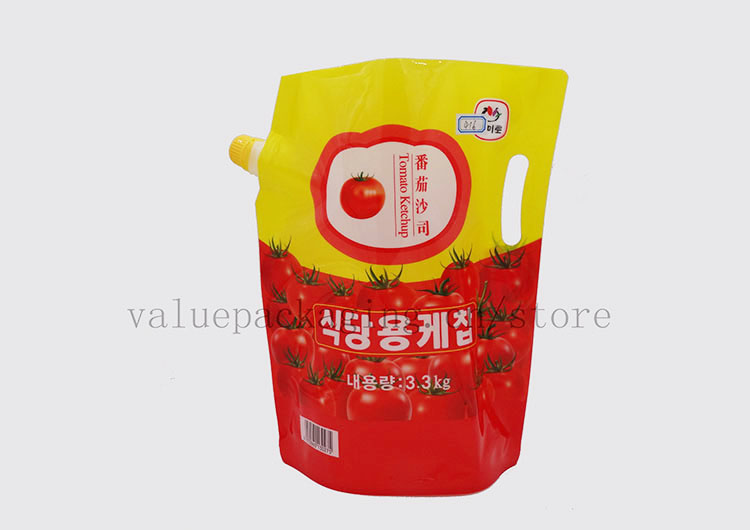 This standing spout doypack is able to hold 3.3 kilograms of tomato ketchup, which is usually not intended for consuer purose, it is intended for restuarant purpose. The screw spout pouch will have to be strong enough, so there should not be any leakage or breakage.
Foil Materials of 3.3 kilograms tomato sauce spout bag
The foil materials for this standing spout pouch is BOPA15/BOPA15/LLDPE160, with total thickness 190 microns, with the graphic as below.

Burst Impact Test on Foil Laminate
Below picture shows the most common used equipment to perform burst impact test for multilayer foil laminate, and it is a reliable way to check if the foil is robust enough to be made into final spout pouch packages.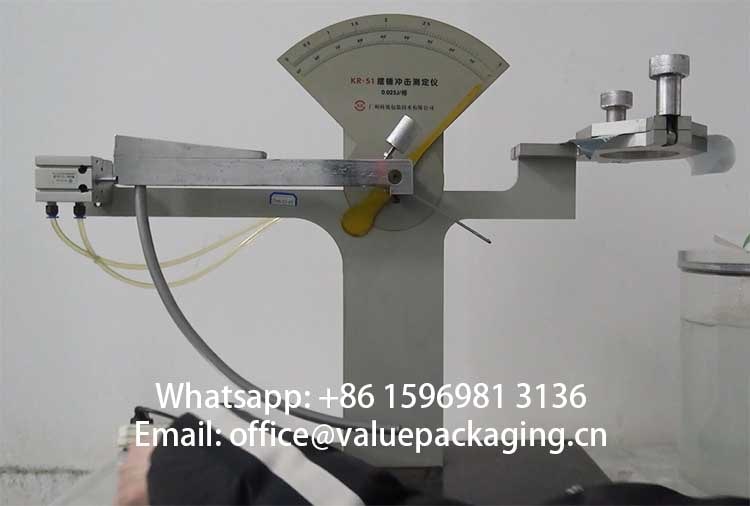 This impact strength test can only prove this foil laminate is of enough property to be processed into pouches, however, to finalize standing pouch with good strength, the bag-making operations like heat sealing temperature, balanced pressure, heat period are quite critical, so usually we will have to perform further test on final package, to decide if 3.3 kilograms tomato sauce screw cap pouch is strong enough.
Pressure test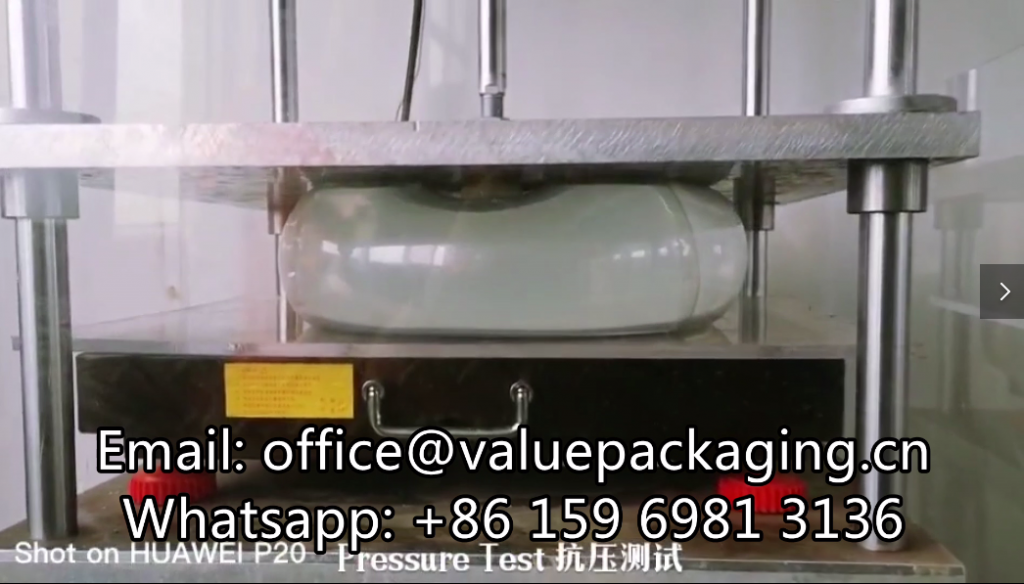 Pressure test or anti-pressure test on this plastic spout pouch is going to apply a certain weight/pressure on the package which is usually filled with water, and the pressure condition will last for a certain period like 30 seconds or 1 minute to check if this 3000 grams tomato sauce plastic closure package is strong enough.
Drop test of 3.3 kilograms tomato sauce spout pouch
Drop test is performed with the intended products filled into the package, and drop it from a certain height for certain times. It should be considered as the most reliable way to check if the package is strong enough. In our daily work of drop test, usually, we will fill water into the package, as water is most fluidy, and at the first moment the package crashes against the ground, the impact strength caused hereby is astonishing. So, in this post, we also perform the drop test with water filled.