A tall think standup pouch is the mostly used for 3litre screw cap doypack package, however, this is not all the cases. Some customer may would like to present their 3litre liquid products in a short fat package that may appear to the consumers in a solid and reliable profile, as below picture. What's more, with a plastic handle on top, the screw cap doypack package is much easier for the consumers to take away.
As a reliable producing factory located in Qingdao, china, our company is now producing this 3litre short fat screw cap doypack package for beer and mineral water products.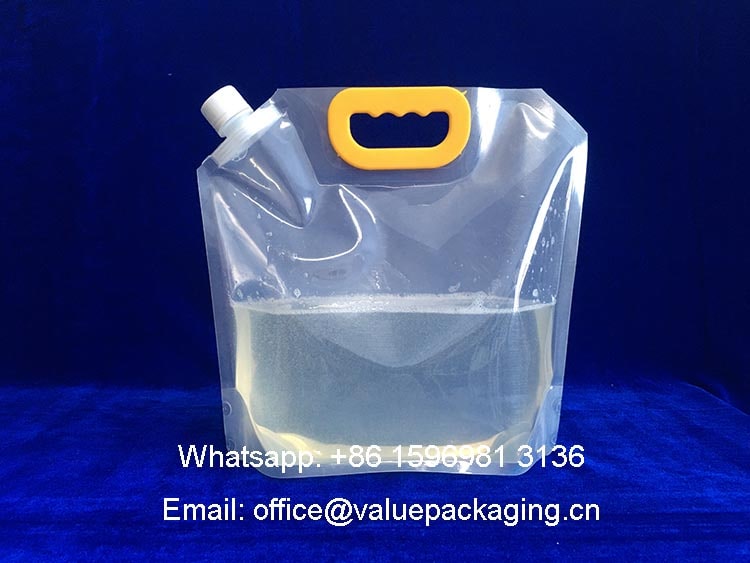 Foil Structures
The foil materials structure for this screw cap doypack is PET12/PA15/LDPE190, with total thickness 230 microns. This foil structure is considered to be cost-effective solution for 3litre package with excellent performance.

PET 12 microns film, works as outter print substrate film and protection.
PA 15 microns film, also called Nylon film, works as middle bone layer and anti-puncture layer.
LDPE film, which usually needs to be modified against the products packed, works as the inner sealing layer.
Filled Effect
With 3litre water filled, the top part of the 3litre short fat screw cap doypack bends in some extent. You can see the doypack is still able to hold 3litre products. In my opinion, it is better to increase the pouch height to 300mm, that will leave more space when the product is filled.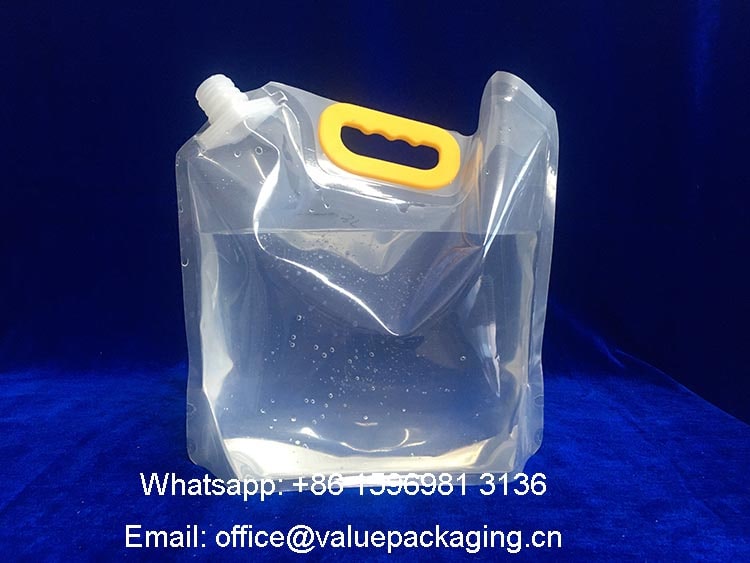 Drop Test
This 3litre short fact screw cap doypack should be strong enough to withstand the unexpected shock when the package drops unexpectedly from the shelf. and in our daily QC work, we take some essential measure to make sure the foil and package will meet the strict requirements.
Among all the test method, drop test is considered as the most reliable method, as it simuluates the way when the package falls off the shelf. and furthermore, it is the most simple test in our operation.
So, we are going to get the screw cap doypack filled with 3litre water, and drop from 1.8meter high, for 3 times. Let's see how it performs.