Some customer may like to launch their oat product in tall high skinny standing package profile on the shelf. Bottom gusseted bag, side gusseted bag, flat bottom bag are all able to create great standing effect on the shelf when the oat products is filled. In this post, we are going to share the dimension needed for a tall thin quad seal bag for 1 kgs oat products, with picture as blow.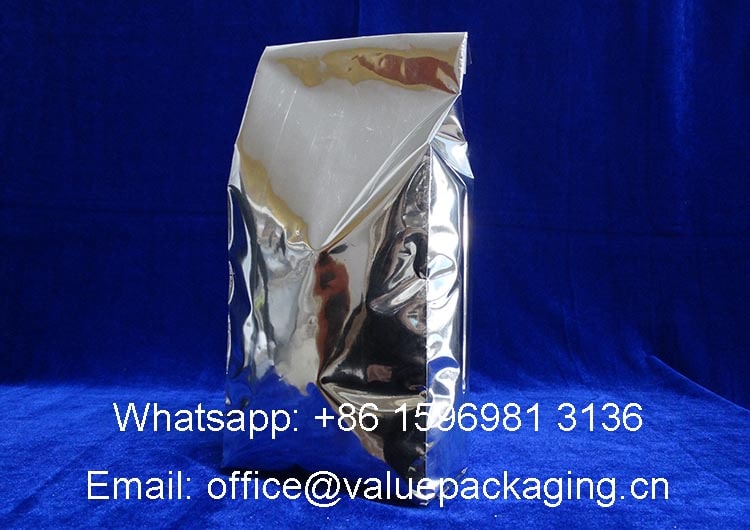 Foil material structures
The dry oat products should be protected against the moisture, and upon our experience, metallized film should be enough to provide the barrier property needed for the final package, with VMPET mostly used. As VMCPP film is usally intended for light product packages, like 2~100g, so we will have to entrap a layer of VMPET film into the foil material structures, with the most common used structures as below.
These two structures forms the materials for most oat products packages, BOPP18/VMPET12/LDPE is able to provide better soft hand feeling for the package, and PET12/VMPET12/LDPE is more rigid and tough, that is able to provide more strong package. However, they can be both ok for 1kg oat packages.
Dimension Test
We are going to fill 1kg oat product into the package and test a good dimension for the quad seal pouch that is able to create a high skinny package profile, and let's watch the video.
Dimension and layout for the quad seal standing pouch
So finally we get the sizes of the quad seal standup pouch, with layout as below. The side gusset on the picture shows the single depth of the side gusset, which should be 70mm in total.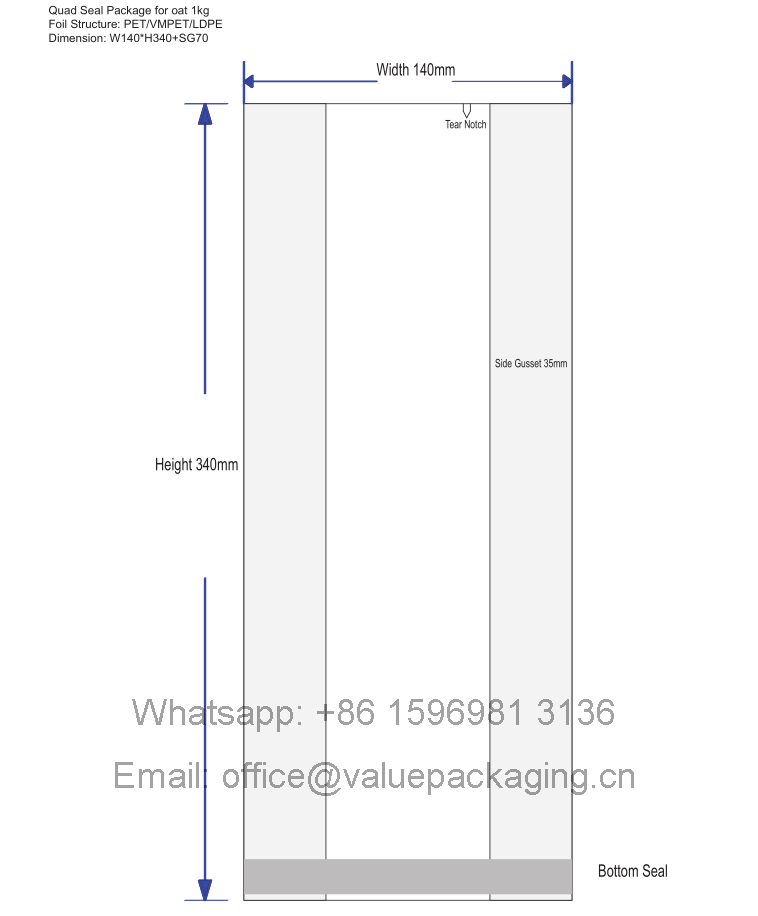 Packaging Forms
The quad seal standup pouch can be realzied by the premade pouch, or formed on the vertical-fill-form-seal machine with roll foil. Usually, roll foils are intended for high speed filling in mass produce, that is also able to reduce the final cost in package. Pre-made pouch is supplier from our factory to customer place, then the customers can fill the product manually.
We are going to share with you a short fat package with four edges sealed that is intended for 1kg oat products. Read more here.