PLA+PBAT blown film is considered the most common used sealing layer for compostable bag packages. Same with polyethylene film, PLA+PBAT film can be used alone, or further laminated with other substrate film material to achieve multiple purposes.
This film is produced on the blown-film line, which is able to output the finished film with thickness 15~100 microns, here in this post, we are going to get further understanding on the most common-used thickness for this sealing film.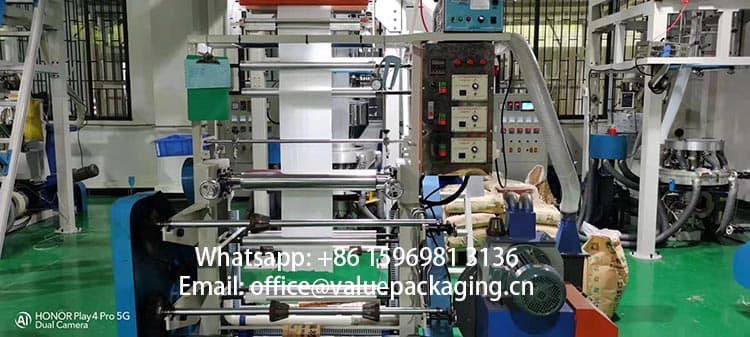 20 microns dog poop compostable bag
Dog poop bags adapts this compostable PLA+PBAT film prior to other products, as the compostable bag makes the throw-away much easier and less burden for the consumers, as this dog poop bag can well degrade in nature conditions.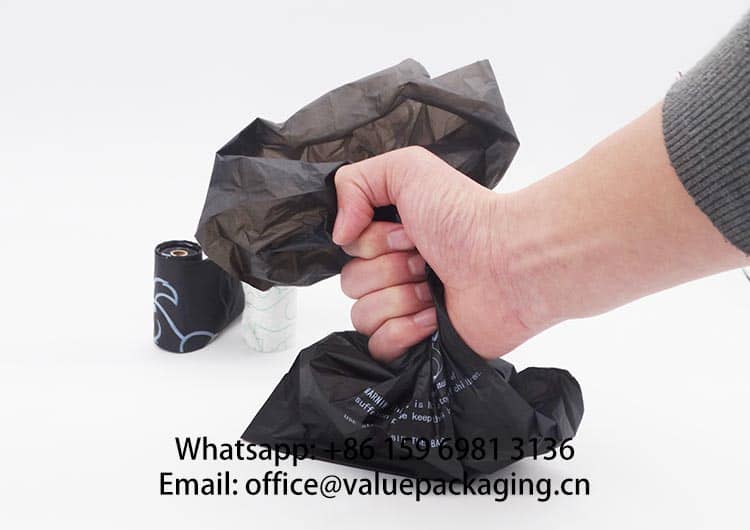 As this dog poop bag is disposable use, so there is strong desire to make it lower cost as possible, and the thickness matters much. Below picture shows the thickness for our current dog poop bag is 20 microns, which should be cost competitive.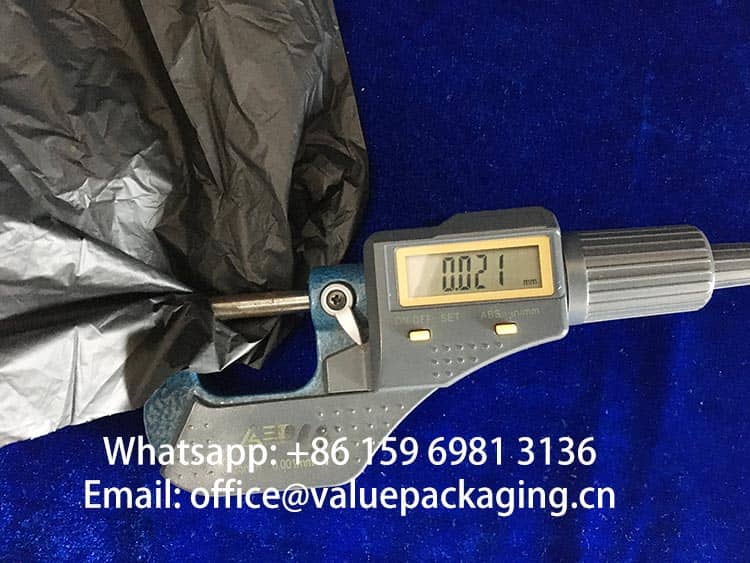 Frankly, the minimum thickness for dog poop bag we produced is 16 microns, with custom print. So if the customers would like to get a lower cost, you may reach us for further ideas.
35~40 microns PLA inner sealing layer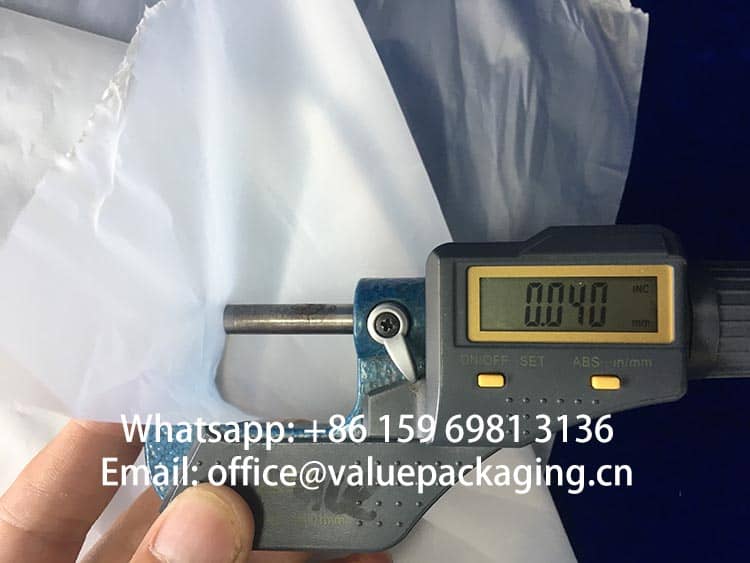 PLA+PBAT film with 35~40 microns can work well as the inner sealing layer for multilayer compostable pouch packages and roll foils.
Laminated with other substrate film materials like kraft paper, metallized paper, BOPLA film or cellulose film, the foil laminate can be achieved with better stiffness which can achieve compostable pouches with great standing effect.
Below pictures shows a compostable standup pouch with foil structure BOPLA40/PLAT+PBAT40, with total thickness 80 microns. As the stiffness and toughness of BOPLA 40 microns film is much better than BOPLA 25 microns film, so this standing pouch performs great on the goods shelf.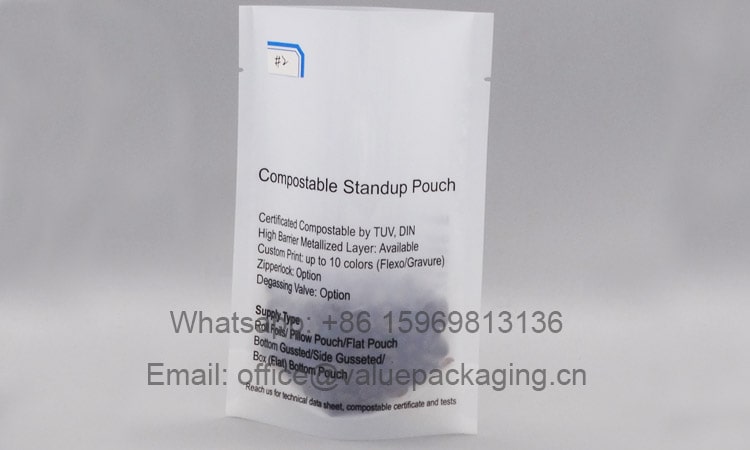 Watch the video below for further understanding.
60 microns PLA+PBAT film
The thickness of PLA+PBAT film may be increased to 60 microns, as some customers believe the inner layer at 35~40 microns would be thinner, and the sealing property, such as sealing strength will not be as good as a thicker film.
That is true.
Our company is now outputing standing pouches and lidding foils with PLA+PBAT film at 60 microns, with an improved performance than PLA+PBAT film 35 microns.
80 microns Sealing Film
80 microns sealing film is at an even higher cost per square meter, however, sometimes this cost increase is worthy if the customer would like to get a better sealing performance.
100 microns maximum
At present, the maximum thickness for our PLA+PBAT sealing layer would be 100 microns, that is decided by mainly two factors
Film with more than 100 microns would cost too much
It is more difficult in actual produce
So, here, you have got a basic understanding on the common thickness of PLA+PBAT compostable sealing film in this post. Of course, we will keep posting the knowledge and applications of this film. If you have any enquiry, just feel to contact us.