1 gram isomalt pack may be well-intended for sweetener purposes, and when the customers are locating the packaging materials for this package, they may feel guideless. As a reliable manufacturer for packaging materials located in Qingdao city, we are here to share our knowledge on the foil materials for this 1 gram package.
Paper Foil Materials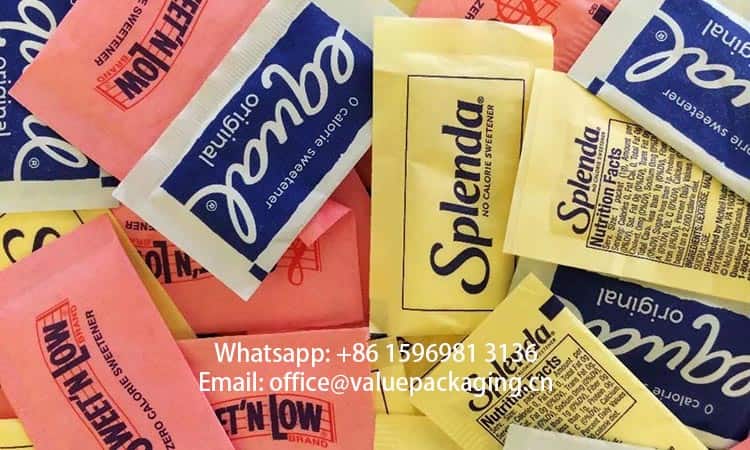 Paper foil materials should be considered as the most-used film material for 1 gram isomalt, as paper foil is able to present below advantages.
Great package effect
Easy tear
Lower cost
Eco-friendly
Fully recyclable
The below graphic shows the typical structure of paper foil intended for a 1 gram isomalt paper pouch. Paper substrate works as a print base film and supports bone layer, and a liner poly coating is applied on the inner side, to achieve sealing property.

A layer of aluminum foil sheet can be trapped into this paper foil, to achieve maximum barrier property and protection for the isomalt product, however which is usually not necessary.
Plastic Film Bag
Plastic film bag is able to provide better moisture-proof properties and protection for isomalt, and the below picture shows the typical package with custom artwork printed.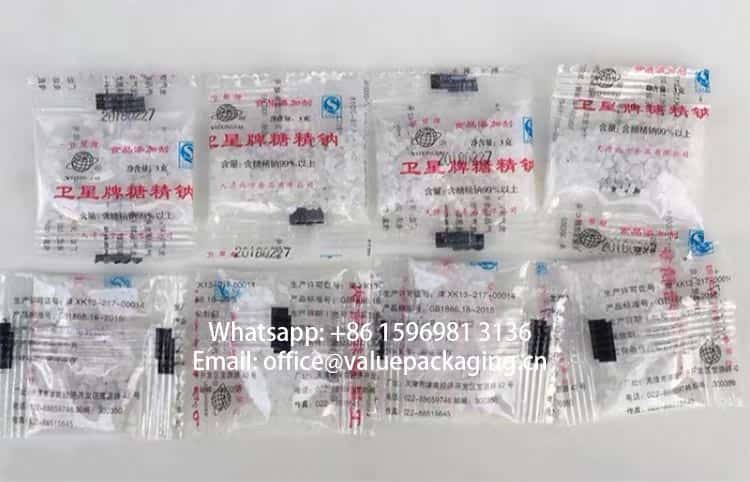 The most used materials for this plastic film bag is PET12/LDPE, as below graphic.

You can see, the artwork is reversely printed on the inner side of PET film, and then laminate with LDPE film through an adhesive layer. This foil laminate should be considered a lower cost packaging material that is able to present enough property for 1 gram isomalt.
Metallized Foil Laminate Sachet
Metallized foil laminate is intended to describe a multilayer foil with a layer of metallized film trapped inside, which is able to provide much better barrier property for isomalt, and also the artwork print will look more solid and attractive.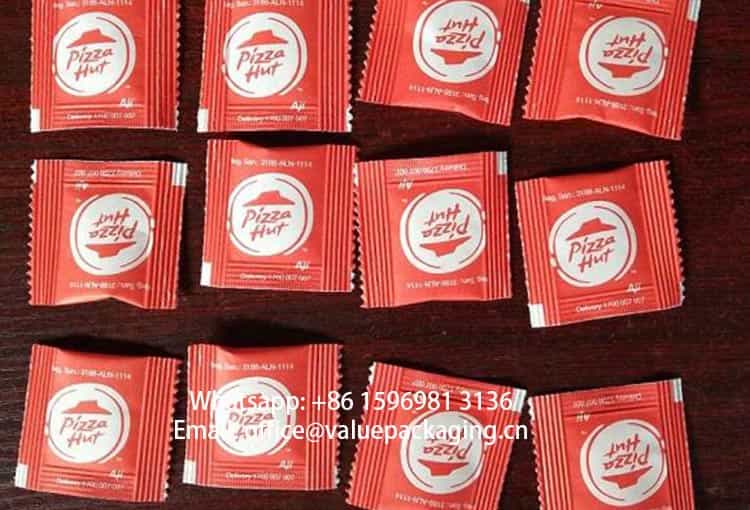 The most common used metallized foil laminate should be a triplex material , as below.
and the below graphic shows the typical structure for PET12/VMPET12/LDPE, with PET film working as outside print substrate.

Ok, here we have finished our topic on the most common film materials for 1 grams isomalt package, hope it helps for you. The materials of standing pouch package for isomalt should be somewhat different from this 1 grams sachet, which would be introduced in another post.