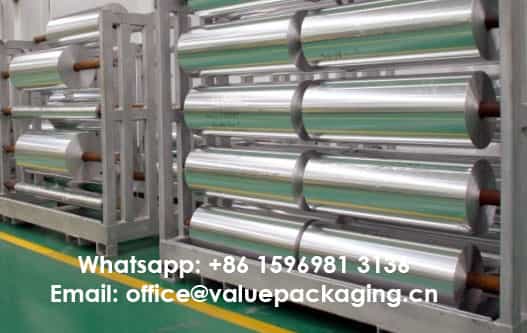 Aluminum foil is widely welcome in the multi-layer pouch packages for roasted coffee beans as of excellent barrier performance and sunlight shielding property. It can not work alone, it will have to be laminated with other substrate film materials to achieve multi-function packages, with great standing effects.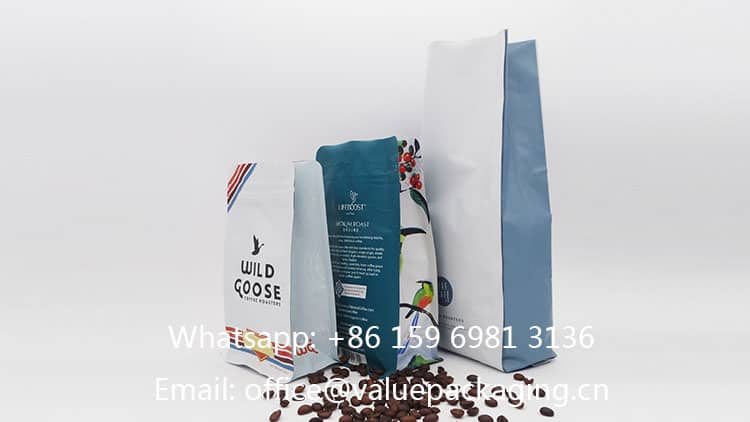 PET12/ALU7/LDPE foil laminate

PET 12 means clear polyester film with thickness 12 um, equals to 0.48 gauge, is the most common used print substrate in flexible packaging. It is of great mechanical strength, chemical stability, good printability, thermal resistance, so it is highly appreciated in working as the outside print base film.
AL7 microns, means aluminum foil sheet 7 microns, equals to 0.007mm, is the most common used thickness in standup pouch packages, high barrier performance, and easy to be processed on the produce line.
LDPE film, which is short for low density polyethylene film, works as the inner sealing layer, and it is able to achieve the air-tight package with great physical strength. Usually, the thickness of LDPE film can be adjusted from 30 to 200 um against specific application.
Take the 12oz Wide Goose box bottom coffee pouch for example, the foil structure is PET12/ALU7/LDPE120, with total thickness around 140 microns, much preferred by our customer.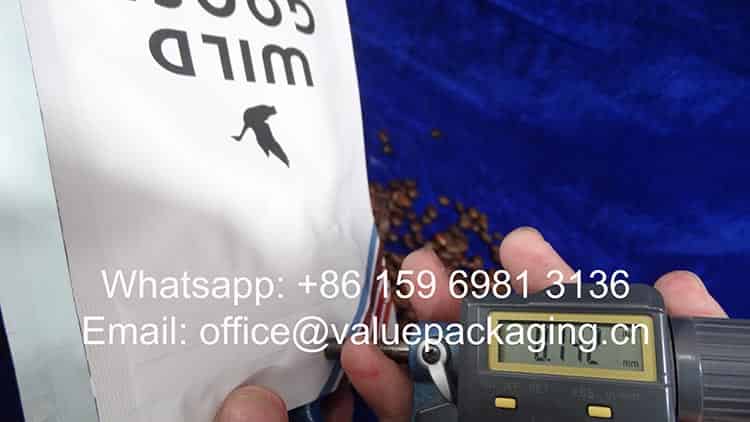 Of course, this triplex aluminum foil laminate is able to present great standing effect when the products is filled into the pouch, and when we try to feel it, actually it is soft.
PET12/ALU7/PET12/LDPE foil bag

This 4-layer structure is developed as some customers may prefer to get a stronger package, as in some cases, triplex foil laminate PET12/ALU7/LDPE may break under sudden unexpected forces. There is not any elongation rate for aluminum foil, however so big elongation rate like 1400~1800% for LDPE film, so these two substrates may delaminate under sudden shock, which then cause the package to break.
So, another PET film layer is applied between aluminum foil and LDPE film layer, such as PET12/ALU7/PET12/LDPE80 foil laminate intended for 12oz Lifeboost box bottom coffee bag.
The thickness for this 4-layer aluminum foil coffee bag is around 116 microns, which is about 20 mcirons thinner than the Wild Goose triplex foil laminate, however it is more tough, rigid and stronger.
You are advised to watch the video below for a further understanding.
We also performed some lab test to allow you to have a further understanding on the difference of these two foil structures.
Tensile Strength Test
Burst Impact Strength Test
Sealing Strength Test