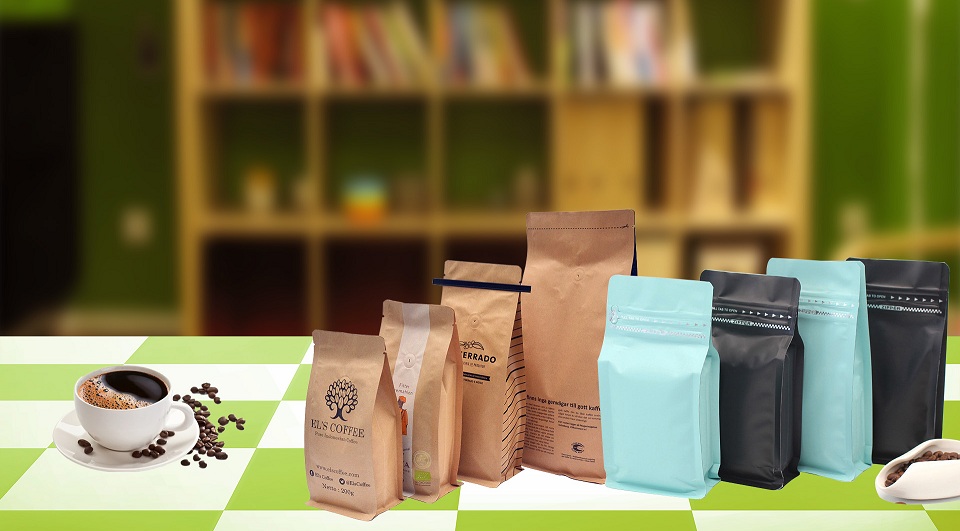 Aluminum Foil Laminate Materials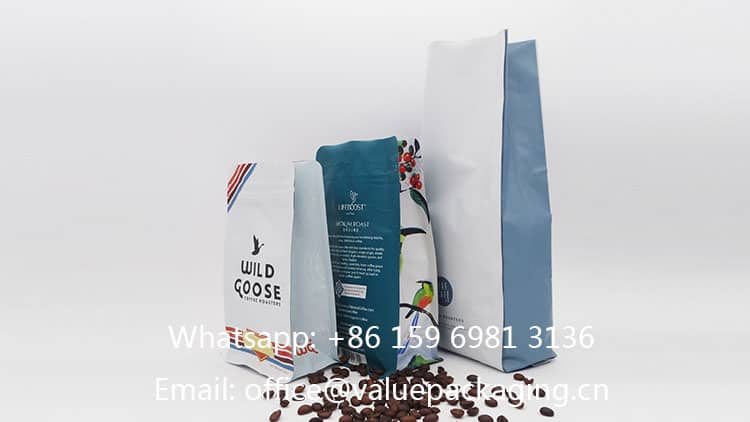 With excellent barrier performance against moisture and oxygen, aluminum foil is widely used in the laminate structure for multi-layer packaging. The final laminate is able to keep the fresh roasted beans in premium quality as long as possible.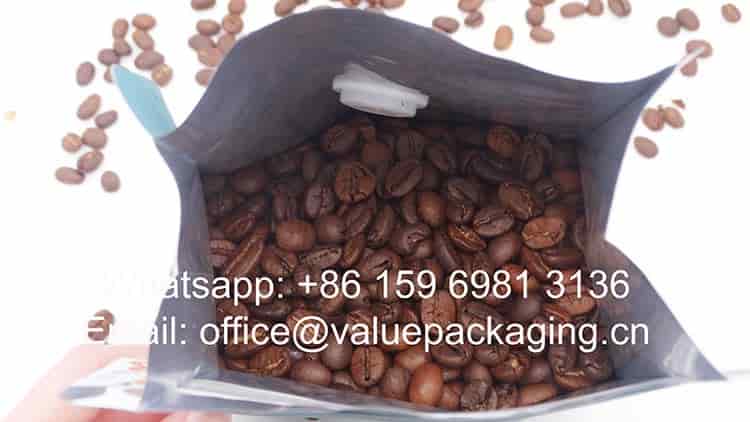 The most common used foil laminate is as below
PET/ALU/LDPE
PET/ALU/PET/LDPE
With a further PET film working in the laminated materials, the 4 layer structure is able to present a more robust package for the roasted beans. You may have a further understanding with below post.
Metallized Film Laminate Structure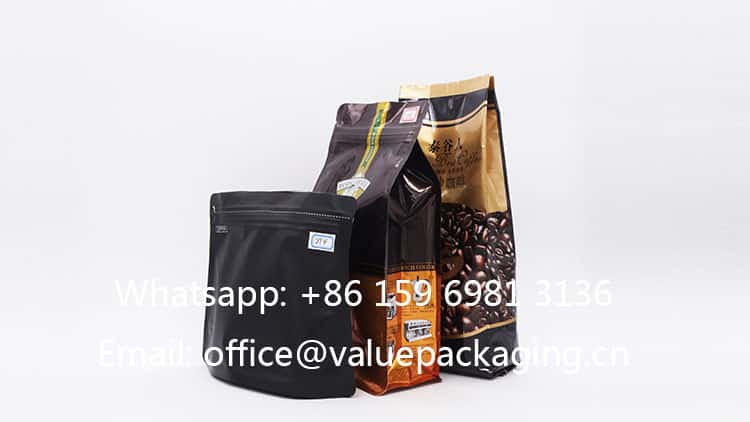 Metallized film laminate means the multi-layer foil including a layer of vacuum metallized film layer. When it comes to coffee packages, usually VMPET film (short for vacuum metallized polyester film) is applied as of below properties
High barrier performance (of course ,not as good as aluminum foil)
Good sunlight shielding
Cost-effective than aluminum foil
Excellent Mechanical stability, and easy to be process on line
Excellent tougness, to achieve pouches with great standing effect.
In actual applications, below metallized film foil laminates are the most commonly used.
BOPP/VMPET/LDPE
Matte BOPP/VMPET/LDPE
PET/VMPET/LDPE
Kraft Paper/VMPET/LDPE (also called kraft paper foil laminate)
AlOx Coated PET Foil Laminate Materials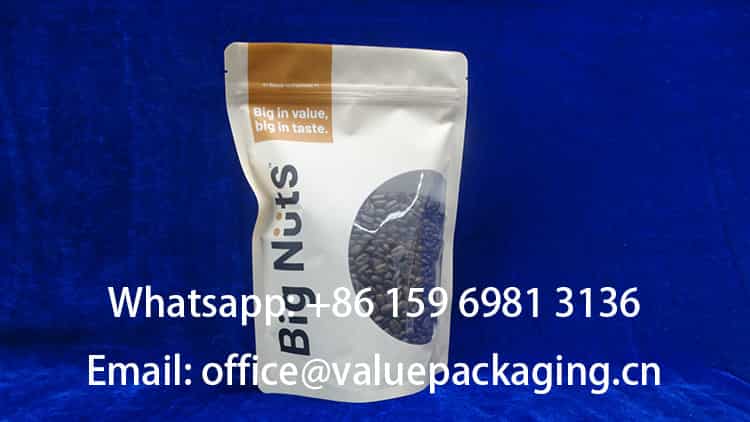 Both aluminum foil laminate and metallized film laminate are not working for metal detector, as they both contain some content of aluminum inside. So, this foil structure is developed to meet the strict requirements for metal detector with enough barrier performance (with OTR and WVTR less than 1.0).
AlOx Coated PET film is of excellent barrier performance against water vapor (evaluated as WVTR) and oxygen (evaluated as OTR), with typical value of this film as below.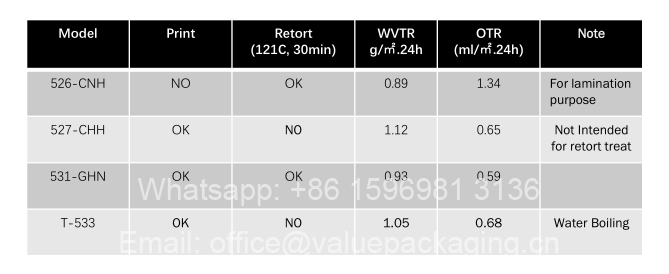 Generally, AlOx PET 12 um film layer is working as middle layer in the laminated structure, as below graphic.

Further more, an ultra clear window can be customized on the AlOx Coated PET foil bag, that is quite different from metallized film foil coffee bag and aluminum foil coffee bag. Upon our experience, a package with a clear window indeed have an positive on the sales of products. Many consumers get attracted to the products inside by this clear window.
Kraft Paper Foil Laminate Materials
Kraft paper foil laminate means the multi-layer foil structures that contain a layer of kraft paper substrate. Kraft paper can be laminated with any of the above barrer film layers, such as VMPET film, Aluminum foil, AlOx Coated PET film.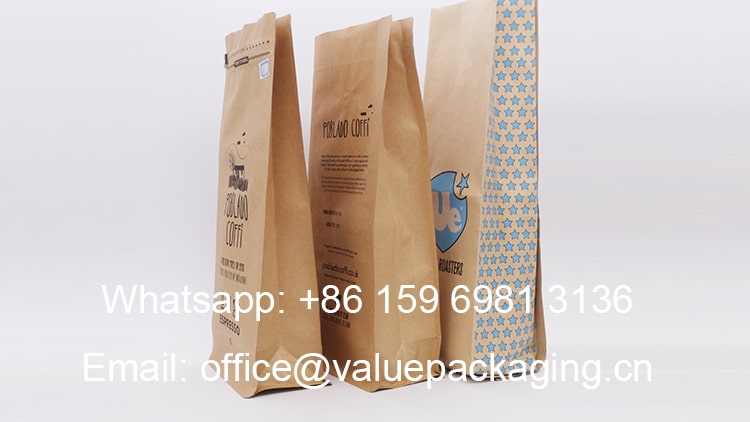 Some of the most common used kraft paper foil structure are listed as below.
Kraft Paper/VMPET12/LDPE
Kraft Paper/Aluminum Foil/LDPE
Kraft Paper/AlOx Coated PET12/LDPE
MatteBOPP/Kraft Paper/VMPET12/LDPE
Kraft Paper/Alu/PET/LDPE
You are advised to have a further understanding on the kraft paper foil laminate for coffee bag here.
100% mono materials recyclable foil laminate Materials
100% PE mono materials are developed for coffee packages with high barrier performance, and great standing profile. Below table listed the typical values of WVTR and OTR we are now achieved based on the 100% PE mono materials. The barrier performance of these foils may be as good as metallized film foil, which can enable them well intended for roasted beans.
Mono PE Foil Laminate
WVTR
OTR
MDOPE25/APE70
3.2
2.0
MDOPE25/AVMDOPE25/P
E70
1.6
0.7
MDOPE25/BOPE25/PE70
2.7
1.4
MDOPE25/HDPE30/APE70
1.7
1.0
Compostable Foil Laminate Materials
There are some compostable film materials available in the market
Kraft Paper
AlOx Coated Cellulose Film
The barrier performance for the substrate film can be enhanced by aluminum metallized or AlOx coating. and now, some mature foil structures have been developed well intended for roasted beans.
Cellulose/Metallized Paper/PLA+PBAT
Cellulose/Metallized Cellulose/PLA+PBAT
Metallized Paper/Cellulose/PLA+PBAT
Metallized Paper/Metallized Cellulose/PLA+PBAT
At the same time, compostable PLA zipper and degassing valve are developed, which can finalize a great compostable coffee bag.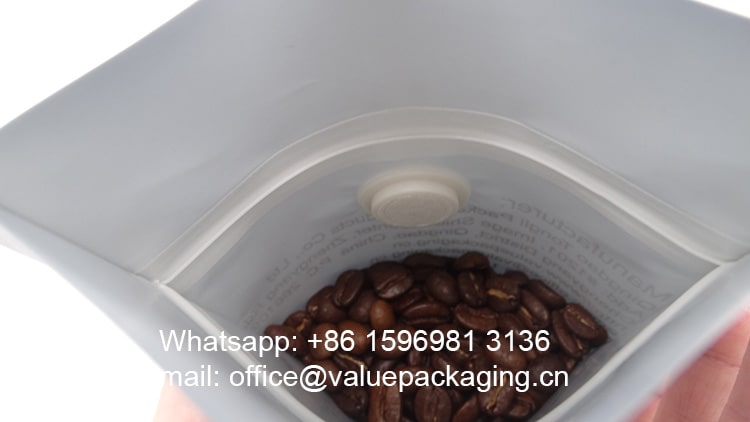 Ok, that's all we have to talk about the most common foil structures intended for coffee bag packages in current market. Any questions regarding the coffee bag, you may just reach us for further assistance.