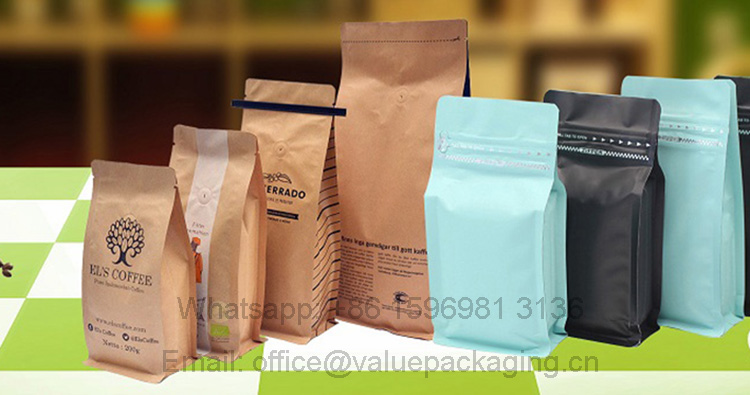 Standup coffee bags with valve and zipper are most favored in the packages for roasted coffee beans, as it is essential to present a fantastic branding impression in front of the consumers. Located in Qingdao, china, our company has been a reliable manufacturer and print service supplier for coffee market for more than 10 years. In this post, we are going to give an overall introduce on the coffee bag with valve and zipper, enjoy.
Bag Types
There are usually 3 types of coffee bags that are able to realize good standing effect, with list as below.
It is not able to realize the zipper on the side gusseted coffee bag, so in this post, the bags refered in this post are either bottom gusseted coffee bag, or box bottom coffee bag.
Degassing Valve
A degassing valve is essential for a coffee package to emit the extra carbon dioxide that is generated from the coffee beans after roasted in 2 weeks. The degassing valve can only allow the inside air to pass to the package outside, and the oxygen outside will not be able to penetrate into the package which may damage the flavor and fragrance for the original roasted beans.
Read here to understand more on the valve for coffee bags.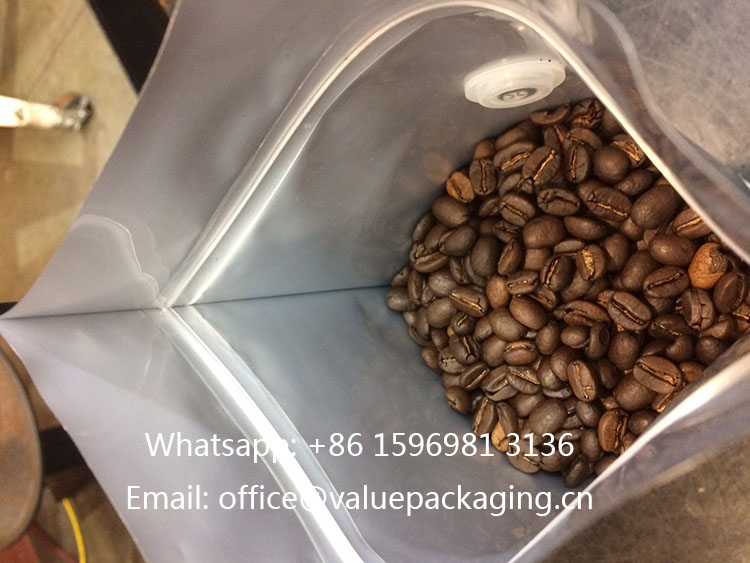 A zipper is essentail to make the coffee bag re-sealable after the consumers opens up the package. In most cases, the net weight for a coffee package would be 250grams, 340grams, 454grams or 500 grams, and sometimes, 1kg package, so the beans can not be run out in just one time. The package with re-seal ability is going to prolong the freshness of the coffee beans.
You may read this post to have a further understanding on the zippers applied in the coffee bag packages.
Of course, there are some other variants which formulates a final fantastic package, including the print, materials, matte varnish, highlight, hot stamping, etc, and we are going to give further explanation on each of these, and hope it will be helpful for fulfill of your ideal standup coffee bags with valve and zipper.