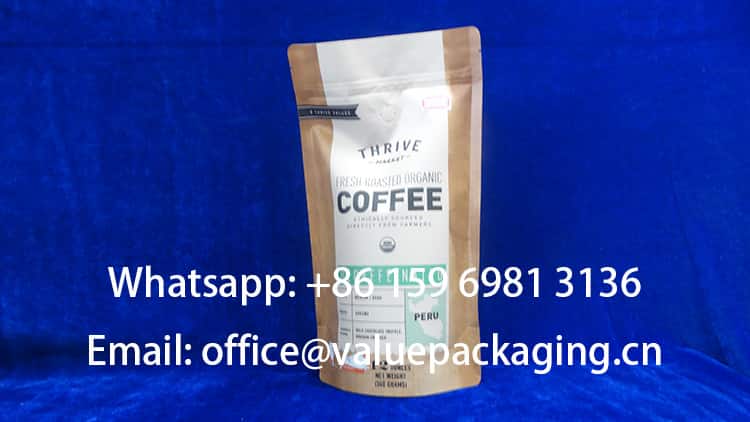 This paper appearance standup pouch is well intended for 12oz ( equals to 340 grams) coffee beans in the USA market, and we are now providing this premium quality package to our customer in California in a long-term reliable supply. It is good branding for the beans as of below properties
Eco-friendly paper package
Great standing profile
High barrier performance
Cost-effective price
It is important to figure out the dimension and final filled level for this package before you get an order produced, so here, Check out our guide to customising your coffee bags.
Packaging Foil Materials
The graphic below shows the structure of this laminated foil materials for 340 g zipper compostable coffee bag, Matte BOPP18/Kraft paper45g/VMPET12/LDPE film layers

Matte BOPP film 18, usually refers to the biaxially oriented polypropylene film with matte appearance with the most common thickness 18 microns ( equal to 0.708 gauge). It works as the outside print substrate, with gravure printing up to 10 colors.
Kraft Paper45gam, which are widely welcome in the packaging for roasted beans as it is light-weight, favorable price, easy to recyclable and sustainable. To achieve the kraft paper into a reliable standing coffee pouch, it will have to be further laminated with high barrier metallized film, and inner sealing film layer.
VMPET12, which means vacuum metallized polyester film with common thickness 12 microns, is one of the most common used high barrier film in flexible packaging pouches. It is intended to provide high barrier at lower cost.
LDPE film, short for low density polyethylene film, works as the inner sealing layer, able to create strong sealing performance for the final packages.
Package Dimension
Width: 170mm
Height: 310mm
Bottom Gusset: 50*2=100mm
Below graphic shows the layout for this 340grams coffee package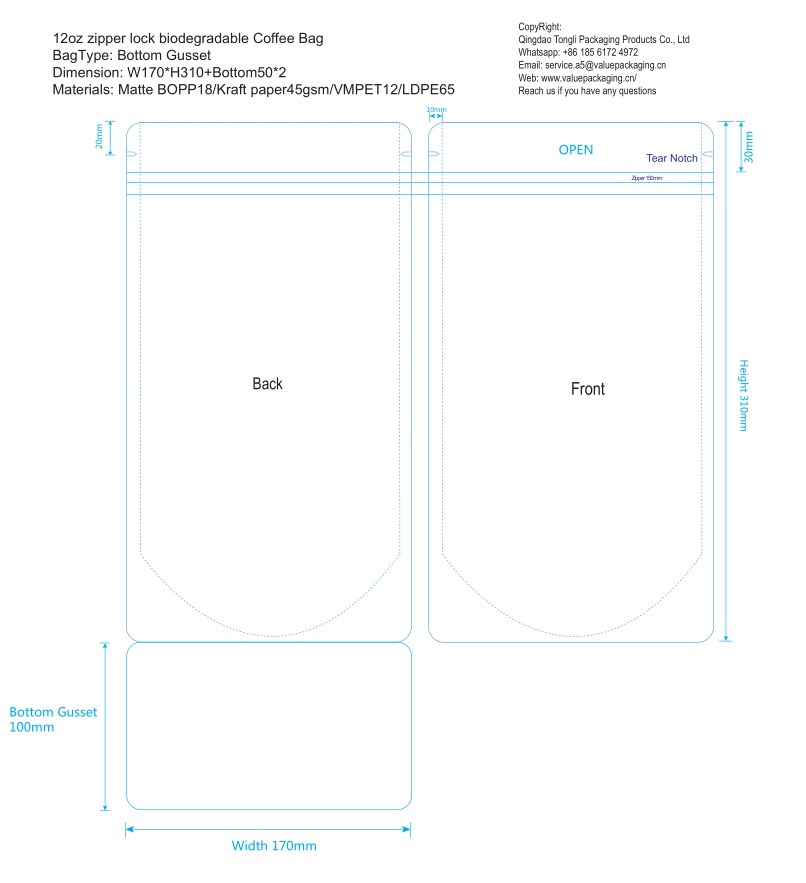 Filled Effect
Here 12 oz roasted coffee beans are going to be filled into this bottom gusseted standing coffee bag, and the density of the beans in our hand is 370g/1000ml. You may check the filled leve, which is taking up to 60% of the total height, with enough space on the top, easy for the sealing operation.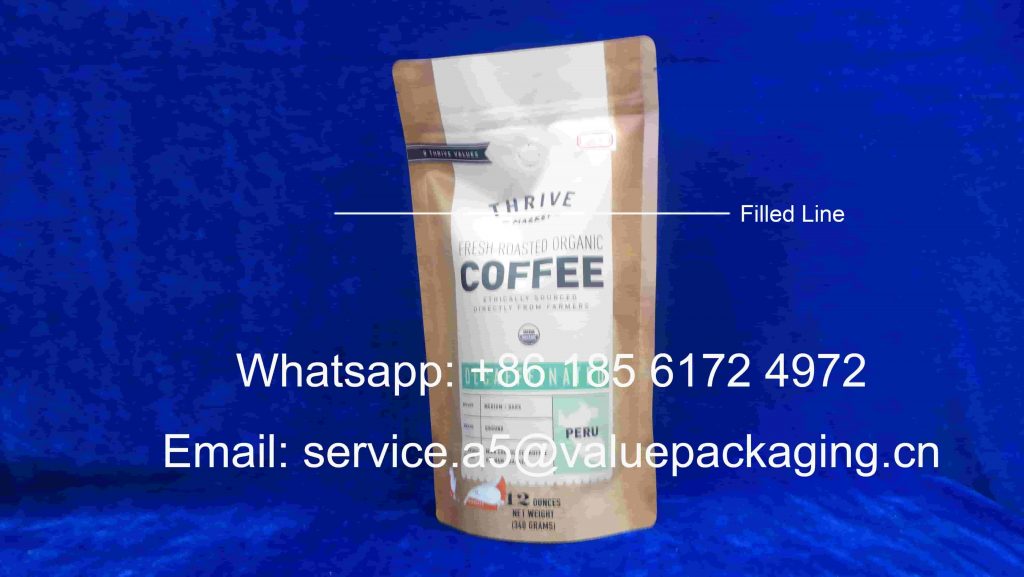 Test Video
Here, we got the test progress recorded by video, and you are advised to have a further understanding on the bag dimension and final filled effect through the video below.
Pouch Dimension Test Report
A pouch dimension report is issued against this test with all the details included, and you may just need to forward the PDF file to your customers for his further reference.
Artwork Design Template of 340 zipper compostable bottom gusseted coffee bag
The artwork design template should be helpful when you plan to print your logo and eye-catching artwork on this coffee bag, and you may just download it and send it to your design to fill the creative artwork. You are advised to feedback to us with Illustrator or PDF file with high quality (>= 300PPI)
OK, that's what I have to say regarding the packaging dimension of this 340 grams bottom guesst coffee pouch with zipper, and just reach me if you have any questions regarding coffee packages.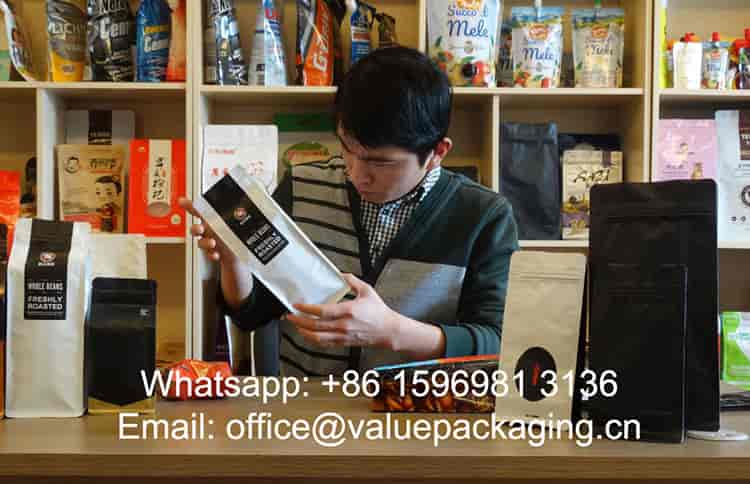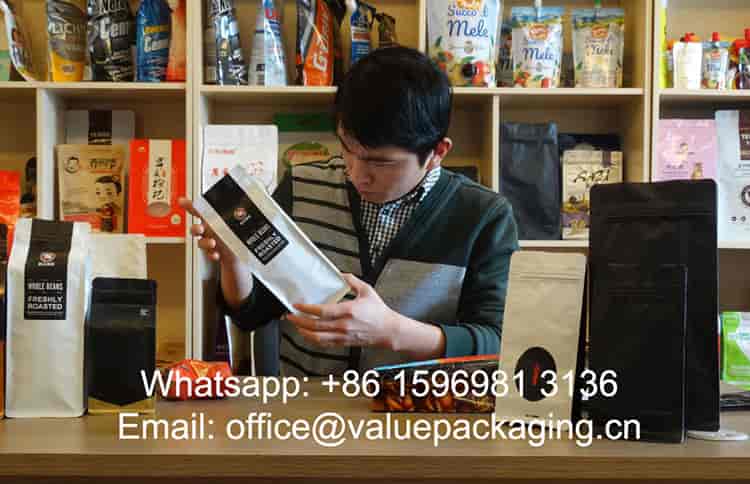 Some of our 12oz bag you may interest.