Home compostable coffee bags are highly appreciated in the coffee packaging market as it makes easier for the consumers to compost a throw-away bag under their home conditions without a specialized composting facility.
Based on the plant-based film materials, we are now achieving various foil laminates with different performance to meet the particular requirements for the coffee roasters. We are tryin to do our best to acheive the sustainable packages which is aimed to reduce the environment impact of a business.
Metallized Paper/Cellulose/PLA+PBAT is a home compostable foil we achieve with great performance which can be well intended for roasted beans. The high barrier property will make the package good protection of the fragrance of the roasted beans in an extended shelf life, and the robust package will just protect the coffee up to 1000 grams in fine siutation along with the transporation and distribution process.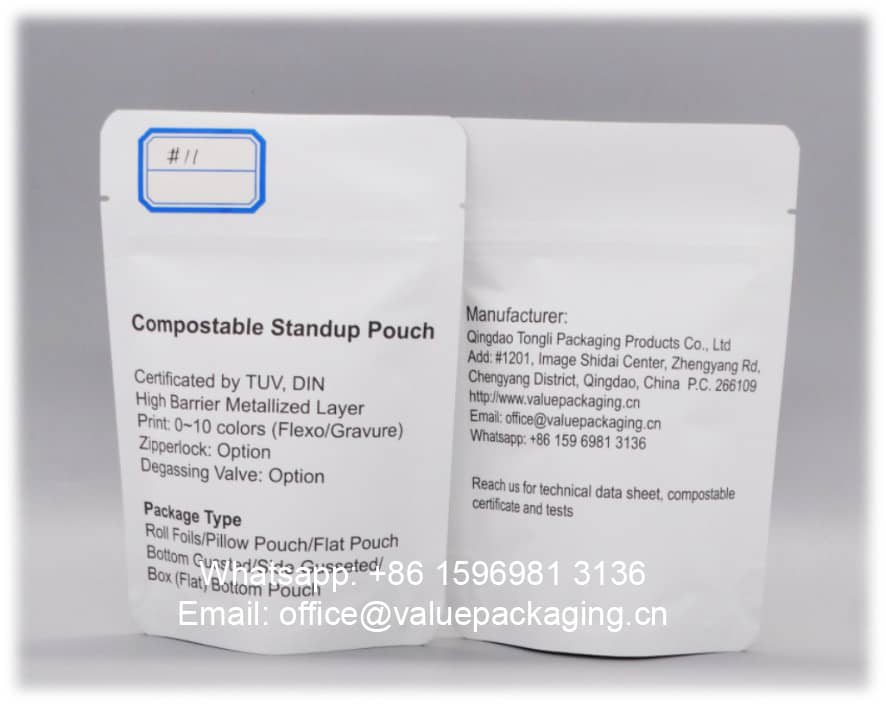 In this post, we are going to give a detailed analysis and test on the performance of this compostable foil coffee bag, and hope it helps for the roasters to get their ideal compostable coffee bag for their lovely products.

Metallized Paper 69gsm, working on the outside layer as printing substrate, and customer artwork design can be printed in flexo or rotogravure printing.
Cellulose Paper Film 30um, work as middle supportive layer and physical reinforce layer.
PLA+PBAT Film 50um, work as inner sealing film layer, with great sealing strength for the final coffee package.
Compostable PLA Zipperlock
Made from PLA resin, the zipperlock is able to achieve good performance on the re-sealable coffee bag with enough melting strength to the inner sealing liner.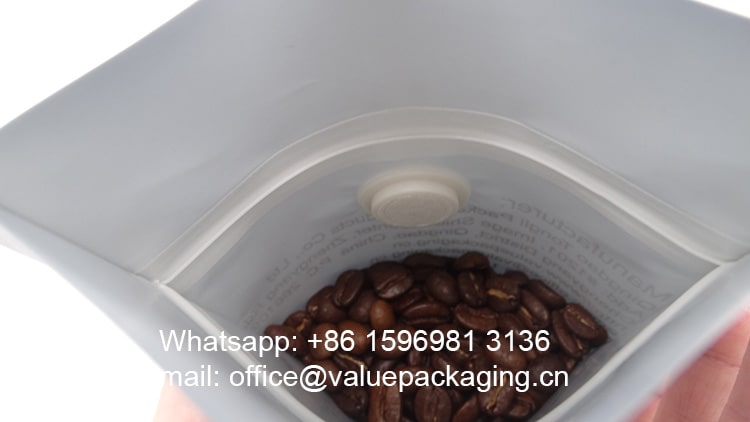 Compostable Degassing Valve
Degassing valve made of PLA resin comes into actual application in coffee packaging area with excellent air-control ability. Below graphic shows the specification for our current compostable degassing valve.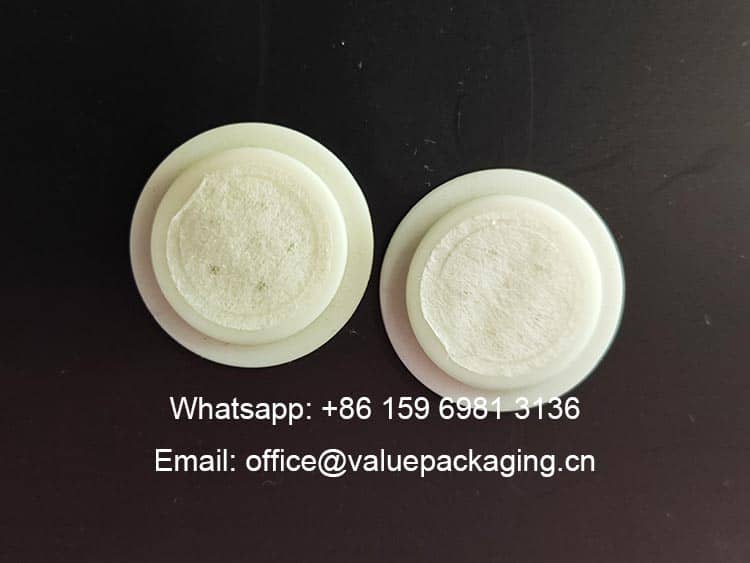 Good Standing Profile
With great stiffness and toughness for this Metallized Paper69g/Cellulose30/PLA+PBAT50 Foil, great standing up profile will be achieved when any bag is achieved, either in types of bottom gusseted doypack, side gusseted standing pouch, box bottom pouch.
You may watch the video below to have a futher understanding.
Airtight Property on Zipperlock
Airtight property for the zipperlock means when the zipper is closed, the air can not easily penetrate through the sealed zipper. Usually, we evaluate the airtight property by striking hard on the closed zipper and see if it burst easily. A hard-to-burst zipper will be able to achieve a better airght property for the re-closed coffee bag, that is essential for the consumers to keep their products in fineness as long as possible.
Watch the video below.
Composting Test
This foil coffee bag is able to compost in home and garden conditions, and for always we are performing this test in our side, to check the actual composting progress.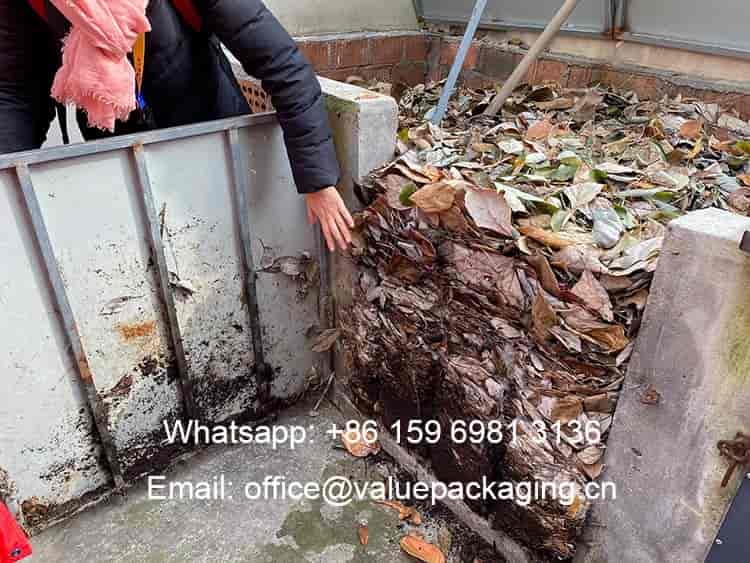 Barrier Performance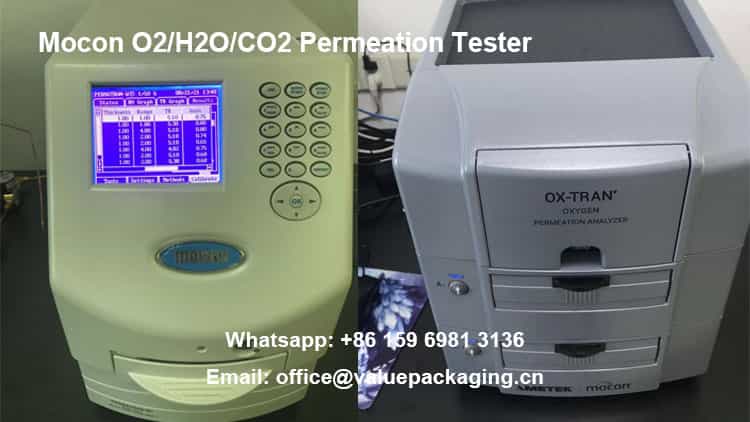 Drop Test
Coffee bag that is able to hold 1000 grams of roasted beans should be a high volume in the consumer market, and here we get a pillow pouch well made intended for 1000 grams beans, and get it well sealed.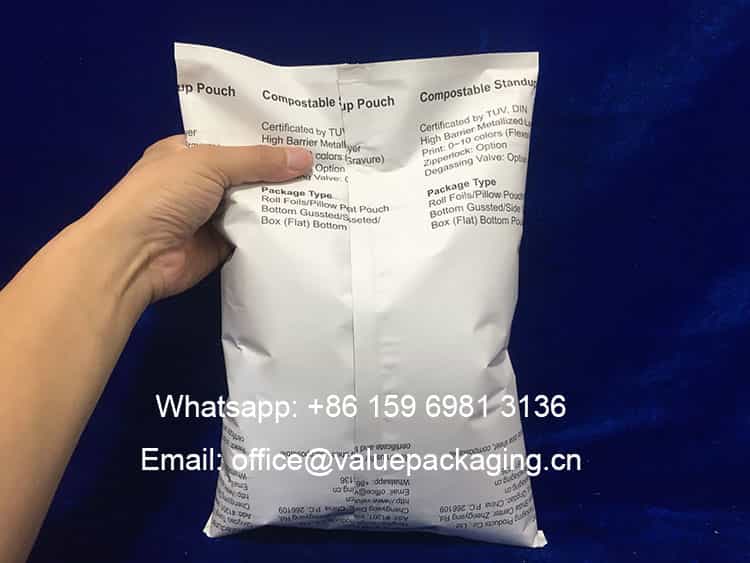 We are going to perform the filled coffee bag from 1.8 meters high, and see if it burst under sudden sharp shock, as you can see Bruce is well standing there for the test.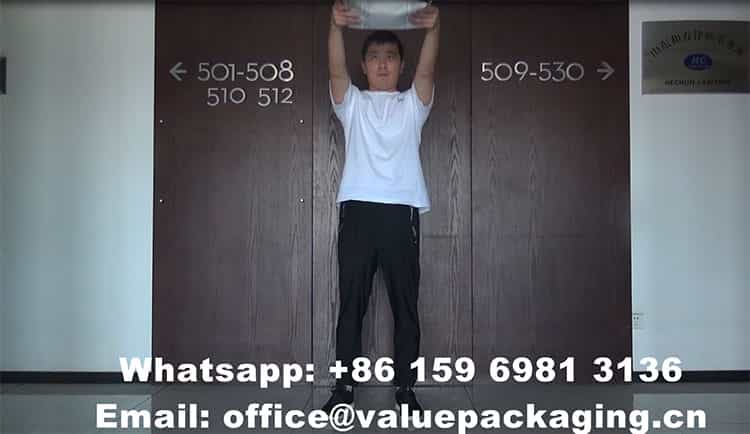 You are advised to watch the video below for a further understanding on the test process.
After drops for so many times, actually, the 1kg compostable pillow pouch did not break, which proves the compostable foil to be strong enough as good protection for the roasted beans in transportation and disbtribution procedure.
Anti-Pressure Test
We are going to get the compostable bag flushed with air, and sealed on top, and I am going to stand on the flushed bag, and check if the flushed bag may burst. This is actually a very reliable method to check if the finished package is strong enough as protection.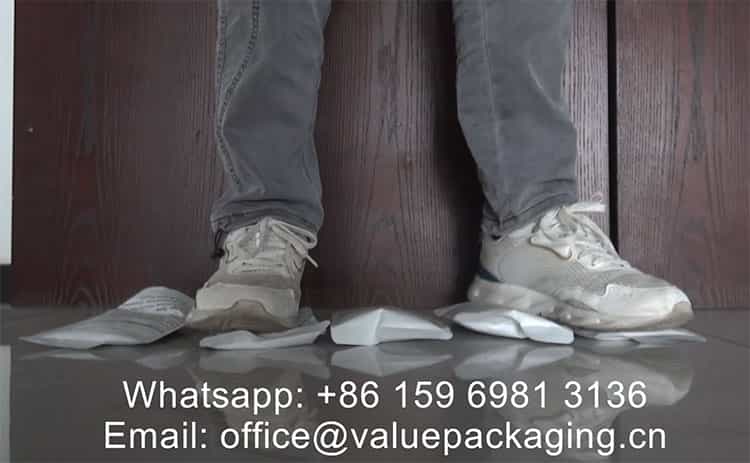 You are advised to watch the video below for more understanding on the this pressure resistant test.
Hot Filling Test
Alkaline Resistant Property
Laboratory Test
Some laboratory tests needs to be performed to determine the quality for this foil. It will not only help us to understand exactly on the performance, but also a daily QC work to remove unexpected problems. Here, let's come closer to each of them.
Tensile Strength Test
Tensile testing is a destructive test process that presents helpful information about the tensile strength, yield strength, and ductility of the laminate material.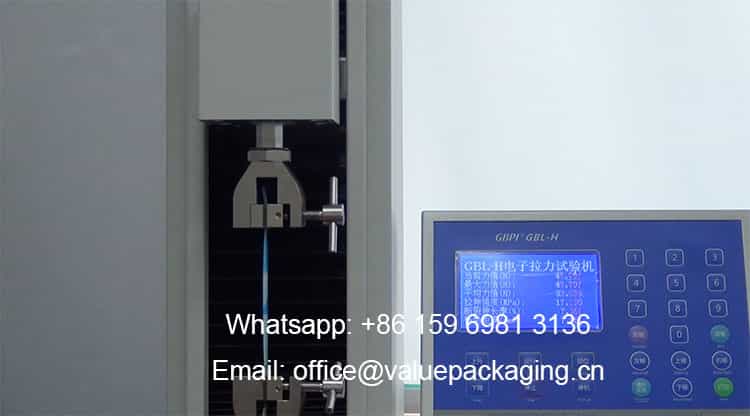 Machine Direction
Number
Maximum Strength
(N)
Tensile Streng
(Mpa)
Elongation Rate
(%)
#1
102.2
48.7
3.7
#2
91.2
43.5
3.2
#3
106.3
50.6
4.1
#4
106.6
50.8
3.9
Watch the below video for actual understanding.
Transverse Direction
Number
Maximum Strength
(N)
Tensile Streng
(Mpa)
Elongation Rate
(%)
#1
75.3
35.8
5.1
#2
80.8
38.5
6.9
#3
96.6
46.0
8.5
#4
83.3
39.7
6.4
Just watch the video below
Burst Impact Strength Test
Bust impact strength is usually a very common method to check the strength of a film substrate or multi-layer foil laminate in laboratory conditions. It can be used to monitor the quality of coffee packaging.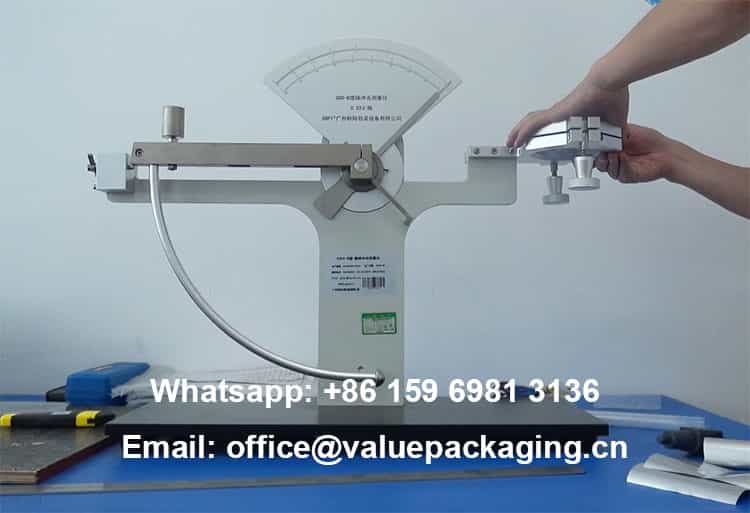 | | |
| --- | --- |
| Number | Burst Impact Strength(J) |
| #1 | 1.04 |
| #2 | 0.9 |
| #3 | 1.46 |
| #4 | 1.0 |
Just watch the video below for more understanding.
Puncture Resistance Test
Anti-Puncture ability describes the relative ability of a foil material to prevent the intrusion of a foreign object, that is quie helpful to understand if the coffee package will be easily destroyed by outside objects.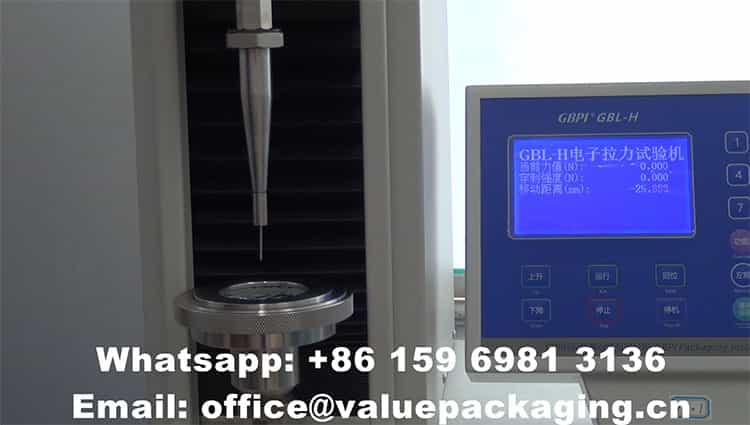 | | |
| --- | --- |
| Number | Anti-Puncture Strength(N) |
| #1 | |
| #2 | |
| #3 | |
| #4 | |
Heat Sealing Strength Test
Sealing strength describes the tensile strength of the sealed film at ambient temperature. It is the maximum force required to separate the two layers of a seal under certain conditions.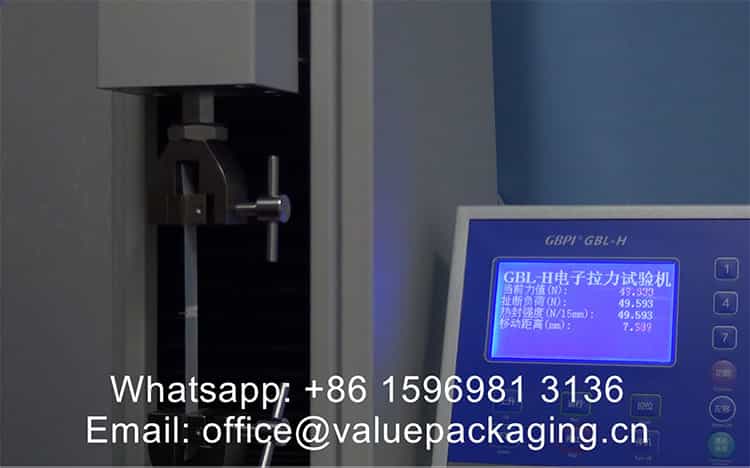 | | |
| --- | --- |
| Number | Sealing Strength(N/15mm) |
| #1 | 49.6 |
| #2 | 43.3 |
| #3 | 46.3 |
| #4 | 45.4 |
Wacth the video for more understanding.
Specifiation Sheet
Here attached the technical data sheet for this Metallized Paper69g/PT30/PLA+PBAT50 compostable foil standing pouch, for your further study. You may just forward to your customer whenever you need.