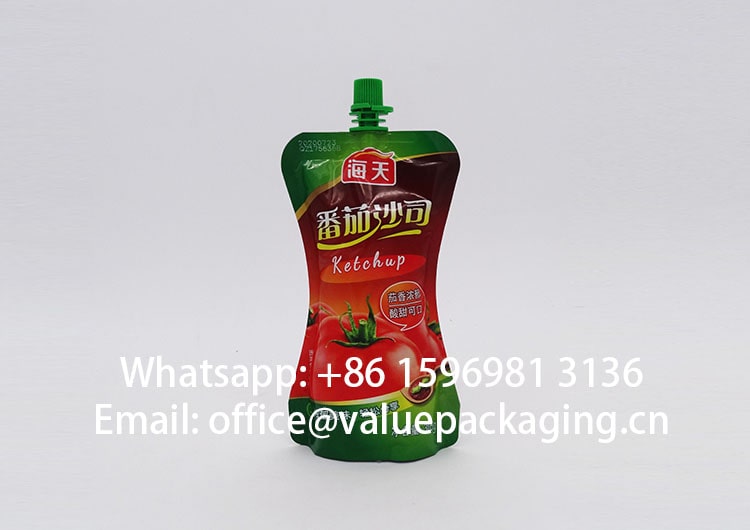 Standup hourglass shape spout doypacks are quite popular packages for the tomato ketchup products in the market, with the well-known package from Heinz company, that indeed leads the package trend around the globe. Different volumes and grams of tomato ketchup packages are developed and launched into the market in numerous variations.
In this post, we are going to share the package dimension for an aluminum foil spout pouch that is produced for a well-known brand in china market, Haitian Tomato Ketchup, and hope it is of help for the customers.
Film Materials
For tomato ketchup products, usually high barrier perproty is needed to ensure the freshness and shelf life for a long time, so in most cases, aluminum foil laminate are adapted.
PET12/AL7/LDPE
PET12/AL7/PET12/LDPE
PET12/Al7/PA15/LDPE
and when the spout is intended for retort purpose, the inner LDPE film layer will have to be replaced by retortable CPP film.

Final Effect
You may watch the video below to find the final effect with 300 grams of tomato ketchup filled into the spout package, and the dimensions are also measured in this video.
Package Dimension
The dimension for this 300 grams spout doypack is W120XH180+BG70, with edge seal 6mm.
Design Template
This template should be helpful for these customers who want to print their own logo onto the package, and when your artwork is finished, you are advised to forward us the Illustrator file or PDF file for our review, so we can assist you to realize the best effect on final package.