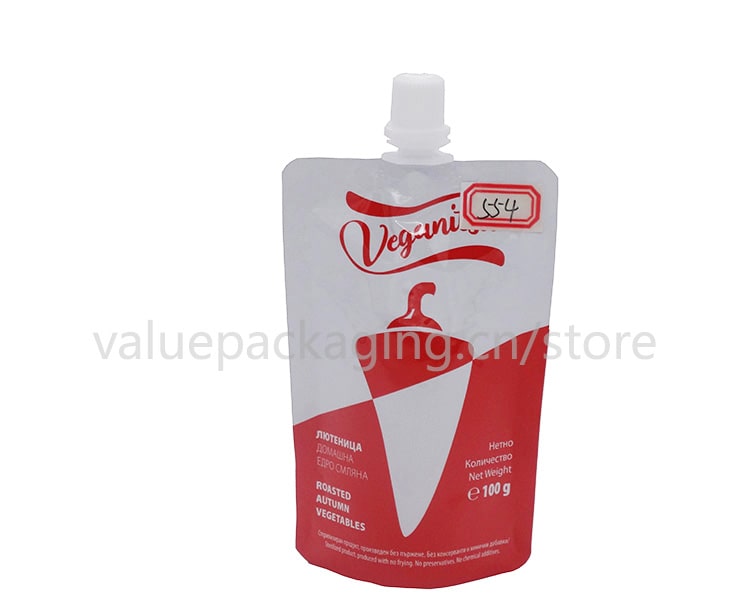 My company is now producing this standing spout doypack for 100grams chilli sauce, actually, this spout doypack is able to hold 100ml. This cute package is highly appreciated by the customer, as he is able to distribute his sauce product in this strong package to nationwide places. So in this post, we are going to test the filled level, to check the dimension of this 100ml chilli sauce spout pouch.
Foil Materials
The foil materials intended for chilli sauce standing pouch will have to be decided by the sterilization requirements for the product, and for most manufacturers, chilli sauce will be filled into the standing pouch first, and then do sterilization in hot water, under different temperatures.
PET12/AL7/LDPE (100 Celsius degree)
PET12/AL7/PET12/LDPE (100 Celsius degree)
PET12/Al7/PA15/LDPE (100 Celsius degree)
PET12/AL7/PA15/RCPP (121~125 Celsius degree)
The above foil structures are of different properties, and of course, with different costs, you may have a further understanding on the property here.
Package Dimension of 100ml chilli sauce spout doypack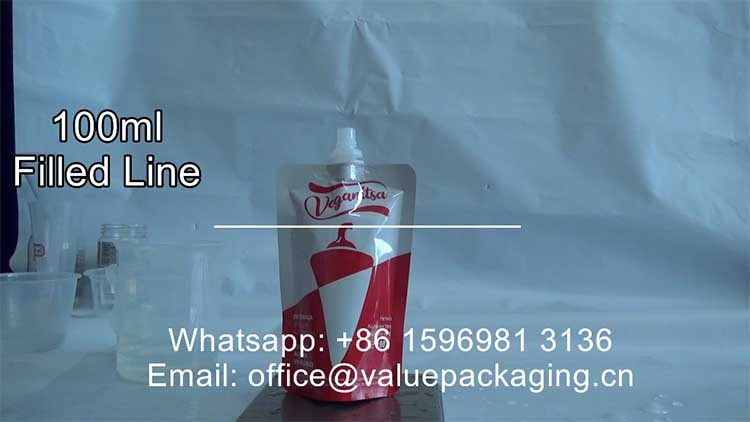 The dimension for this 100ml standing spout pouch is Width85mmXHeight130mm+Bottom Gusset610mm, with edge seal 6mm, with 8.6mm plastic spout for the inner diameter, with layout as below.
Layout of 100 grams chilli sauce spout package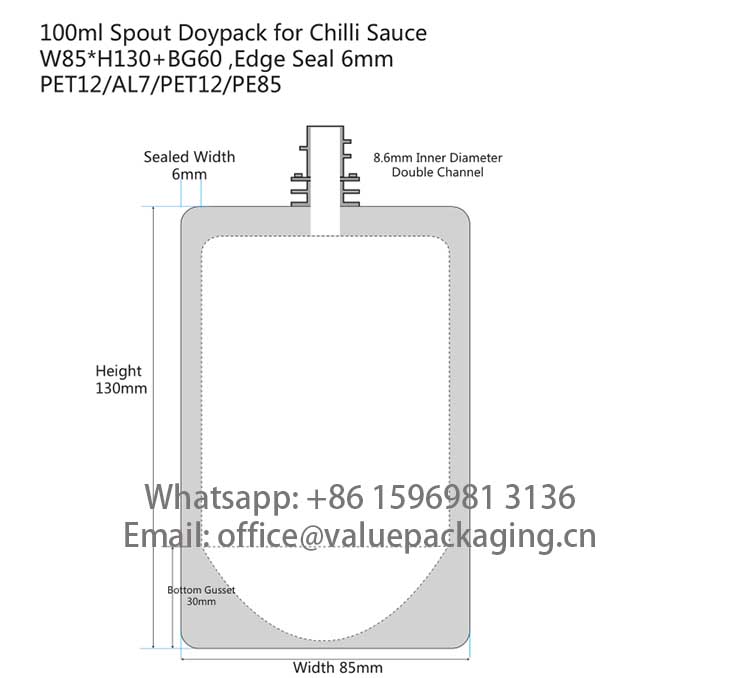 Filled Effect
In this video, we are going to perform filling test of 100ml water into this spout doypack, and let's watch the details.
Design template of 100 grams chilli sauce screw cap pouch
This design template should be intended for the filling of artwork by your designer, and please revert to us with Illustrator or PDF file for our further work, we are going to realize the best print effect on your package.