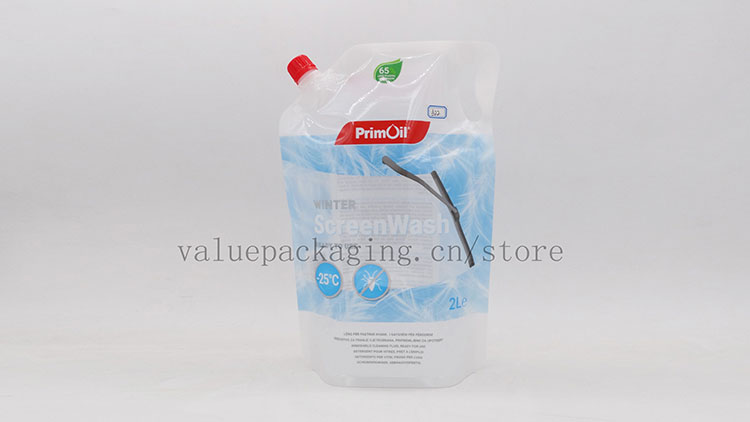 In previous posts, we shared the materials structures for 1litre spout pouch and 3litre spout doypack for windscreen cleaning chemicals. 2litre standing pouch package is the midium volume between 1litre and 3litres, so we are going to talk about the foil structures for this 2litre package, try to realize the expected proprty at the lowest cost.
NY15/LDPE
This NY15/LDPE 2-layer foil structure is not going to be ok for this 2litre standing pouch, both the pouch strength and standing effect are not going to be able to meet the final requirements.
Watch the video blow to understand the standing effect for 1.5litre water filled into PA/LDPE pouch.
PET12/PA15/LDPE
In actual produce, PET12/PA15/LDPE foil structure is the most used foil materials for 2litre standing pouch for car wash chemicals, with graphic as below.

PET12, means clear polyester film 12 microns ,works as the outside print substrate layer.
PA15, also called nylon film, formally named polyamide film, biaxially orientated, is intended for the middle support layer.
LDPE film, short for low density polyethylene film, should be modified against the car washing chemicals, works as an inner sealing layer. Of course, the thickness of LDPE film can be adjusted to achieve different property, like standing effect and pouch strength.
Bag Strength
We are going to perform drop test to check the bag strength for this 2litre windshield washing liquids spout pouch. The test is from 1.8 meter high ,and drop for 3 times. let's watch the video for further understanding.Watch the video.
Ok, welcome to reach us if you have any other questions.